Sweet 16 Predictions: Teams That Will Roll into Elite Eight
March 22, 2012

Ronald Martinez/Getty Images
The Sweet 16 is here and the insanity of March Madness is set to resume. With 11 of the 16 top seeds still playing, there should definitely be some great basketball on Thursday and Friday. And the five lower seeds still alive have proven through their first round upsets that they are no flukes either. 
Still, the fact remains that it's elimination time and some seasons will end within the next two days. Whether it be through a humiliating blowout or a buzzer-beater, there will be teams whose visions of tournament glory end prematurely. 
Here are the teams that I think will cruise to the Elite Eight. These teams have advantages that should cause them to win and likely win easily. 
No. 3 Marquette vs. No. 7 Florida
Time: 10:17 p.m. ET Thursday
TV Network: TBS
Point Spread: Marquette by 1.5
The Marquette Golden Eagles have easily beaten their competition en route to their second-straight Sweet 16 appearance. A lot of their early tournament success has to do with the offense they have been able to generate with their two star players, Jae Crowder and Darius Johnson-Odom. Crowder and Johnson-Odom have combined for 39.8 points per game since the tournament started and have generally looked unstoppable. 
Under most circumstances this team would be preparing next for a difficult match-up against the favored Missouri Tigers. But the madness of March has prevailed thus far, so Marquette gets what looks to be a favorable draw with their Sweet 16 opponent being the No. 7 seed Florida Gators.
Florida blew out both Virginia and Norfolk State, winning each game by over 25 points. Kenny Boyton scored 20 points against Norfolk State and along with Bradley Beal, he looks to be the key to the Gators offense.  
The Gators have put together another impressive Sweet 16 run despite having a lot of people doubt them. But there can no longer be any doubting of coach Billy Donovan, who has a career record of 27-9 in the tournament and has won two national titles.
Despite Donovan's coaching and their stellar offensive play, Marquette is going to be a very tough draw for Florida. This Marquette team is loaded with talent and with their fundamentally sound level of play should get them past Florida.
Marquette 76 Florida 61 
No. 1 Michigan State vs No. 4 Louisville
Time: 7:47 p.m. ET Thursday 
TV Network: TBS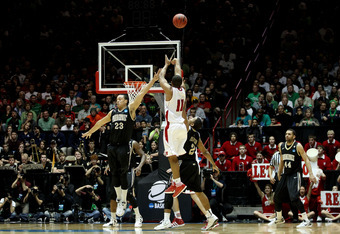 Christian Petersen/Getty Images
Point Spread: Michigan State by 5 
It really comes as no surprise that Tom Izzo has taken another Spartan team to the Sweet 16. This Michigan State team could actually be the seventh team that he's coached to the Final Four. But the competition will grow substantially more difficult than in the past two rounds when they face Louisville tonight. 
The Spartans are led by senior forward Daymond Green who has averaged 16.1 points and 10.4 rebounds this season. In general they are quite a stacked team with players like sophomore guard Keith Appling scoring 19 points last game. Then there's the big man Derrick Nix who could be essential in slowing down Louisville's offense. 
That is because one of Lousiville's major weaknesses is their inability to stop big men. As good as coach Rick Pittino's team is, they have been torched by bigs in both games they have played so far. Nix and Greene could provide a deadly combination that will end Louisville's title hopes.
It will be a close game with both teams playing their hearts out. But in the end, Michigan State should prevail, bringing them to a likely Elite Eight showdown with Marquette.
Michigan State: 64 Louisville: 62
No. 3 Baylor vs. No. 10 Xavier 
Time: 7:15 p.m. ET Friday
TV Network: TBS
Point Spread: Baylor by 6
The Sweet 16 matchup between Baylor and Xavier could potentially be one of the top games of the tournament. These two teams are athletic and score at will. In addition, they are two teams that have had a good deal of success over the past several years with Xavier returning to the Sweet 16 for the fourth time in five years and Baylor trying to get back to the Elite Eight for the second time in three seasons.
The Bears athleticism is dangerous causing mismatches for almost every team they face. Led by senior Quincy Acy, Baylor has only had seven losses this season with all losses coming to teams that made the tournament. One of their offensive strengths is the ability to shoot three-point shots, especially with guard Brady Heslip, who was 9-of-13 from beyond the arc for 27 points against Colorado.
Xavier on the other hand is a spunky team that is finally capitalizing on all the promise they've had this season. In many ways, defense is the key to this team, because when they successfully get stops, the offense can pour down the court with huge amounts of confidence. This includes All-American guard Tu Holloway, who is one of the game's best closing guards. 
The bottom line is that both of these teams are rugged competitors that will attempt to scratch and claw their way to victory. I think that it's a total toss-up and either team could make an excellent case as to why they could win this game. For now though, I have just a little bit more trust in Baylor and their three-point shooting, so I predict that they will win after pulling away with a late surge.
Baylor 80 Xavier 66
No. 1 Syracuse vs. No. 4 Wisconsin 
Time: 7:15 p.m. ET Thursday. 
TV Network: CBS
Point Spread: Syracuse by 3 
Despite the Fab Melo saga, Syracuse has survived and advanced to the Sweet 16. But they are by no means safe as Syracuse's Sweet 16 woes are well documented. In their four trips to the Sweet 16 this decade, they are 1-3 having lost the last three. 
Meanwhile, Wisconsin is another one of those teams that for whatever reason can't seem to get past the Sweet 16. Despite having qualified for the tournament 14 years in a row, the Badgers have only made it past the Sweet 16 twice in that time period. 
Going into the game, it looks like it should be a tough defensive struggle. The Badgers have excellent half-court defense and are opportunistic in forcing turnovers. Wisconsin also defends the three as well as anyone, although it's debatable how much of an advantage that gives them since Syracuse doesn't shoot threes very well to begin with. 
Here is where not having Melo is going to hurt the Orange. Wisconsin's offense, led by point guard Jordan Taylor, has what it takes to exploit that weakness. The Badgers will win this one and advance to their first Elite Eight since 2005.
Wisconsin 72 Syracuse 63