Elite 8 Schedule: Kentucky and More Teams That Will Not Lose in Sweet 16
March 22, 2012

Chris Graythen/Getty Images
Even though the 2012 NCAA tournament's Sweet 16 round has yet to begin, it's never too early to start thinking about the Elite Eight, Final Four or even championship game.
For some teams, this round and the previous ones have practically been a formality.
While teams like Syracuse, Wisconsin, Kansas and Indiana needed some luck at times to make it this far, these next few teams have been locked in and are ready to continue dominating.
Kentucky Wildcats
John Calipari is the master of assembling an AAU-type squad of freshmen phenoms and getting them to play together as a cohesive unit.
It's no different this year and his group looks absolutely unstoppable.
They get an opportunity for revenge against the Indiana Hoosiers on Saturday night, the only team that beat them during the regular season.
It shouldn't even be close, as this Wildcats team is a completely different and somehow better group than the one that lost to the Hoosiers way back on Dec. 10 of 2011.
Florida Gators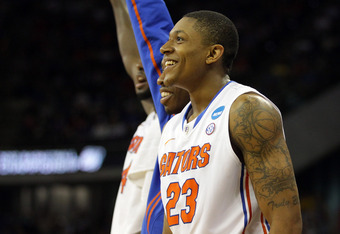 Doug Pensinger/Getty Images
The No. 7 seeded Gators are playing like a No. 1 seed in the NCAA tournament. They have had no problems putting a massive hurting on both of their opponents so far.
Just look at the scores—Florida 71, Virginia 45 and Florida 84, Norfolk State 50.
While neither of those teams are particularly great and the matchup against Marquette will be the toughest test yet, any squad that can hold two opponents to 50 points or less and score over 71 in back-to-back games is quite impressive.
These two teams have been lighting up the competition and it seems inevitable that they will clash in the Final Four on March 31. They have to get through the Sweet 16 and Elite Eight first, but that won't be a problem if they keep up the stellar play.