LeBron James, Kyrie Irving and Favorites for NBA Season Awards
March 22, 2012

It's always fun to predict which players will come away with individual awards during the course of a campaign, and the 2011-12 NBA regular season is no different.
There is rarely a consensus opinion on any award, so it will be very interesting to see how the voting process shakes out and who emerges from the pack. 
Let's take a look at the favorites.
Most Valuable Player: LeBron James, SF Miami Heat
This really shouldn't come as a surprise to anyone. Yes, Kobe Bryant and Kevin Durant have each had very nice seasons for their teams, but there is nobody matching what LeBron is doing this year.
He's completely reshaped his game in order become a more efficient player, and after a 2010-11 season where he disappointed many, there are no longer critics waiting to bash him at every available moment.
Leading with his play on the court, LeBron has really shown us what type of player he's capable of being and it's been downright unbelievable to watch.
When he's firing on all cylinders, he is unlike any other player in the league.
Most Improved Player: DeMarcus Cousins, F/C Sacramento Kings
A lot of people are going to want to see Jeremy Lin here, but how much has he actually improved? New York's sensation at point guard was limited by playing time and opportunity rather than skill in the past, so it's hard to gauge just how much he's actually improved.
Although Cousins' numbers haven't improved by leaps and bounds from his rookie season, he's becoming a more complete player at both ends of the floor.
His numbers as a starter (16.6 points, 10.7 rebounds, 1.3 steals, 1.3 blocks) are gaudy considering he's averaging just under 30 minutes of playing time per game. There is no doubt that the 21-year-old center can be the next dominant force beneath the cup in this league.
He's playing motivated basketball under Keith Smart, and his length and athleticism will be huge competitive advantages as he continues to improve.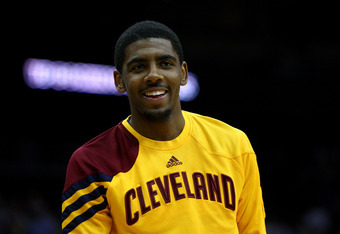 Chris Chambers/Getty Images
Rookie of the Year: Kyrie Irving, PG Cleveland Cavaliers
There are some intriguing candidates from this rookie class, including undervalued assets in Kenneth Faried (Nuggets) and Isaiah Thomas (Kings), but nobody has had the instant impact of Irving in their inaugural campaign.
Starting since day one, Irving is posting a ridiculous 19.0 points, 5.7 assists and 3.8 rebounds per game on a Cleveland team that isn't giving him much help.
Shooting nearly 48 percent from the field, better than 40 percent from deep and an incredible 87 percent from the foul line, Irving is having an historic rookie season that really needs to be embraced.
The things Irving has been able to accomplish before his 20th birthday are nothing short of remarkable.
Coach of the Year: Tom Thibodeau, Chicago Bulls
There has been a lot of talk about Gregg Popovich claiming the honor here for what he's been able to do for the San Antonio Spurs, but Thibodeau's work as a head coach is just incredible.
Playing multiple games this season without Derrick Rose, Richard Hamilton and even Luol Deng, Thibodeau's Chicago Bulls stand at 39-10 and have the best record in the entire league.
He became the fastest head coach in history to reach 100 regular-season wins, and there are going to be many more in his future.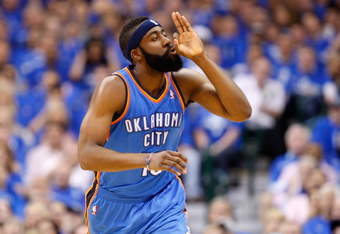 Sixth Man of the Year: James Harden, G/F Oklahoma City Thunder
There are plenty of good candidates here in guys like Mo Williams (Clippers) and Louis Williams (76ers), but what Harden is doing off of Oklahoma City's bench can't be understated.
Harden is averaging a solid 17 points per game despite attempting just 10.3 shots per game, and his ability to contribute across the stat sheet isn't something that should be taken for granted.
Far more than just a scorer from beyond the arc, Harden has really improved his overall attack and is the hands-down favorite to claim the award.
Defensive Player of the Year: Dwight Howard, C Orlando Magic
There has been a lot of noise for LeBron James to win Defensive Player of the Year, but it's going to be tough to knock Howard out of the spot he's come to call his own.
An absolute monster around the rim, Howard is averaging 1.5 steals (career high) and 2.2 blocks for a Magic team that wouldn't be the same without him.
Howard is really in a class of his own, and it's going to take somebody extraordinarily special at the defensive end to prevent the big man from claiming the honor on a yearly basis.