Mark Sanchez's Backup? No Thanks, Tim Tebow Should Start for New York Jets Now
March 22, 2012

Jeff Gross/Getty Images
Having Mark Sanchez as your quarterback is like dating a porn star. She's hot. She has all of the tools. It's a fun little experiment for a few months, or even years. However, when the time comes to settle down with someone, she's nowhere to be found. She's more interested in the "glamour" side of her lifestyle than putting in the work it takes to sustain a long-term relationship. At the end of the day you had some fun, but you know she's going to disappoint you. 
Having Tim Tebow as your quarterback is like dating the girl next door. She's not that hot. She's not what you want when you're 22 and single. You aren't going to brag about her to your friends. However, when the time comes to settle down she's willing to do whatever it takes to make you happy. 
As a collective fanbase we're past the "22 and single" era. We had our brief fling with Brett Favre, we thought we had something special with Sanchez, but at the end of the day he kept breaking our hearts. It's time to commit to someone willing to do the things it takes to make us happy. That person is Tim Tebow.
Tebow throws funny. His passes hit the dirt and soar over the heads of his receivers. He looks a lot more like a fullback than a quarterback. By all rights, your team should probably be worse when he's under center. 
But it isn't.
Last year Tebow took a 1-4 team and led it on a wild joyride to the second round of the playoffs. Make excuses all you want, people, but just know the Denver Broncos were a bad team with Kyle Orton and a good team with Tebow.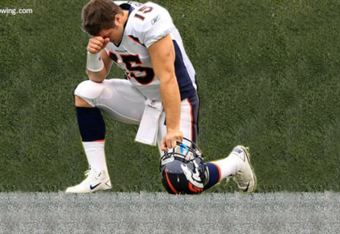 The Broncos weren't grateful for what Tebow did. They dumped their girl next door for an aging superstar. You know what's funny, though? If Tim Tebow hadn't saved their season, the Broncos never would have been in a position to get Peyton Manning. 
John Elway wanted a traditional quarterback, and he certainly got one in Manning. Tebow will never be traditional, but that doesn't mean he can never be effective. Experts said he was too inaccurate—and they may have been right considering his abysmal 46.5 completion percentage. 
However, in his rookie year Eli Manning had a fairly similar completion percentage of 48.1. Eli's big brother, Peyton, may be an all-time great, but he threw 28 interceptions as a rookie. It's not rocket science: Accuracy improves.
Accuracy is a function of chemistry and coaching far more than it is talent. Tebow has had two head coaches, two offensive coordinators, two left tackles, several mediocre receivers and only one offseason. If continuity is as big a part of a quarterback's development as experts would have you believe, it's amazing Tebow was able to do anything at all. 
Tebow has a weird throwing motion—but so does Philip Rivers, and things have worked out fine for him. Bernie Kosar threw sidearm passes and came a few miracle comebacks away from Super Bowls. The point is, it isn't unprecedented for a quarterback to succeed when he doesn't throw completely over the top. 
His windup is a concern. It takes him too long to throw the ball. Why isn't that fixable, though? NFL coaches are paid millions of dollars to do just that. Tebow's throwing motion will never be perfect, but it can be improved to the point where it isn't a detriment.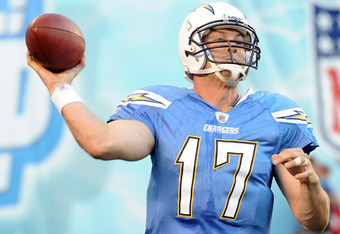 Harry How/Getty Images
Once upon a time the Jets were actually a contender. They were built around a strong running game, an elite defense and (believe it or not), amazing locker room chemistry. 
The Broncos were the league's best running team last year. Their top back was Willis McGahee. The same Willis McGahee that hadn't been a starter for three years. 
If the Jets want to get back to the ground-and-pound system that made them so successful during Rex Ryan's first two years, Tim Tebow is their guy. If he can lead the league in rushing with McGahee, he can certainly do it with Shonn Greene. As we've seen in 2009 and 2010, a league-leading rushing attack with a Rex Ryan defense can lead to great things. 
Tony Sparano is the new offensive coordinator, which is a match made in heaven for Tebow. Sparano is the innovator of the Wildcat offense. The Wildcat is a slightly more trick-based option offense. Is there a better quarterback for that system than Tebow?
The Jets obviously wouldn't run the Wildcat full time—I'd imagine Sparano doesn't want to mortgage his future on a full time option offense. However, that doesn't mean it wouldn't be effective. It would take time for Tebow to master the intricacies, but with a coaching staff that believes in him and is willing to mix his natural strengths with a traditional offense he could thrive. 
The Broncos defense gave up 28 points per game when Kyle Orton was the starter. That total went down to 22 when Tebow was the starter. That isn't a coincidence; the brand of football Tebow plays is great for his defense. When his running game is clicking, he keeps opposing offenses off the field, giving his defense rest.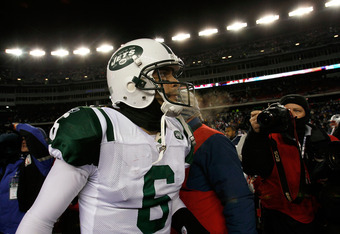 Jim Rogash/Getty Images
On paper, the Jets defense is better than Denver's. Darrelle Revis might be the league's best defensive player. Rex Ryan is a master of defensive schemes—the Jets haven't fallen out of the top five in overall defense in his entire tenure.
With stars like Revis, David Harris and LaRon Landry to go along with young guys like Aaron Maybin, Muhammad Wilkerson and Kyle Wilson, the Jets are primed to remain at the top of the league defensively. 
Last year the San Francisco 49ers came two fluky fumbles away from the Super Bowl. They got that far because their defense was incredible, they ran the ball, and their quarterback didn't throw interceptions. The Jets seem to have the first two down, but a quarterback who doesn't throw picks? Well, that's not Mark Sanchez. 
He has thrown a staggering 51 interceptions to go along with 29 fumbles in three years. In other words, he isn't doing what Alex Smith did.
But Tebow? That's another story. He has thrown only nine interceptions in his career. With Tebow at the helm, the Jets have all of the elements they need to copy the San Francisco model. 
The whole "defense wins championships" moniker may be losing credibility in the pass-happy league we have now, but it certainly isn't dead. By all rights, the 49ers should have been representing the NFC in the Super Bowl, and the Ravens weren't far behind in the AFC. Tebow gives the Jets a chance to win the way they were built to win: running the ball, holding onto the ball and stopping the other team. Sanchez simply gives the ball away far too often for that model to work with him at the helm. 
As for the locker room? Just look at some of the glowing things his teammates have said about him. Champ Bailey called him a special kind of player. If Bailey's endorsement isn't enough, look at what Tebow says about his teammates. Can you ever imagine Mark Sanchez saying, "my teammates make me look better than I am?"
When Tebow is your quarterback, you always have a chance to win. This isn't because of God or any mystical powers Tebow seemed to have last year. You always have a chance to win with Tebow because he simply refuses to lose. 
When Tebow is your quarterback you know that your team is fighting until the very end. Tebow leads by example. His refusal to quit rubs off on his teammates. Doesn't that seem important to New York's toxic locker room?
The bottom line is that Tim Tebow wills his teams to win. His resilience and determination forces his teammates to play better than they normally could.  That's a rare quality for any athlete. Tom Brady has it. Peyton Manning does, too.
However, Mark Sanchez doesn't have it, and I doubt he ever will.