Why LeBron James Is a Lock for 2012 NBA MVP
March 22, 2012

Drew Hallowell/Getty Images
It's exhausting to listen to arguments against LeBron James as the 2011-12 regular-season MVP.
Although there is no doubt that Kevin Durant and Kobe Bryant have both carried their respective teams this season to success, James is simply on another level.
Hearing Skip Bayless say that LeBron is disqualified from the MVP race because he has so much help on his team is one of the most asinine things we've had to hear during the course of this crazy season.
James has received a lot of attention this season, and rightfully so. The season he is having is absolutely amazing.
However, he's not receiving the amount of praise in the public sphere that he really should be based on what he's been able to accomplish.
With season averages of 27.2 points, 8.5 rebounds, 6.6 assists, 1.9 steals and 0.9 blocks on 54.1 percent shooting, his numbers are reminiscent of something one would find in a video game.
But that doesn't do him justice as to just how good he's been.
James' PER (Player Efficiency Rating) is an astounding 31.68. The next closest player is his teammate, Dwyane Wade, who sits at a 27.54 mark.
The gap between James and Wade is the same as the gap between Wade (second) and Manu Ginobili (eighth).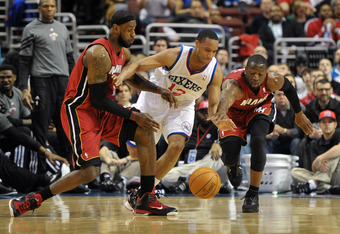 Drew Hallowell/Getty Images
James has established a high-water mark in field-goal percentage while taking the fewest amount of shots per game in any season of his career.
With his Miami Heat sitting at 34-11, James' team does not have the best record in the league.
He hasn't played in every game this season like his competition (Durant and Bryant), but neither of those players is doing what James is right now.
James' play at both ends of the floor is what separates him from his fellow superstars.
Since the All-Star break, James had been fueled to improve his play at the defensive end of the floor and build off of what was already shaping up to be a solid campaign.
In 11 games since the break, James is averaging 2.5 steals and 1.3 blocks per game, both serious increases from his numbers of 1.8 (steals) and 0.7 (blocks) from the first half of the season.
James' dream season has turned into a nightmare for his opposition, and nobody has been able to figure out a way to slow him down.
He's converting at career-high marks on shots at the rim (76.5 percent) and from 10-15 feet (44.8 percent). The evolution in James' game has been fascinating to watch.
Just when some of us were thinking he couldn't get any better, James has come out with a vengeance to prove that he's clearly motivated to reverse the ridiculously negative narrative that surrounds him.
There shouldn't be any questions about who has been the best regular-season player in the 2011-12 season.
As long as he stays healthy, James has the honor sewn up.