March Madness 2012: Who Wins an All-Time Boxing 'Elite 8' Tournament?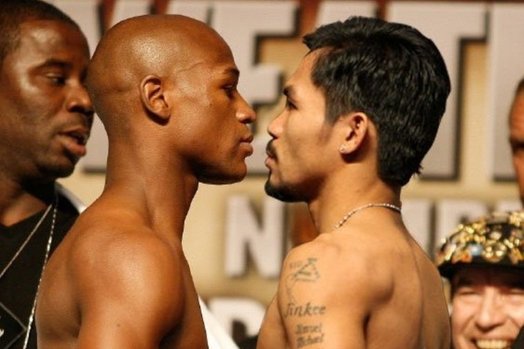 Courtesy Cagepotato.com
The madness of March 2012 brings you an All-Time Boxing Elite 8 Tournament featuring some of the best pound-for-pound boxers to have ever graced the welterweight division.
From a hypothetical point of view and some background analysis, eight of those fighters will vie to progress from the quarterfinals, to the semifinals and then the finals itself, where one will be crowned the eventual winner of the Elite 8 tourney.
In the words of Jimmy Lennon Jr.: "Here we go."
Begin Slideshow

»
Courtesy Sonsofjohnnielemaster.blogspot
Sugar Ray Robinson (173-19-6-2 NC's, 108 KOs) and Sugar Ray Leonard (36-3-1, 25 KOs) both possessed speed, power, sturdy chins as well as great defensive and offensive attributes, none more so than the former.
However, Robinson surpassed Leonard in the aforementioned skill sets.
This bout would be a game of cat and mouse, but due to Robinson's overall ability, he will prevail to score the unanimous decision win.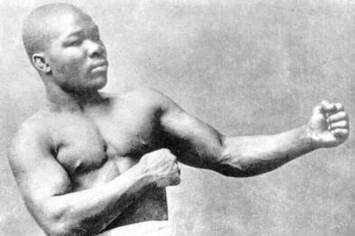 Courtesy Eastsideboxing.com
This matchup brings together arguably two of the greatest welterweights of this or any other era.
Joe "Barbados Demon" Walcott was only 5'1" in height, but what he lacked in height, he more than made up for it with his freaking punching power and off-the-charts stamina.
Henry "Homicide Hank" Armstrong, four inches taller, and akin to Walcott, possessed great stamina and potent punching prowess—an attribute which saw him register 27 straight KOs. Armstrong was also the only fighter in boxing history to simultaneously hold titles in three different weight classes—featherweight, lightweight and welterweight.
Walcott had a penchant for annihilating bigger guys, but against Armstrong, he'll have his work cut out to weather the storm of the relentless pressure cooker that is "Hurricane Henry."
Bombs will be thrown and chins will be tested, until Walcott finally wilts as result of Armstrong's non-stop ferocity.
"The Human Buzzsaw" wins via Round-12 TKO.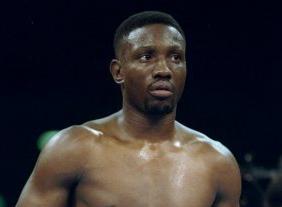 Courtesy Chicago.cbslocal.com
The third round features two of boxings great defensive fighters—Pernell "Sweet Pea" Whitaker and Floyd "Money" Mayweather.
During the entirety of his career, Whittaker lost only four times in 46 outings. Though not a power puncher, his constant attacks and defensive savvy was enough to unsettle his opponents, and as result, he was able to take home numerous decision wins.
Conversely, Mayweather was once the heir apparent to Whitaker's par-excellence defense. At present, he's nonpareil in that department, but like Whitaker, isn't the hardest of hitters.
The Master vs. The Student.
This will be a tactical and cagey fight from the opening bell until the last stanza—defensive magnificence at its best.
However, Mayweather's supreme counter-punching skill set will win the day. Money May advances to the semifinals via majority decision.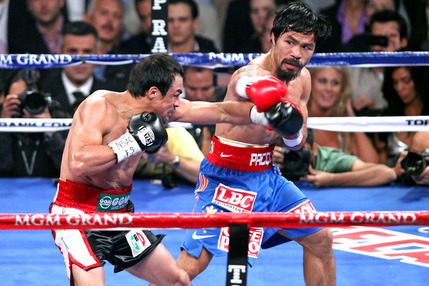 Courtesy Boxnews.com.ua
Manny Pacquiao and Juan Manuel Marquez enter the fourth round of the tourney to settle old scores once and for all.
The Filipino native has fought "Dinamita" three times—all which have ended in controversial decisions—a draw and two victories going Pacquiao's way.
The fourth installment will be near enough, no different, to their trilogy battles—Pacquiao will stomp forward at every occasion with ruthless intentions, only to eat leather from the counterpunching Mexican.
That said, the "Pac-Man" will find the resolve in the latter rounds to end the debate as to who won their previous outings—a devastating left hook to Marquez's chin puts this one to bed by way of 12th-round TKO.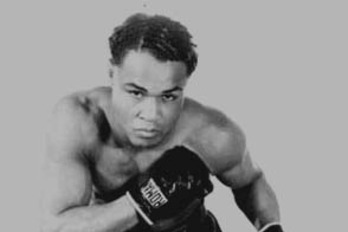 Courtesy Cyberboxingzone.com
Widely regarded as the No. 1 pound-for-pound fighter in the history of the sweet science, Sugar Ray Robinson was sweetness personified coated with layers of mind-boggling sugar—85-0 in all amateur bouts and compiled a 40-0 record before losing his first professional bout to Jake "The Raging Bull" LaMotta.
Henry "Perpetual Motion" Armstrong was Robinson's contemporary in every sense of the word and to boot, Robinson idolized him.
In 1943, these two fought what was, at the time, equivalent to the Muhammad Ali vs. Joe Frazier's "Fight of the Century."
Robinson prevailed via unanimous decision, and in this rematch with his precision punches and versatile combinations, he'll slowly, but eventually, wear down the ever-present murderous assaults of Armstrong to again take home a unanimous decision win.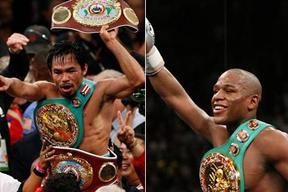 Courtesy Telegraph.co.uk
The second semifinals pits together boxing's present day pound-for-pound kings in what shall be termed the "The Fight of the Century" bar none.
Forget Cinco de Mayo, forget Floyd Mayweather's jail sentence, forget our heavenly father's divine intervention to prevent Manny Pacquiao's date with destiny, because contracts have been signed and the time for talking is at an end.
The superfight that the boxing world has clamoured for is upon us. In the words of Mills Lane, "Lets' Get It On."
Mayweather (43-0, 26 KOs) is one of the best counter-punchers in the business, in addition to possessing his own often impregnable defense.
Meanwhile, the ruthless southpaw from the Philippines has an impressive record of 55-3-2, 39 KOs. Furthermore, his brutal power, runaway-train and in-your-face, all-night game plan has broken many a foe.
"Pac-Man" bursts out of the corner throwing punches with the baddest intentions. Mayweather barely survives the early onslaught—having been severely rocked on several occasions.
For the next four rounds, Money May is knocked from pillar to post, with only his ministry style of defense saving him from ultimate disaster.
In the second half of the fight, Money comes into his own and begins to unleash deft combinations and soul-destroying counter-punches.
Pacquiao's stamina knows no bounds, but the accumulative effects of Mayweather's punches are beginning to take its toll on the now weary Filipino native.
The 12th and final round sees both combatants take centre stage—the customary touch of gloves follows, and it's on.
Pacquiao now needs a knockout to progress to the finals, and as a result, goes head hunting but to no avail. The wily Mayweather defensively sound as always slowly retreats from the oncoming fire, and in one fell swoop, unleashes a check-hook which sends Pacquiao to the canvas.
He beats the count, but Mayweather smelling blood goes in for the finish, and with Pacquiao unable to defend himself, referee Richard Cortez is left with little option than to call a halt to proceedings at the 1:55 mark.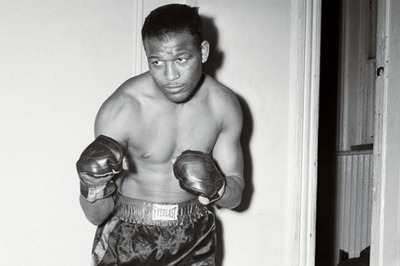 Courtesy Nicholasspyer.com
Sugar Ray Robinson (175-19-6, 108 KOs) and Floyd Mayweather (44-0, 27 KOs) are on a collision course for the bragging rights of boxing's pound-for-pound crown.
There's not much in it for either fighter as Robinson's offense is being nullified by Mayweather's defenses.
Mayweather begins to open up in the second half of the bout with a more aggressive style, but encounters several punches for every one he lands.
By the 12th and final round, it's become apparent that Robinson's mercurial rhythm and razor-like blows are beginning to bother Mayweather, so much so, that the five-division titlist back peddles in view of landing the "45."
Big mistake, as Robinson, like poetry in motion, delivers his masterpiece—the "perfect punch"—to send Mayweather sprawling to the canvass.
Money's sturdy chin and the sound of the bell are the only things that save him from a certain knockout.
The G.O.A.T reigns supreme via unanimous decision.
For additional information, follow Nedu Obi on Twitter.