C.J. Wilson: 5 Reasons Why He'll Be Better Than Yu Darvish in 2012
March 22, 2012

Christian Petersen/Getty Images
One guy is sizzle, the other is steak.
One is a rock star, the other is a rock.
One has more than 200 media-types under his nose, while the other has 200 big-league innings under his belt from last year alone.
Yu Darvish vs. C.J. Wilson is just one of the many subplots in the Los Angeles Angels/Texas Rangers rivalry that seems to be getting hotter by the day. Both are expected to be major contributors this season, but when the sun sets on the 2012 season, I believe one man will have clearly outperformed the other. And that man is Wilson.
When the Angels lured Wilson away from Texas with a five-year, $77 million contract, they strengthened an already impressive starting rotation while at the same time weakening the Rangers' staff in the process. It was a master stroke on behalf of the team in their now-borderline obsessive quest to overtake the Rangers and reclaim A.L. West supremacy.
Texas refused to sit still, however, and went hard after Japanese free-agent pitching sensation Darvish, agreeing to pay $51 million to his former team simply for the right to negotiate with him, then signing him to a six-year, $60 million deal. The result is between the two teams they have $188 million worth of
guaranteed money tied to a pair of arms—one right, the other left.  And the players those arms belong to couldn't be more opposite. 
Darvish is the star—the kind of player who would cause a riot by simply walking down the street in his hometown. Wilson, on the other hand, could walk in and out of In-N-Out without being noticed.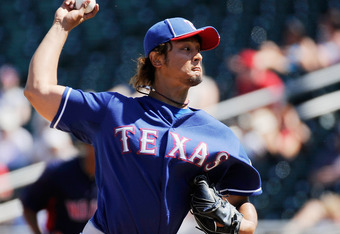 Kevork Djansezian/Getty Images
All signs point to Darvish being the better pitcher, so why do I think the Angels made the better move? Because both teams are trying to win now, and I believe Wilson will have a better season than his more celebrated counterpart. Here are five reasons why:
1. Spot in the rotation
Despite having No. 1-type stuff, Wilson is slated to be the Angels' No. 4 starter (and a pretty expensive one at that) and will square off against other teams' back-end starters, thus giving him a decided advantage pretty much every time he takes the mound.
Darvish, on the other hand, will likely settle in at the No. 2 spot in the rotation, pitting him against guys like Dan Haren, Max Scherzer and James Shields. He might eventually ascend to the No. 1 spot which would mean going up against Jered Weaver, King Felix, Justin Verlander, etc. When you're going against guys like that every fifth day, it means you have a much smaller margin of error to work with.
2. More Run Support
Because Darvish will be going up against a better quality of pitcher, run support is going to be harder to come by. He's going to find himself in situations where going seven innings and giving up two runs is not only enough to earn a "W" but could put him in line for a loss.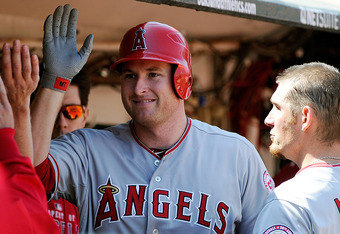 Thearon W. Henderson/Getty Images
Meanwhile, Wilson will likely be taking the mound with two and three-run cushions thanks to the Angels' potent offense and what it can do against your average No. 4-type starter. Pitching with a lead like that can have a tremendous positive effect on you both physically and mentally. It opens up a bevy of possibilities that can lead to better results. 
3. Familiarity Breeds Success
Wilson knows the American League in general and the A.L. West in particular, having spent the past seven seasons as a member of the Rangers—the last two of which exclusively as a starter. He knows what to expect from opposing players and certainly knows how to get them out. He's also from the area, so his familiarity with the surroundings is certain to make his transition to his new team even smoother.
Darvish is in the exact opposite situation. He's new to the league and is facing a caliber of hitter the likes of which he's never had to face before for any consistent length of time.  It's one thing to dominate major league hitters for three weeks during a preseason tournament and quite another to do so for an entire 162-game season, especially after hitters have gotten a good look at you.
4. A Better Man…ager
Angels' skipper Mike Scioscia is among the best managers in the game today. One of his greatest strengths is getting his pitchers to pitch up to (and in some cases, exceed) their expectations. He knows when to keep 'em in, when to pull 'em and he calls a great game from the bench. Under his leadership, the Angels' team ERA is routinely among the lowest in the league.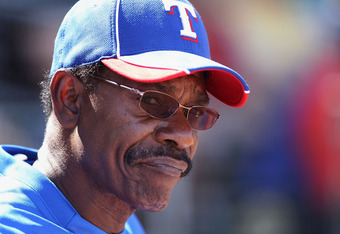 Christian Petersen/Getty Images
Rangers' manager Ron Washington has a great offense capable of winning slugfests, and his players appear to love playing for him, but he's no Mike Scioscia when it comes to the tactical portion of the game.
It's amazing how something so seemingly minor such as not telling your outfielders to play back with a ninth-inning lead could make the difference between winning and losing a World Series, but often times it's those little details, and the attention paid to them, that separate the champions from the
rest of the field. 
You can best believe that Scioscia is going to exploit every detail he can to gain his pitchers an advantage, and Wilson is going to benefit from that level of expertise.
5. The Pujols Effect
Wilson has Pujols on his team; Darvish does not. It's as simple as that.
For a variety of reasons, pitchers have historically done better in St. Louis than in other places they've
been. Dave Duncan and Tony La Russa had a lot to do with that, no doubt, but Pujols deserves some credit as well.
Whether it's his leadership, defense, timely hitting or something else, Pujols tends to
make his teammates better. And they were already hungry after missing out on the postseason the past two years. The fact that he's now Wilson's teammate bodes well for the left-hander, as he will feed off that determination and hunger.
Darvish, on the other hand, joins a team that has lost back-to-back World Series, the most recent of which in excruciating fashion. Star outfielder Josh Hamilton is in the final year of his contract and has already stirred up some drama, both on and off the field. 
The Rangers are trying to convert Neftali Feliz to a starter, but the early returns don't look promising.  Slugging outfielder Nelson Cruz can't seem to stay healthy. And it's very difficult these days to repeat as A.L. champions three seasons in a row. The Rangers are due for a letdown, and I expect Darvish to be negatively impacted by that.