Tim Tebow Traded to Jets: How Long Before Mark Sanchez Melts Down?
March 22, 2012

Elsa/Getty Images
Now that Tim Tebow has been traded to the New York Jets, Mark Sanchez is headed toward a collapse in 2012. The question is: At what point in the season does it happen?
According to ESPN's Adam Schefter, the deal is officially done and the east coast version of "Tebow-mania" can commence.
With doubters on the roster and in the stands, Sanchez won't be feeling much comfort heading into the 2012 season.
He hasn't handled the tension of playing in New York incredibly well so far in his young career. Now he has to add the miracle working "Messiah" to his list of anxieties.
Tebow is a huge test on Sanchez's fragility.
So at what point in the season does Sanchez falter exactly?
First, look at how he came to this circumstance.
2011 season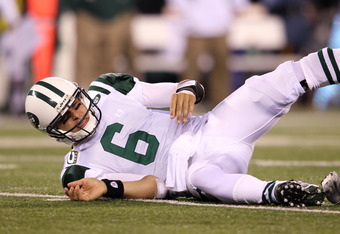 Nick Laham/Getty Images
For ease of a starting point, assume Mark Sanchez entered the 2011 season with the highest degree of confidence, 100 percent assured of himself.
After an 8-8 season in which the Jets missed playoffs and Sanchez was heavily scrutinized, his psyche took a huge hit.
Between teammates throwing him under the bus and fans booing him pregame, Sanchez has deflated to an incredibly low level.
Offseason
After the Jets pursued Peyton Manning, Sanchez's morale likely took another big hit.
But then the Jets changed their tune.
They gave up on Manning and recommitted to Sanchez, signing him to an extension worth $58 million over the next five years. If Sanchez hits incentives, the final number can rise to $68 million.
Sanchez expressed his excitement over the new deal with the media.
"I'm going to be the starting quarterback for the next few years here, and that's exciting,'' Sanchez said on a conference call. ''It gives the team just a reminder that I'm the leader of this team. To find out that I could come back for three more years means the world to me. I'm absolutely pleased to be a Jet.''
Clearly a guy whose state of mind is heading back in the right direction. He has the praise of those who matter most, the executives in the front office.
Management and a healthy contract. Now all he needs are good teammates and supportive fans.
Sanchez's opportunity to celebrate the extension didn't last long. Less than two weeks later, the Jets have acquired quarterback Tim Tebow.
Still, they claim he's the starter.
Regardless, he's got the biggest circus in sports due in town any day to compete.
That has to hurt the ego.
2012 season—Best-case Scenario
The 2012 schedule hasn't been officially released yet and won't until mid-April at the earliest. But we do know the Jets' opponents.
It sure looks good for Sanchez.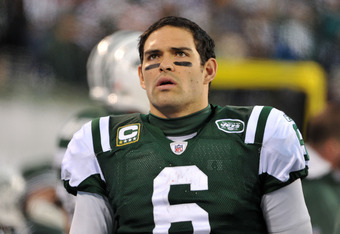 Christopher Pasatieri/Getty Images
He'll play his typical AFC East opponents twice each. He'll benefit from playing an average AFC South division and a weak NFC West. Sanchez also faces the San Diego Chargers and Pittsburgh Steelers.
The Jets beat the Buffalo Bills twice in 2011 with Sanchez throwing around 200 yards. The Bills continue to add pieces, so sweeping them will be no easy task.
Still, the Jets can split.
Beating the New England Patriots or San Francisco 49ers is going to be very difficult.
Sanchez is capable of leading the Jets to victory against the below-average Miami Dolphins twice, Jacksonville Jaguars, Seattle Seahawks, Arizona Cardinals and Indianapolis Colts.
The Chargers, Steelers, Tennessee Titans, St. Louis Rams and Houston Texans will be tough challenges, though each have their weaknesses.
New York can certainly go 11-5 in 2012 with Sanchez calling the shots.
Best-case scenario, the Jets have a gift-wrapped schedule early on.
Sanchez shines, the team clicks and fans sing his praise. Tebow is rarely seen on the field.
Last year, Sanchez averaged 217 yards per game. The number is deceptive because while he threw for over 300 yards three times, he threw for less than 200 yards in eight games.
But look at the alternative.
Tebow averaged 123 yards through the air per game last year.
Sanchez gains leniency because, unlike Kyle Orton's situation one year ago, fans now know exactly what lies in wait in terms of talent.
The mystery has been unveiled.
If Sanchez can perform decently and win more than half of the first eight games, it's a done deal.
His poise rises with each victory, his play becomes more impressive, he's a beloved New York athlete once again and in turn, the confidence continues to boost.
Mark Sanchez returns to form, putting the New York Jets back in playoffs and keeping Tim Tebow on the sideline.
2012 Season—Worst-case Scenario
The schedule is front-loaded with obstacles.
Sanchez, starting off already looking over his shoulder, proves inconsistent and the Jets lose four or five games early.
The one shining spot is Tebow's efficiency running the Wildcat offense on short yardage and in the red zone.
The chants for Tebow begin early and grow louder every Sunday.
Sanchez's confidence decreases with each defeat.
If five losses occur before the bye week, the talk of replacing Sanchez is overwhelming.
Final Prediction—When Mark Sanchez melts down
The Jets are 4-6 after 10 games.
In that span, Mark Sanchez performs at his average pace, hovering around a 55 percent completion percentage and a passer rating of 74.
Both are below the standards of a successful starting NFL quarterback.
On top of that, neither the running game (unless you want to count Tebow) or wide receivers have been upgraded.
Head coach Rex Ryan, on the hot seat, seriously considers replacing Sanchez with Tebow. To make matters worse, in true Rex Ryan fashion, he ponders the decision out loud to the New York media.
Sanchez, in desperation mode to keep his job, has the worst game of his life in Week 12 and is supplanted by Tebow at halftime. The Jets win.
In a shoot from the hip move, Tebow is declared the starter the following week in hopes the team can finish at least 9-7 and snag a wild-card spot.
Week 13 of the 2012 NFL season: Tebow-mania sets New York ablaze.