WWE: Top 5 Worst Pro Wrestling Matches Ever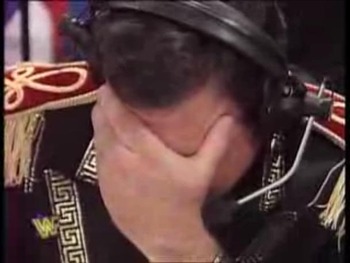 I hate to admit it, but in pro wrestling there are always matches you wish you could erase from your memories. Some matches are so awful that you might get the urge to gorge your eyes out horror-movie style. Sometimes if it's on television, you can change the channel to something less atrocious, but if it's a PPV match which you payed $60 for, most likely you will suffer through it.
I would LOVE to just get a broom and mentally sweep many horrible matches under a rug that is my brain. However, horrid matches do have their purposes and should be utilized as a measuring stick for average to superb matches. The good news is that we develop a deeper appropriation of what it takes for wrestlers to perform a serviceable match.
The bad news?
You actually have to watch the match to know what a pitiful, awful performance looks like.
I narrowed down to what I believe is the top-five worse matches in the history of pro wrestling, and I had to comb through some pretty mind-numbingly painful matches to pick the top five. It was such an awful experiences for me that I had to watch both of Shawn Michaels and Undertaker WrestleMania matches just to remind myself that phenomenal matches still exist.
So, ease your back into your computer chair. Grab your bag of Doritos along with your choice of beverage. Crack your knuckles and prepare your eyes for some pretty downright ugly matches!
5. Mr. T vs. Rowdy Roddy Piper
So, we have Roddy Piper facing Mr. T in a boxing match? This occurred at WrestleMania II and mind you the event is called WrestleMania, not BoxingMania. I wasn't born yet, so I can't really say if people would pay to see an actor who portrayed a boxer face off against a pro wrestler in a boxing match instead of a wrestling match.
Let's say a fan didn't care if it was a boxing match instead of a wrestling match, as Mr. T seems athletic enough to keep up with Piper, and Piper has enough skills to make a broomstick look like a legend. The match still sucked, as they looked sluggish compared to boxing greats such as Joe Frazier or Muhammad Ali. Hell, Mr. T boxed better in Rocky III than facing off against Piper, and that is sad.
The matched dragged on and the crowd was not really into the match, as the boxing was bad and went on for four rounds of weak-looking punches being thrown. I cheered when Piper bodyslammed Mr. T for the disqualification, not because Mr. T won, but because the match was over.
If this match had went longer than four rounds, I'd be wishing for a knockout punch to send me to la-la land instead of watching this pile of poo.
4. The Brothers of Destruction vs. KroniK
Believe it or not, The Undertaker has some very disgustingly awful matches under his belt. It's okay if you forgot that his matches with Shawn Michaels have made us forget. Luckily his match against the team of KroniK scarred me for life, which is why it's considered one of the worst matches ever.
I have never seen so many botches in one match. This match could be made into a drinking game, as every time there is a botch, you drink a shot of vodka. Knowing The Undertaker and Kane are contributing to the botches sends shivers down my spine, as I bet this match could have been worse if The Brothers of Destruction were not as experienced as they were.
The impact of a lot of the moves were comical at best.
Yet, it was obvious that The Undertaker and Kane were definitely not on their A game and certainly could of done better themselves.
3. Superbrawl VII 1997: Hollywood Hulk Hogan vs. Rowdy Roddy Piper
Here's part two of the match for those brave souls willing to watch the match in its entirety.
You all have no idea how painful it is to include Rowdy Roddy Piper twice, but such is life. This is the worst match that Piper and Hulk Hogan ever had together, which is saying a lot as their matches in the 80's were great to serviceable. When I first saw this match, I was hoping the worst part of the match is Hogan stalling for 10 minutes.
Surprisingly, the best part was the stalling.
It was strangely not a lot of wrestling, as they had their classic moves, but it felt like they were just wrestling the bare minimum. Also, the referee was just STUPID. Piper did a eye poke, a few low blows and a chair shot to Hogan's head and yet, the referee never declared Hogan the winner by disqualification. It just insults my intelligence.
When Piper put Hogan in his classic sleeper hold, it forced the referee to declare Piper as the winner due to Hogan's inability to continue. Randy Savage dragged Hogan to his feet to fool the referee into thinking he made a mistake. The issue is the referee could CLEARLY see Hogan's feet were never under the ropes to begin with!
The commentary didn't help much as they said Hogan was trying to get himself DQ'd. Them saying that Hogan was trying to get DQ'd is utter horse-poo, as Piper blatantly was doing DQ-worthy maneuvers, for the lack of a better word.
I'm also was a bit weirded out by Piper's attempts at biting Hogan's face as at times; it just looked wrong.
2. Sting vs. Jeff Hardy
This could have been a awesome match, or at least above average. Unequivocally, this match had very high expectations as this was a dream match that WWE and TNA fans have envisioned for many years. Yet, Hardy's behavior before the match was very questionable and forced TNA to shorten it to 90 seconds.
This is similar to WCW's finger-poke of doom, with the main difference being that this was not planned and could have been entirely avoided. Management should've replaced a disoriented Hardy with someone else and gave the paying fans a worthwhile pay-per-view.
Did TNA do that?
NO!
They let Hardy walk out and the fans, viewers at home and extraterrestrials from space all clearly saw that Hardy was very out of it. He even disrespected fans by toying with throwing the t-shirt to the crowd, choosing instead to just throw it on the floor. Sting looked agitated as no doubt he realized he might be wrestling with a drunk.
Eric Bischoff comes out and relays to both men the change of plans. He plays it off like it was planned out and gave a convincing reason for changing it to a No-Disqualification match. Over a minute later, the match ends with Sting, the crowd and viewers at home all pissed off.
This match may have different reasons and standards for being considered one of the worst, but it's clearly justifiable.
1. Kaitlyn vs. Maxine
This is without a doubt the worst match ever. At least with the last four selections, you can argue why they might not be considered the top five or even 10 worst, but this horrid absurdity of a match was unbearable. Every single aspect in this match was downright awful as all involved, including the fans, just made the match a monstrosity in pro wrestling.
First of all, it's of the highest level of stupidity giving Alicia Fox and Vickie Guerrero their own mics. Plus the commentary team over-talking with each other was distracting. Speaking of the commentary, it was awful, and Cole talking on his cell phone came off as unprofessional. But with how awful the match was, I could understand why he would rather talk on the phone.
There was a moment that I had to check my cochlear implant as I thought it was malfunctioning. The crowd was more silent than the film, "The Artist." I couldn't even hear crickets chirping, but I suspect they died out of shock of seeing an awful match. Bottom line is the crowd sucked, as they could have chanted something instead of sitting on their hands silently.
Kaitlyn and Maxine started the match executing holds, but then decided to stop looking pretty and try be wrestlers. Needless to say they both failed as they botched too many moves to where I hoped no one would get hurt. Even the roll up and pin was botched.
The commentary pointed out how awful the match was, but it's hard to know if they were really pointing it out or were planning on saying it was awful. This match was so putrid on the scale of horribleness; Michael Cole made this match watchable.
Cole making any match watchable means it was bad, very bad!
Keep Reading