Memphis Grizzlies Report Card: Grading All Key Players Through 44 Games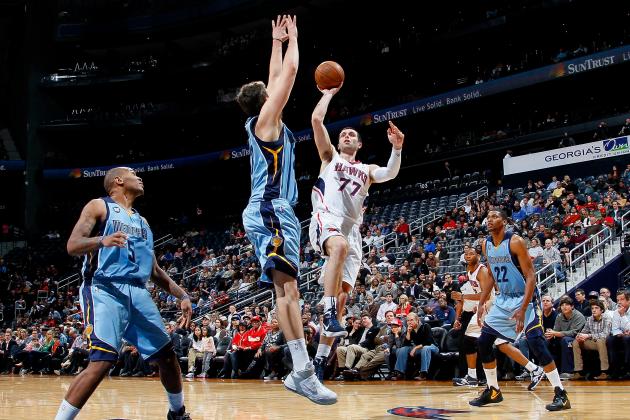 Kevin C. Cox/Getty Images

The Memphis Grizzlies are hanging tough as they head into a crucial point in the season. They're standing sixth in the Western Conference with a third of the season left. The next 13 games will help determine how they finish, as they play 10 games against .500 teams in that stretch.
This is a good time to evaluate player performances. The Grizzlies have played a tame schedule to this point in March. Seven of the nine games thus far have been against teams with losing records.
Some have been playing up to expectations. Rudy Gay is doing his typical scoring job and Tony Allen is holding the fort on defense.
Others aren't doing as well. Marreese Speights is starting to fade as he cedes his starting job to Zach Randolph.
Seven players will be evaluated here: the five players (Gay, Speights, Allen, Marc Gasol and Mike Conley) and the two main bench players, O.J. Mayo and Dante Cunningham.
Follow along to see how each player has fared.
Begin Slideshow

»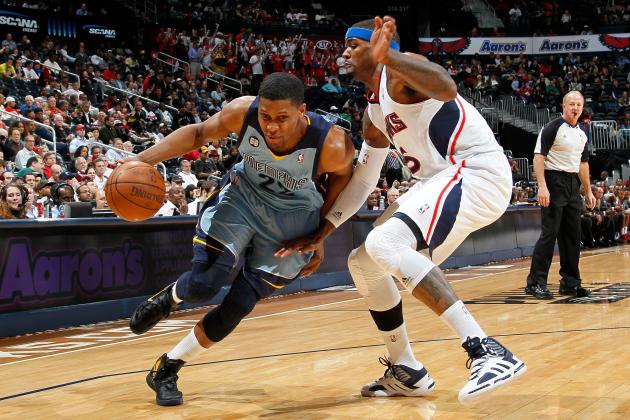 Kevin C. Cox/Getty Images

Grade: A-
Rudy Gay has been the key scorer for the Grizzlies. He held the team up with Zach Randolph, leading the transition attack and creating endless amounts of plays. Gay's 19.2 points per game have been just about what one would expect for the leading scorer of a balanced scoring team. His 6.9 rebounds per game are impressive.
Gay's 45.2 percent field goal and 35 percent three-point shooting could be better.
He's been outstanding this month, averaging 20.8 points per game. His 3-of-13 performance against the Denver Nuggets can be excused since he suffered a concussion in that game.
Gay will likely continue to be the leading scorer for the Grizzlies, even with Randolph back. Gay will likely take one or two more shots per game, as he continues to be the leading shot taker for the team.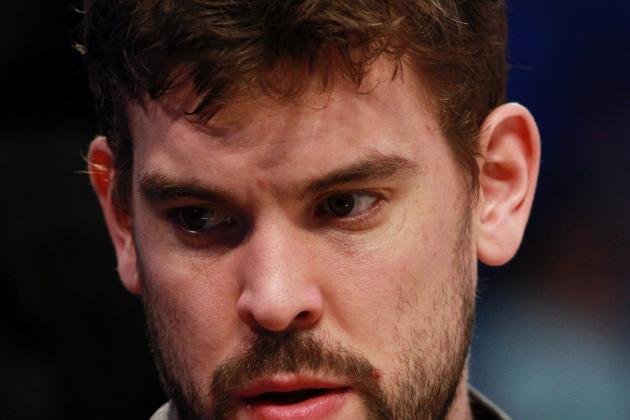 Ronald Martinez/Getty Images

Grade: B
Marc Gasol generally does a solid job. His career high averages (15.8 points, 9.8 rebounds, 2.1 blocks per game) earned him an All-Star appearance. Gasol is shooting 49 percent from the field at this point, a bit lower than it should be. It's been dragged down by poor shooting against above .500 teams.
Through March 6, he was shooting only 39.7 percent on the road against .500 or better teams.
His struggles against good teams may have been the result of Randolph's absence. Perhaps he was affected by having to take more shots when Randolph was out. Also, teams might have increased pressure on Gasol since he was the only dynamic big man.
Another item of concern for Gasol has been his recent drop in defensive production. He's averaged only 8.4 rebounds and 0.9 blocks per game in the first nine games of March.
Hopefully, Gasol can pick things back up down the stretch. Perhaps the return of Randolph will take pressure off the Spaniard.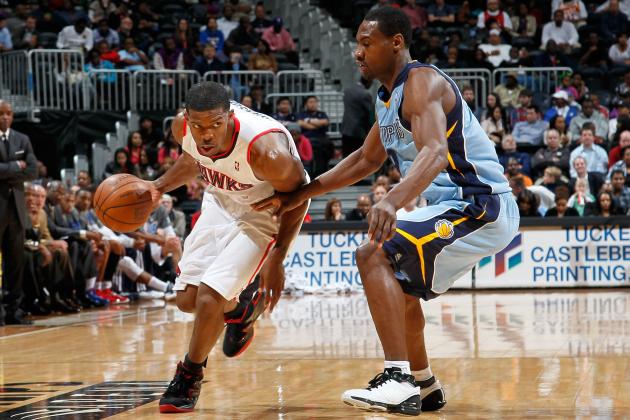 Kevin C. Cox/Getty Images

Grade: B+
Tony Allen's "Grindhouse" is always in session. His defensive leadership pushes the transition game. Allen is a key force in grabbing steals and pushing the fast break. He is averaging 1.8 steals per game and holding a league-leading 3.6 percent steals rate.
Allen stepped up with Randolph out. He's averaging career highs with 12.1 points and 7.9 field goal attempts per game. In his career, Allen has been one who typically doesn't take many offensive touches since he's turnover-prone.
Periodically, Allen has come up with big offensive games. Most recently, he posted 18 points to go with three steals in an overtime loss to the Los Angeles Lakers.
Allen can get too excited on defense at times. He'll sometimes have games like Tuesday against the Sacramento Kings, when he has three steals but allowed Marcus Thornton to score 31 points.
Randolph's return to form will surely help Allen focus more on the defensive toughness that has made him who he is. Also, with Randolph transitioning back and Gilbert Arenas joining the team, Allen will likely take fewer shots. With fewer offensive touches, Allen will be less of a turnover risk.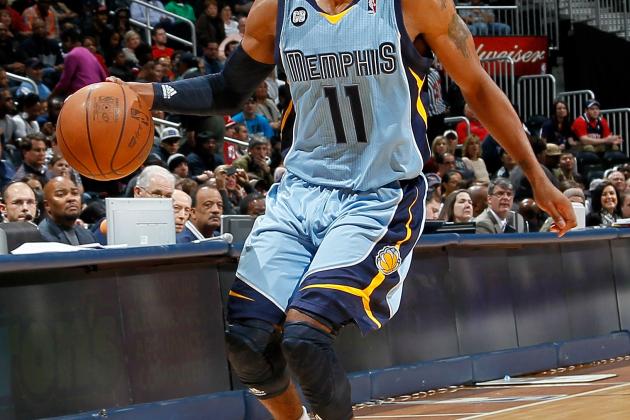 Kevin C. Cox/Getty Images

Grade: A-
Mike Conley is emerging as one of the better point guards in the NBA. He's the maestro of a quick transition offense. His 13 points per game are nice. He's averaging career highs with 7.3 points and a league-leading 2.5 steals per game, along with a career-high 84.8 percent free-throw mark.
All of those are marks of a solid point guard.
Conley has been great pushing the ball on the fast break, making passes in transition and running out to make plays when he can.
He's done quite well in March, averaging 11.8 points and 9.1 assists per game.
With 36.5 minutes per game, Conley has seen a high minute load, which should be eased with the arrival of Gilbert Arenas.
Kevin C. Cox/Getty Images

Grade: B-
Marreese Speights has had an up-and-down year. In his first eight games in the rotation, Speights averaged 9.9 points and 7.5 rebounds per game. When Lionel Hollins gave Dante Cunningham more minutes in the following 10 games, Speights put up only 5.1 points and 3.7 rebounds on 32.2 percent shooting.
He responded well to a boost in minutes, averaging 12.5 points and 10.4 rebounds per game in an eight-game stretch in February.
Now, Speights is quieting down again with another drop in minutes.
With Randolph back in the starting lineup, Speights is beginning to see his role diminish. In the three games since Randolph has been in the lineup, Speights has averaged four points and 5.3 rebounds in 15 minutes per game while shooting 36 percent.
He'll share minutes with Cunningham for the rest of the season, and probably see a little less time. Cunningham does better with a restricted number of minutes than Speights, who seems to need time to get in the flow of the game.
Also, Cunningham provides athleticism than Speights, something Hollins likes.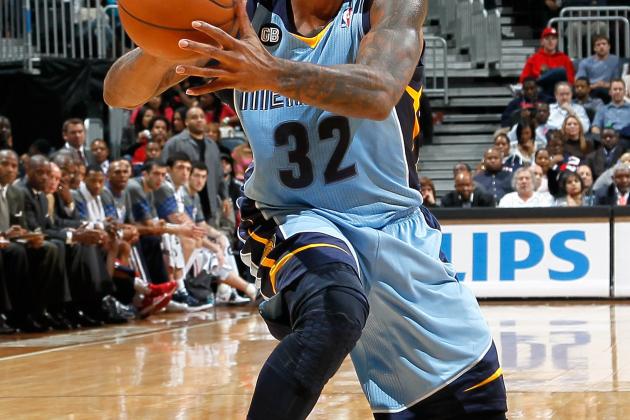 Kevin C. Cox/Getty Images

Grade: B+
The trade deadline has come and gone, and Mayo is still with the Grizzlies—to the surprise of many. He continues to play a huge role as a major scorer off the bench. He came up big against the Nuggets last Sunday, scoring 22 points, including a clutch three-pointer.
Mayo's 12.1 points in 26.9 minutes per game have been valuable. He provides needed relief to Tony Allen and Mike Conley. Mayo's 1.1 steals per game give sustained defensive dependability off the bench.
Mayo's 40.5 percent field-goal mark, however, isn't that great.
He's off to a nice March run, averaging 13.2 points and 3.2 assists per game.
Mayo's role may change a bit with the arrival of Gilbert Arenas, but he should still get 10 points and 24 minutes per game down the stretch. Mayo's scoring punch was big late last season and in the playoffs, and he should play a big role again this year.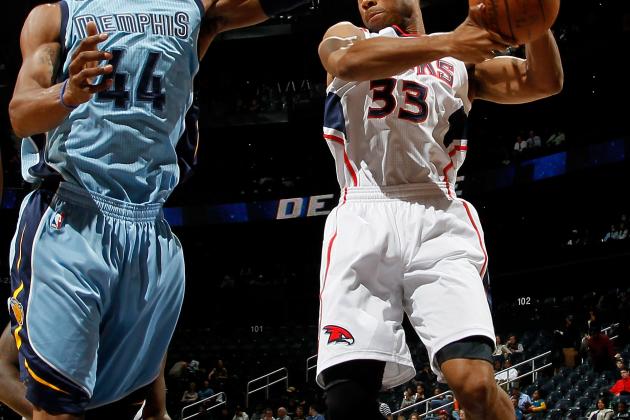 Kevin C. Cox/Getty Images

Grade: B+
Dante Cunningham has done a solid job for his role. He provides great athleticism on defense and scores well. Cunningham averages 5.5 points and 4.1 rebounds per game. His 50.5 percent shooting is very respectable.
Cunningham has put up a couple of clutch performances recently. He scored 10 points in 20 minutes against the Dallas Mavericks on Feb. 29. Last Sunday against the Nuggets, he had 12 points, eight rebounds and three steals.
His banner game of the season was against the Atlanta Hawks, when he put up eight points and 12 rebounds while holding Josh Smith to 11 points.