Tim Tebow vs. Mark Sanchez: How Potential Jets QB Controversy Will Play out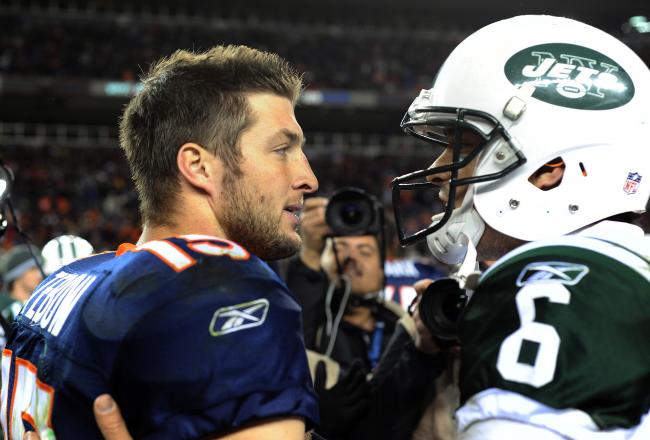 Garrett Ellwood/Getty Images
Be afraid, Mark Sanchez. Be very afraid.
Tim Tebow is coming for your job!
OK, so maybe Tebow's express purpose in joining the New York Jets isn't to supplant Sanchez from his scorching hot seat as Gang Green's first-string quarterback, though, there's a strong possibility that a controversy will spring up anyway.
You know, like, as soon as Tebow sets foot in the Big Apple and so much as holds up that No. 15 jersey.
And like everything else that's accompanied the phenomenon known as Tebowmania, it won't be Tebow's fault or even his own doing.
Let's sketch out a timeline here: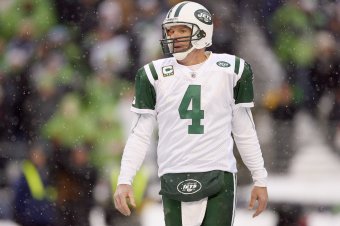 Otto Greule Jr/Getty Images
Phase 1: Tebow is introduced, and within five minutes, the New York sports media has contrived at least 1,746 different storylines and scenarios involving Tebow, Sanchez, Rex Ryan, owner Woody Johnson, Santonio Holmes, GM Mike Tannenbaum, Joe Namath, Brett Favre, Eli Manning, Peyton Manning, Archie Manning, the guy manning the hot dog stand on the corner and/or, let's say, Katy Perry/Kim Kardashian/Taylor Swift.
Phase 2: Baseball season starts. Tebow gets a bit of a reprieve from the scrutiny as he spends the offseason in Florida, as so many New Yorkers tend to do. Meanwhile, the New York sports media sustains itself on the usual spring fare (i.e., What's in Derek Jeter's gift baskets? Is the Kobe System working for Alex Rodriguez? How big of a hero/goat is Carmelo Anthony? Does anyone care about the Mets?).
Phase 3: Mark Sanchez does another metrosexual photo shoot. He never hears the end of it. Also, Favre ponders un-un-retirement, and Bart Scott gets anxious.
Phase 4: Training camp arrives! Many footballs get football'd! Mark Sanchez gets 99 percent of the first-team snaps. Wayward Occupy Wall Street protesters seize on it, demanding that Tebow get more than the "one percent." Tebow looks terrible, nonetheless, but the New York sports media, in dire need of sustenance, continues to pester Sanchez with questions about his status as the starter.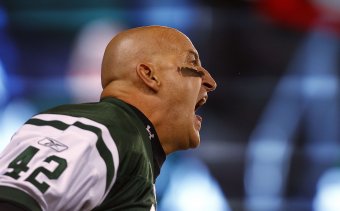 Jeff Zelevansky/Getty Images
Phase 5: Preseason games begin. Sanchez gets in his usual reps. Tebow gets his, too, and has his good and bad moments (just as he did in Denver). Some wonder if the deal was a waste, while others play up the "savior" angle. Merril Hoge rubs his brow restively. Snake Plissken feels disaster approaching and realizes that the more things change, the more they stay the same.
Phase 6: The season starts. Sanchez shows flashes but finds himself struggling at home against a subpar opponent (Buffalo/Indianapolis). Fireman Ed nearly blows a gasket while inciting a riot (T-E-B-O-W is one letter too long for him to handle). Rex Ryan sweats through his sweater vest before imploring Tony Sparano to put Tebow in the game. Tebow comes in, leads the Jets to victory and, in the process, gives every sports page editor in New York City license to unleash a never-ending slew of semi-witty/fully-annoying headlines that they've been storing up for the last six or seven months.
Phase 7: Jets fans tie Tebow up and march him down the Canyon of Heroes...then the Jets miss the playoffs two months later, Rex Ryan gets the ax, the team hires a new head coach and we go back to Phase 1.
Who will be the Jets' starting quarterback at season's end?
(Collective sigh.)
Or everything will work out as the Jets planned. Tebow's presence will push Sanchez to improve, Tebow will learn to play quarterback while waiting patiently behind him, Gang Green will win the Super Bowl and Fireman Ed will be anointed Sir Fireman Ed by Bill Swerski and the Order of Annoying Superfans.
No in-between. None, I say!
Fasten your seatbelts, Jets fans. You're in for (yet another) wild ride.
This article is
What is the duplicate article?
Why is this article offensive?
Where is this article plagiarized from?
Why is this article poorly edited?

New York Jets: Like this team?