2012 NFL Draft: Green Bay Packers Pre-Draft Strategy
March 22, 2012

Joe Robbins/Getty Images
The powers that be at this very site have begun a 2012 NFL mock draft within the community of Bleacher Report.
What exactly does that mean? Well, it means that featured columnists for each of the 32 NFL teams have been picked to act as GM for their team during a full seven-round mock draft.
As acting GM for the Green Bay Packers, I've enlisted the help of fellow featured columnists Zach Kruse, Bob Fox, Matt Smith, Michael Kimble and Michael Dulka to help get a strategy for our draft. We've compiled a sort of "war room," and I thought I'd let you inside our thinking before we pick with the 28th pick.
What Positions Are We Targeting?
The consensus among us all appears to be that we should go after a defensive end or outside linebacker with our first pick. These were clearly the weakest points of our defense in 2011, and need to be addressed immediately.
One point that Zach Kruse brought to our attention was that we should keep an open mind and see who falls our way. Instead of reaching for an outside linebacker or defensive end, he said we should let the board dictate how we draft. 
For example, if there is an ultra-talented offensive player available to us, he doesn't think we should pass on him, which I agree with.
What Players Could We Be Looking At?
Some names being thrown out right now on defense are Vinny Curry of Marshall, Kendall Reyes of UCONN, Andre Branch of Clemson and Whitney Mercilus of Illinois. On offense, the only name we've discussed is Peter Konz from Wisconsin.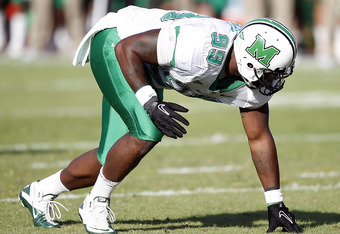 Bob Levey/Getty Images
Is Trading Up a Possibility?
A few of the other GMs have made it known that they would be entertaining draft offers, but the Packers would have to give way too much to move up.  I think the only way we would trade up is if there was a perfect fit for our defense in somewhere around the 20th pick.
Feel free to follow along with us on Twitter, as we'll give you all our picks at @MatthewJStein. You can also follow #BRCommunityDraft to see how the entire 2012 NFL mock draft is shaping up.