New York Jets Mock Draft: Predicting All Picks for the Jets Post-Tebow Trade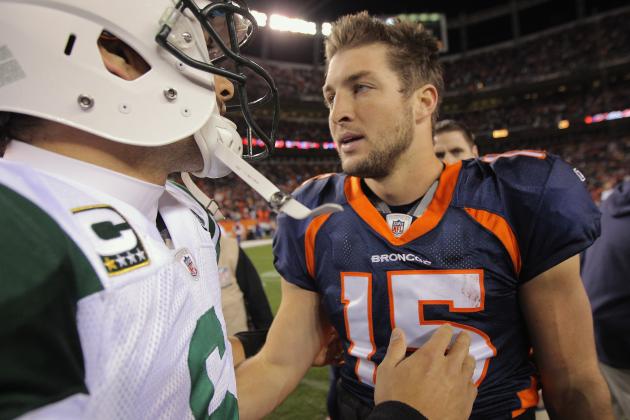 Doug Pensinger/Getty Images

The Jets need to make the right decisions in the 2012 NFL Draft.
I suppose that's true for every team every year, but it's especially true for the New York Jets. After a disappointing season where they missed the playoffs amidst controversy, the Jets could turn over a new leaf by drafting some good, promising players in key areas.
The most important aspect of the Jets' attack on the draft should be addressing the pass rush and filling other needs such as safety, wide receiver and running back.
After my first mock draft, the Jets have traded for Tim Tebow, giving up their fourth and sixth in exchange for Tebow and Denver's seventh:
Denver has agreed to trade Tim Tebow and a seventh-round pick to the Jets for the NY's fourth-round pick and a sixth-round pick.

— Adam Schefter (@AdamSchefter) March 22, 2012
This changes the draft slightly, but not that much.
Begin Slideshow

»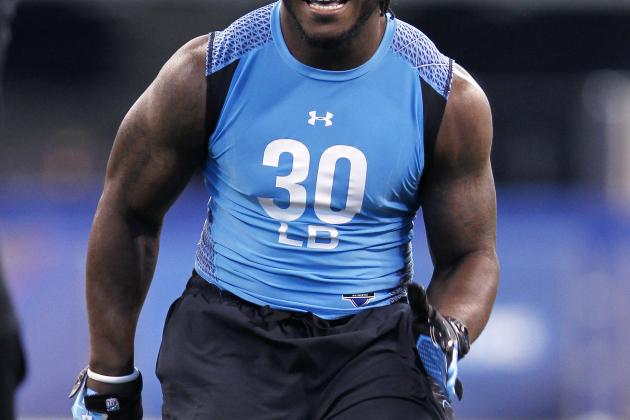 Joe Robbins/Getty Images

In the last mock draft I had Dontari Poe with this pick.
His stock has risen even higher since then, and now some analysts—including our own Matt Miller—have Dontari Poe as early as Pick 14. Since he was a game at best, taking him at 16 does not seem like a good idea anymore.
Instead, taking Courtney Upshaw does.
Since Poe is probably going to be unavailable at this position, drafting a natural defensive end like Upshaw seems like a brilliant idea.
Last season, Upshaw had 52 tackles and 18 for a loss, recorded 9.5 sacks and forced two fumbles. He also had an interception which he returned for a touchdown.
Upshaw, with his amazing athleticism, should be able to provide an immediate pass rush for the NYJ that was sorely lacking last season. He will immediately patch up one of the several needs the NYJ have in time for next fall.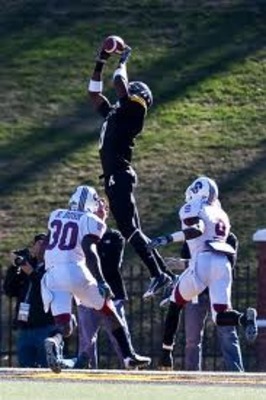 We already know Mark Sanchez has gotten comfortable throwing the high ball to Plaxico Burress.
Brian Quick, a projected second or third-rounder from Appalachian State, is the same kind of animal. Standing at 6'4'' with a three-foot vertical, Quick is the type of player who can catch the deep ball or catch the short high pass over a short corner.
He's just the type of reliable option that Sanchez could use, especially after getting used to the type of height Burress brings.
Plus, Quick is projected to go as low as the third round, meaning that halfway through the second round he has a good chance of being on the board when the Jets come up to pick.
Now that the team has Tebow as well, adding wide receiver help is definitely a great idea—for both Sanchez and whenever Tebow plays.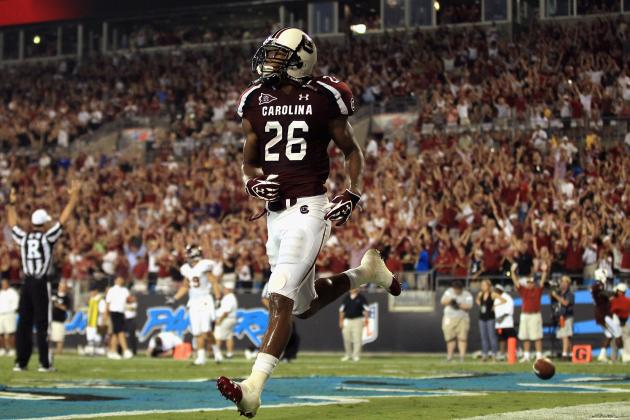 Streeter Lecka/Getty Images

Now that the Jets have failed to resign Brodney Pool and Jim Leonard, they are definitely going to need a safety opposite of LaRon Landry. Antonio Allen is a good prospect to take.
Allen is one of the best safety prospects available.
He missed two games in the 2010 season and still managed to record 70 tackles, 2.5 sacks and two interceptions, including a touchdown.
He's a talented player who is projected to go in the third round and could turn into a real threat given the time and experience.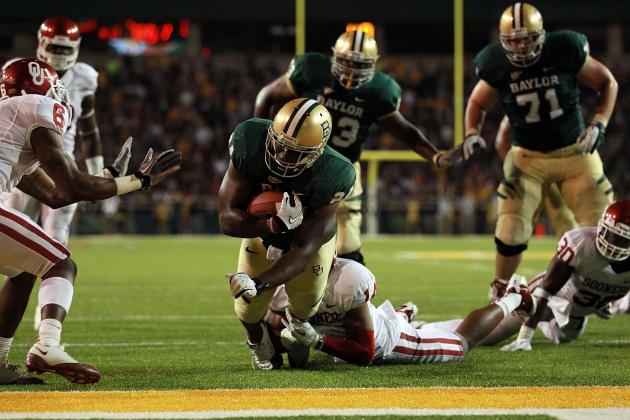 Ronald Martinez/Getty Images

One of the most disappointing things about last year was the lack of spark the Jets received from their run game.
Some analysts think that the Jets should use their first-round pick to draft a running back, but I disagree.
I think that the Jets' need for a pass-rusher is much more prevalent than the need for a running back. Drafting Ganaway in a later round is a perfect option—with low risk and high reward.
Ganaway is a 6'0'' and 240-pound beast who has a 4.67 dash time and a 37" vertical leap. He's another athletic monster who could come in raw and be coached up to a real talent.
Plus, having extra running backs on the roster will pressure Shonn Greene or any RB the Jets acquire in free agency to focus hard on keeping his starting job.
I had Terrance Ganaway as the Jets fourth-rounder last time, but with the Tebow trade, the fourth-round pick is not available. It is probable, though, that Ganaway will still be available late and the Jets should snag him if so.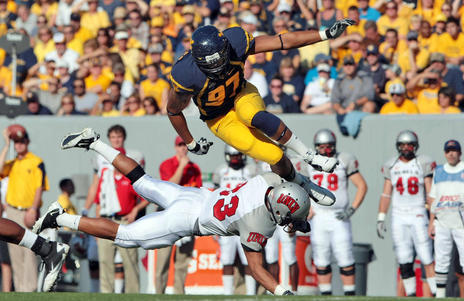 You never know what you're getting this late.
And with two seventh-round picks, the Jets might as well address their needs again. First with Julian Miller, the DE out of West Virginia.
While he is unlikely to beat out Courtney Upshaw in training camp, there is no reason not to take him, especially since a defensive end is one of the more pressing needs for the Jets.
Miller is 6'3 and 256 pounds, ran a 4.76 40 yard dash and can also play outside linebacker.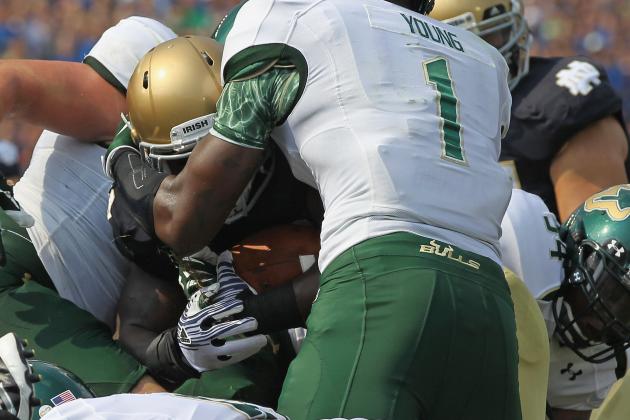 Jonathan Daniel/Getty Images

Just like Miller, taking Jerrell Young here is more of another way to address the need for a free safety the Jets currently have.
Young is 6'1" and weighs 207 pounds, posted a 4.57 40 yard dash time and also plays strong safety.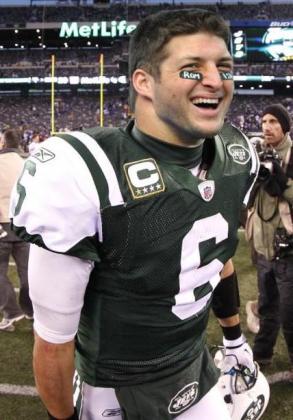 Don't forget to post your questions, comments or any mistakes you might happen to see in the comment section below.
Now that you've seen my picks for the draft, you can head over to Jets central and look at who I think the Jets should take in free agency.
Thanks again for reading! (and thanks to headblitz.com for the Tebow photoshopped as a Jet pic)