2012 NFL Free Agents: Mike Wallace and Best Players Left on the Market
March 22, 2012

Karl Walter/Getty Images
The Peyton Manning Sweepstakes have come and gone, and most of the NFL's marquee free agents have either reeled in hefty deals or been slapped with the franchise tag.
But that doesn't mean the market is necessarily devoid of big names who've yet to cash in on their football cachet.
Just ask these three gridiron warriors for hire, all of whom are due to make a pretty penny before the offseason is through.
Mike Wallace
Why, oh why, has the NFL seemed to have taken a hands-off policy with regard to Mike Wallace? He's a 25-year-old speed demon who's already molded himself into an elite receiver and still has plenty of upside to spare.
And, so far, no suitors have come calling for his services. To be sure, Wallace would come at a considerable cost; aside from the sum of a contract, any team that signs Wallace would owe a first-round draft pick to the Pittsburgh Steelers, who tendered their restricted free agent a one-year, $2.7 million offer.
That being said, there are certainly teams with late-first-round selections (i.e. the Denver Broncos, the New England Patriots) that could use a top-tier talent like Wallace out wide and would be hard-pressed to find a better player with the pick they'd have to give up.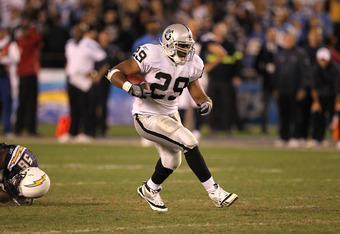 Stephen Dunn/Getty Images
Everyone and their mother had Michael Bush pegged as a surefire signing for the Cincinnati Bengals...until the Queen City Cats went out and snagged BenJarvus Green-Ellis.
And now that Peyton Hillis and Mike Tolbert have found new homes, there's a good chance that Bush ends up back with the Oakland Raiders, as Steve Corkran of the Contra Costa Times suggests.
The Raiders would be wise to welcome Bush back into the fold if they can do so at a reasonable rate. The four-year veteran out of Louisville was spectacular in support of Darren McFadden, who missed the final nine games of the season with a foot injury.
As great as "Run DMC" may be, he's still as injury-prone as any feature 'back in football, thereby rendering the presence of a quality backup like Bush that much more valuable for the Silver and Black.
Curtis Lofton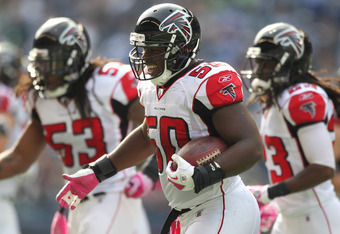 Otto Greule Jr/Getty Images
How is it that Curtis Lofton is still on the market, after racking up a whopping 492 tackles over his first four years in the NFL?
As D. Orlando Ledbetter of the Atlanta Journal-Constitution points out, it may be an issue of money and perception, with Lofton's camp looking to land him a contract similar to those of his elite linebacking peers and most suitors thus far thinking he's not "spectacular" enough to warrant such a payday.
The former Atlanta Falcon is sitting on an offer from the Tampa Bay Buccaneers and has had discussions with the New Orleans Saints, though it'll be interesting to see if his feelings are at all swayed by the "Bountygate" penalties.
Wherever Lofton lands, he'll do plenty to make sure that his team is happy to have one of football's top tacklers on board.