Fantasy Baseball Rankings 2012: AL-Only Starting Pitchers
March 22, 2012

Kevork Djansezian/Getty Images
Here are the 2012 LestersLegends Starting Pitcher Rankings for AL-Only leagues.
1. Justin Verlander, Detroit Tigers 
Coming off one of the finest seasons a pitcher has ever thrown (24-5 with a 2.40 ERA, a 0.92 WHIP and 250 Ks). He was unhittable.
2. Felix Hernandez, Seattle Mariners 
Unfortunately, the wins could be hard to come by, but expect his ERA (3.47) and WHIP (1.22) to come down and his strikeouts (222) to go up.
3. C.C. Sabathia, New York Yankees 
Turned in a typically solid 19-8, 3.00 ERA, 1.23 WHIP, 230 Ks season.
4. Jered Weaver, Los Angeles Angels 
Could see his wins increase, which would be impressive, considering the 18-8, 2.41 ERA, 1.01 WHIP and 198 Ks he produced last year.
5. Jon Lester, Boston Red Sox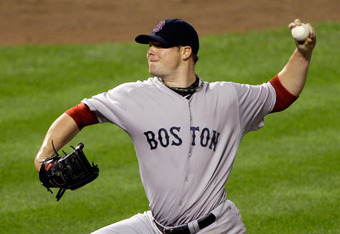 Rob Carr/Getty Images
I expect the Red Sox to be a much more disciplined team. Lester should be better than the 15-9, 3.47 ERA, 1.26 WHIP and 182 Ks he produced last year.
6. Dan Haren, Los Angeles Angels 
Haren and Weaver form a nasty one-two punch. His 16-10, 3.17 ERA, 1.02 WHIP and 192 Ks can be bettered.
7. David Price, Tampa Bay Rays 
Anchors perhaps the deepest rotation in the league. He was only 12-13, but he still posted solid peripherals (3.49 ERA, 1.14 WHIP, 218 Ks), so a bounce back should be in order.
8. James Shields, Tampa Bay Rays 
Returned to form with a 16-12, 2.82 ERA, 1.04 WHIP, 225 Ks season.
9. Matt Moore, Tampa Bay Rays 
He could see his innings monitored down the stretch, but he has no fear and very few peers at his age.
10. C.J. Wilson, Los Angeles Angels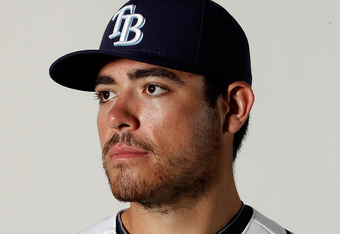 Jonathan Ferrey/Getty Images
Escapes Texas, where he put up a 16-7, 2.94 ERA, 1.19 ERA, 206 Ks season. His road ERA last year was 2.31.
11. Josh Beckett, Boston Red Sox 
Health is a concern, but he made 30 starts last year and was highly effective (13-7, 2.89 ERA, 1.03 WHIP, 175 Ks).
12.  Ricky Romero, Toronto Blue Jays 
He continues to improve. Last year he set career highs in wins (15), ERA (2.92), WHIP (1.14) and strikeouts (178).
I'm not sure he can post another sub-3.00 ERA, but he's definitely a solid third fantasy starting pitcher.
13.  Micael Pineda, New York Yankees 
I don't love his move to the Yankees, at least for his peripherals (3.74 ERA, 1.10 WHIP), but his win total (nine) should increase.
14.  Yu Darvish, Texas Rangers 
He comes in with a ton of anticipation and excitement. He was nearly unhittable in Japan. There is little reason to believe he won't be sensational over here.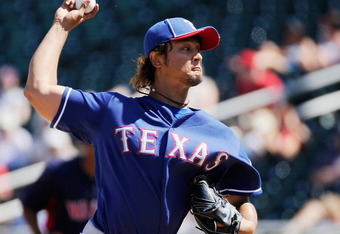 Kevork Djansezian/Getty Images
15.  Jeremy Hellickson, Tampa Bay Rays 
It's easy to overlook Hellickson, considering he's in the same staff with David Price, James Shields and Matt Moore. Try not to overlook the 13-10, 2.95, 1.15, 117 season he posted.
16.  Max Scherzer, Detroit Tigers 
Verlander was insane, but Scherzer (15-9, 4.43, 1.35, 174) also turned in a solid year for the Tigers.  
17.  Ubaldo Jimenez, Cleveland Indians 
He actually pitched worse when he was dealt by Colorado. He's too good not to bounce back.
18.  Ervin Santana, Los Angeles Angels 
He easily (11-12, 3.38, 1.22, 178) is one of the game's best No. 4 starters
19.  Doug Fister, Detroit Tigers 
He won't be as good as he was after coming over to Detroit (8-1, 1.79, 0.84), but he should be a decent option.
20.  Brandon Morrow, Toronto Blue Jays 
He can rack up the strikeouts (207 Ks), but he is an ERA threat.
Also check out: