NCAA Tournament 2012: Why Experts' Dismissal of Syracuse Is Unwarranted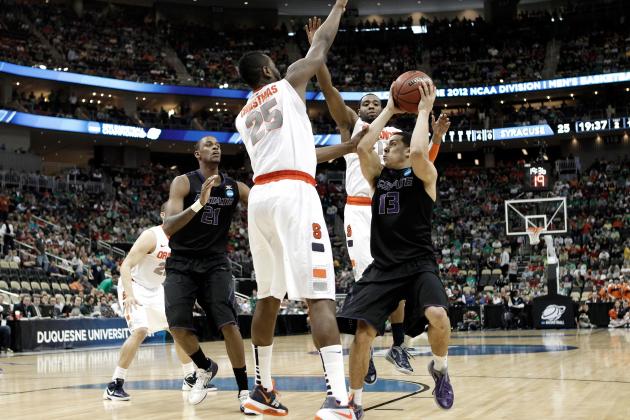 Jared Wickerham/Getty Images

In politics, a rule of thumb is to not mention your opponent by name. You don't want name recognition for fear that in the voting booth, a person could forget your name, but remember the name of your opponent.
You wouldn't say, "Doug Gottlieb is a terrible person." You would say, "My opponent is a terrible person."
With that in mind, I won't give any of the so-called experts any credit for dismissing Syracuse as if it was lucky to get an NCAA tournament bid. I will only give myself, Gene Siudut, props for realizing that all this Orange bashing is a lot of bark, but no bite.
First, let's set the record straight.
The narrow defeat of UNC-Asheville in the opening round was not a lucky win for Syracuse. It was lucky for UNC-Asheville that Syracuse played so poorly. UNC-Asheville is a talented team and went toe-to-toe with one of the best teams in America.
This game was not indicative of Syracuse basketball, only a lapse in its customary solid play.
The following game against Kansas State was more Syracuse's style.
The Orange scored off of turnovers, blocked 10 shots vs. no blocks for Kansas State and dictated the pace of the entire game.
The absence of Fab Melo has been the biggest reason for the collective legs of our nation's brightest commentators to break in their leap from the Syracuse bandwagon, but just because the experts predict a Syracuse thrashing at the hands of Wisconsin or Ohio State or whichever team the Orange will face, doesn't mean it's true.
The Orange was supposed to lose to Kansas State if you listened to some of the hype.
There was a lot of scuttlebutt about the Orange falling to Vanderbilt, but I don't see any Vanderbilt on Thursday's schedule. Maybe they play on Friday.
Here are the reasons Syracuse should be just fine.
Begin Slideshow

»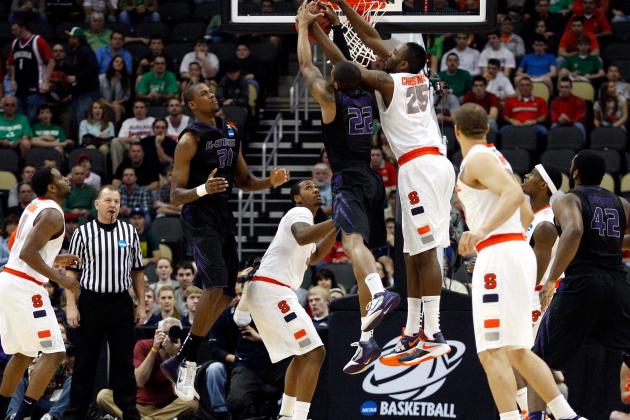 Jared Wickerham/Getty Images

There is a misconception that the only thing you need to do to beat a zone is to move the ball inside-out and shoot over it or to draw the zone to the middle of the lane and flash forwards along the baseline.
The theory is that the 2-3 zone is a gimmick and making your three-pointers over the top of it will effectively defeat it.
I would dare say that making three-point shots over any defense is an effective way to stop that defense.
The problem teams have with Syracuse is that it's just not so easy to get a good three-point shot.
Syracuse has a dominant zone because of the exceptional length of its players. They have the ability to cover large areas of the court, making open shots a rarity. Their tremendous length also requires other teams to pass the ball flawlessly or give up steals.
If five guys get together to play a pick-up game at the local park, a person could call it gimmicky. Syracuse is the prototypical zone defense and with the exception of Big East teams, there's nary a team that is prepared for the size and quickness of the Orange zone.
For more on what makes Jim Boeheim's zone so effective, click here.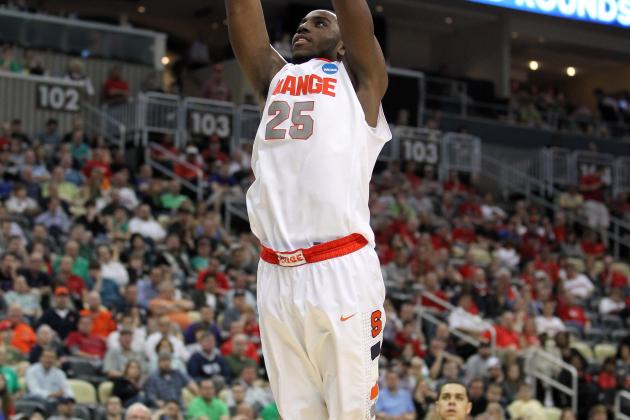 Gregory Shamus/Getty Images

Losing Fab Melo was a major blow to Syracuse, but it wasn't the death blow that it is being alluded to.
Melo was greatly improved this season and was rewarded with increased minutes. He fixed his sloppy defense from his disappointing freshman campaign and became a charge-taking force.
Melo's numbers on the season: 7.8 points per game, 5.8 rebounds per game and 2.9 blocks per game.
His rebounds and blocks led the team, but this doesn't mean that he was the only player who could rebound. He just happened to get more minutes. His sheer size probably forced more bad shots than can be indicated with his stats, but he is not irreplaceable.
Rakeem Christmas, who started every game this season, has moved over from his forward spot to play center.
During the regular season, Christmas, a freshman, was limited to only 11 minutes per game and has been a work in progress. This is not due to a lack in skill. There just wasn't a need to push him along that fast.
Christmas' regular season numbers: 2.5 points per game 2.6 rebounds per game and .8 blocks per game.
Now that Melo is out and Christmas has stepped into his role, he is averaging 30 minutes a game. With the increased time, he's raised his stats to 7.0 PPG, 9.0 RPG and 2.5 BPG.
Christmas gives up three inches to Melo and doesn't have the same bulk in the middle, but he's hardly a slouch. He isn't required to do much more than clean the glass and force bad shots.
He's doing fine with both.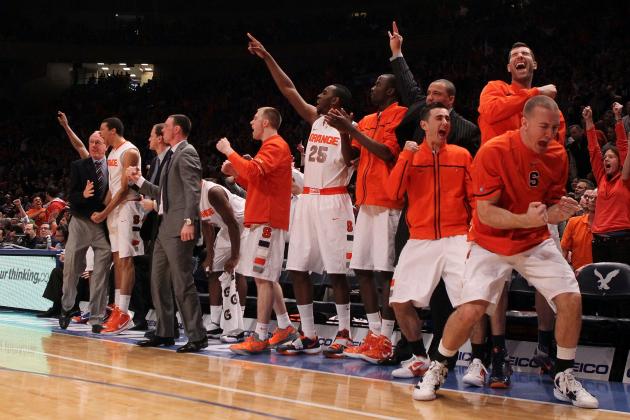 Jim McIsaac/Getty Images

This has been written about ad nauseam , but there is no team with a deeper bench in college basketball in terms of talent.
From Big East Sixth Man of the Year, Dion Waiters all the way down to Baye Keita, Syracuse could feel comfortable inserting almost any one of its bench players into the starting lineup.
Waiters and C.J. Fair could likely be inserted into any starting lineup in the country.
With Fab Melo, Syracuse went 10 deep in terms of highly skilled players. It now goes nine deep.
This team hasn't relied on any one player for more than two or three games in a row and there's no reason to think that it can't win with the loss of just one player.
If it were, teams would have just sent a deluge of players at Feb Melo to get him into early foul trouble, regardless of the early outcome because their belief would be that Syracuse could be had without him.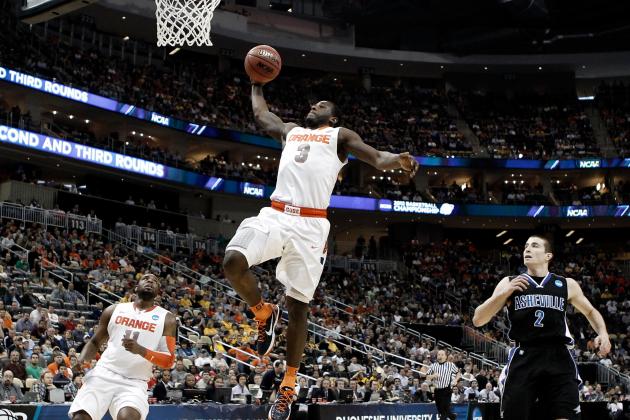 Jared Wickerham/Getty Images

While Fab Melo blocked shots and forced two or three times as many bad shots, the Syracuse zone also created its share of mayhem.
Syracuse gets a lot of flak for its poor rebounding, but no one ever mentions that its defense forces so many turnovers that it gets less rebounding opportunities than other teams.
The cohesive play of the zone fuels the Orange's high-powered transition offense for two reasons.
First is that the high rate of turnovers created at the top of the zone turn into baskets the other way in a split second.
Second, the length of the zone forces a lot of bad shots from beyond the three-point line. While these poor shots often turn into long rebounds for the shooting team, Syracuse is adept at sending a guard the other way to get a tipped rebound and turn it into a transition basket.
Fab Melo was a part of the transition, but he was just a role player in it.
The guards are the stars.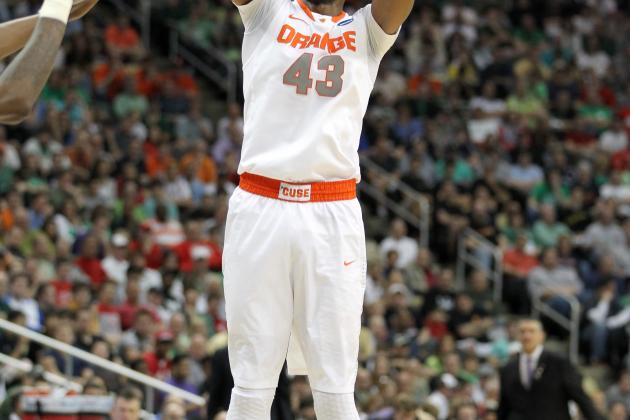 Gregory Shamus/Getty Images

Sharpshooter James Southerland hasn't been as sharp as he's capable of during the regular season, but has shown flashes of brilliance.
He has the prototypical build of a Syracuse slashing forward, and is deadly when he's on.
The problem is that after a great start to the season, Southerland started forcing bad shots, and paved the way for C.J. Fair to get more playing time and he became a replacement for a replacement off the bench.
Fair has struggled a bit in the early going of the tournament and given Southerland the opportunity to show off his chops.
Syracuse is a team that moves to the hot hand whenever that hand is hot. Right now, Southerland is hot.
In his two tournament games so far, he's scored 15 in both games on 11-of-14 shooting with 5-of-7 coming from beyond the arc. He blocked three shots against Kansas State and is averaging seven rebounds overall.
This is quite a resource for a team looking for a difference maker and another reason Syracuse is just fine without Fab Melo.