7 Things San Francisco Giants Must Still Figure out Before Opening Day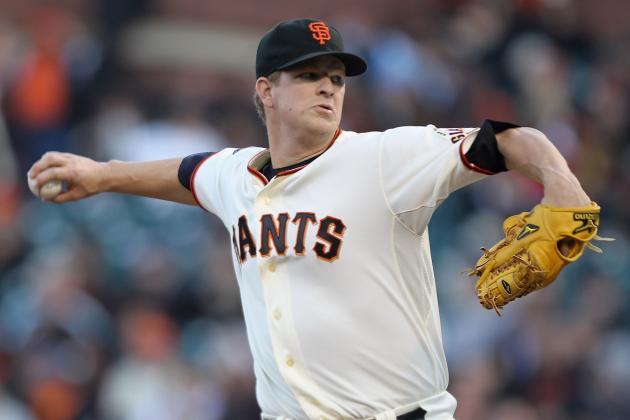 Ezra Shaw/Getty Images

Now that we are just around two weeks away from Opening Day of the 2012 MLB season (which is music to my ears), what do the San Francisco Giants still need to figure out before the season opener?
Just because the window to make transactions has pretty much closed, it doesn't mean that teams don't have anything left to sort out.
Whether it's contract extensions, battles for the 25-man roster or arranging the depth chart, there is still a lot of questions that need to be answered during this two week period.
It's no different for the Giants, either.
Here's a list of seven things the Giants need to figure out before Opening Day.
Begin Slideshow

»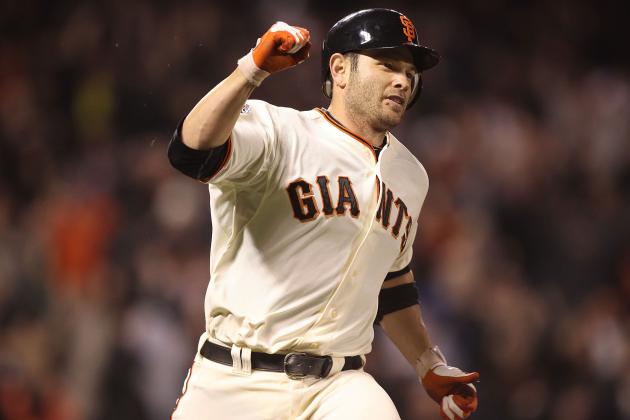 Jed Jacobsohn/Getty Images

Surprise, surprise.
Fragile Freddy, himself, might not be ready for Opening Day, and this came straight from the horse's mouth.
As stated by Bruce Bochy, "We're down to two weeks, and he hasn't gotten out there yet. We're still optimistic that we'll get him out there, but each day that goes by the possibility grows a little bit that he's not going to be ready," (h/t SF Gate).
It's been around eight months since Sanchez underwent surgery to repair his dislocated shoulder, and yet he's still having trouble throwing the ball, specifically when turning double plays.
It appears that he's able to swing the bat effectively, however, but only in a limited capacity. During his four appearances this spring as a designated hitter, Sanchez is 5-for-18, which is a respectable .277.
Injuries have plagued Sanchez throughout his professional career, especially during his tenure with the Giants. During his first two full seasons with the club, he has missed a grand total of 153 games.
If Sanchez happens to not be ready in time for Opening Day, his No. 2 spot in the lineup will be filled by Melky Cabrera, who is currently tearing the ball off the cover in spring training.
Who will play second base in place of Sanchez is the question that Bochy is currently asking himself.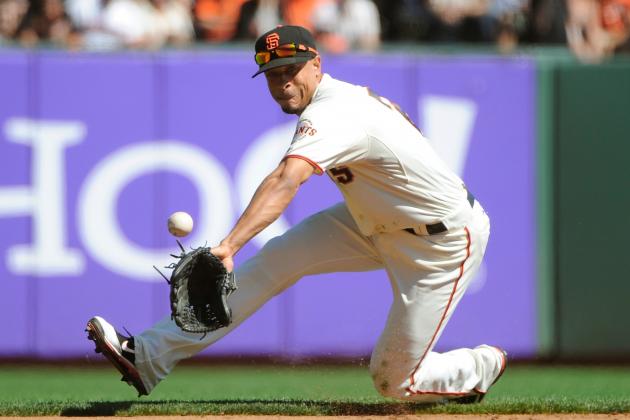 Thearon W. Henderson/Getty Images

If Freddy Sanchez isn't healthy enough to start on Opening Day, who's going to be the temporary fill-in?
The obvious choice might be Ryan Theriot, but he is currently impressing no one except his mother during spring training this year. He currently has a triple-slash of .219/.286/.375, which certainly isn't a sight for sore eyes.
Mike Fontenot would also be a logical choice, as he is probably slated to be the opening day starter if Sanchez isn't able to go.
However, Emmanuel Burris, the forgotten one, is currently tearing it up in spring training. He is currently batting a .417 with five stolen bases, and has been playing some solid defense in the infield as well.
The former second-round pick in 2006 has yet to figure things out at the plate in the major leagues, however, which is why he hasn't been able to stick. He is a career .250 hitter, which isn't good for a player who needs to get on base in order to maximize his utility.
If I had to put money on it, I'd bet that Fontenot is the starting second baseman on opening day. However, if Burris continues to impress, It'd be hard for Bruce Bochy to at least not give him a chance.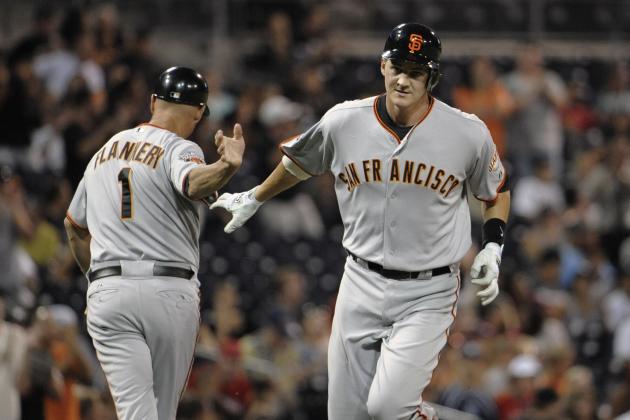 Denis Poroy/Getty Images

The Giants have a problem. However, it's the problem that any team would like to have: they have too many first baseman.
Aubrey Huff, due to his contract, is likely to retain the starting job at first base, and Brandon Belt is there nipping at his heels if he fails to turn things around at the plate.
So does this make Brett Pill the odd man out?
Not necessarily.
As Alex Pavlovic of the San Jose Mercury stated, it's his versatility in the field that will give him a chance to make the 25-man roster (h/t MercuryNews.com.
Not only can Pill play first base, but he's also a competent fielder in left field, as well as second base.
Let's not forget about Pill's bat either, which is the primary reason why I'm even writing about him in the first place. He opened eyes last season when people learned that he hit 25 home runs and drove in 107 runs in 133 triple-A games.
And heck, who can forget this memorable moment when he hit a two-run home run in his very first at bat in the major leagues.
Pill can hit. However, he's already 27 years old, which is quite old for a rookie.
If Bruce Bochy thinks that he can give Pill some significant playing time in the majors, he's going to start the season in San Francisco. If not, he'll undoubtedly be one of the first call-ups from the minor during the season.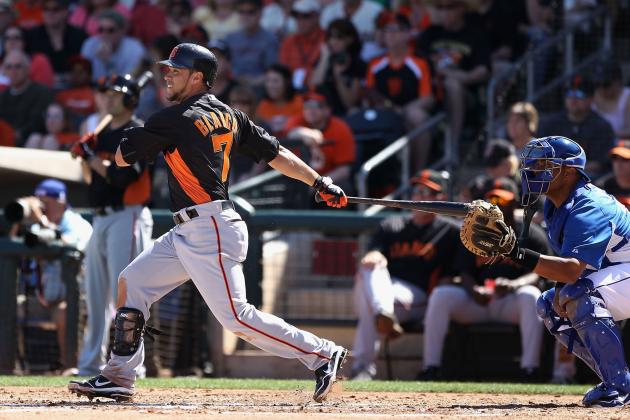 Christian Petersen/Getty Images

If there was an award for the biggest surprise of spring training, it would go to Gregor Blanco, and it would be a unanimous decision.
Blanco has taken the team by storm, as he is batting .419 and has a stolen base rate of 9-for-10.
His ability to play all three outfield positions and his blistering speed gives him the legitimate shot to become the fourth outfielder on the team.
While the additions of Angel Pagan and Melky Cabrera have given the Giants more speed on the roster than they've had in decades, more speed is never a bad thing.
If the competition for the last outfield spot is between him, Justin Christan, Tyler Graham and possibly Brandon Belt or Brett Pill, I'd say that Blanco makes the cut.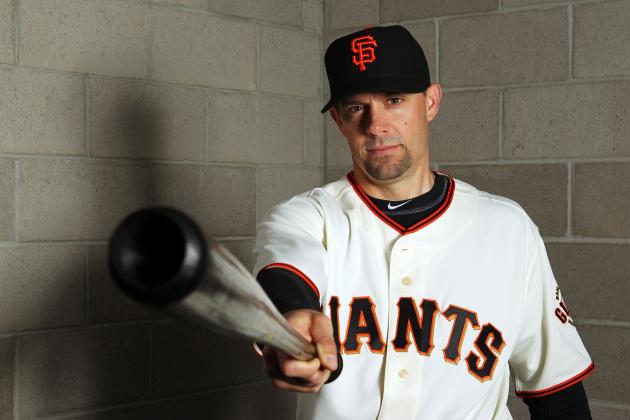 Jamie Squire/Getty Images

Just like the situation at first base, the Giants have too many catchers and not enough roster spots for all of them.
It can be argued that Buster Posey is a demigod, and his role as the starting backstop on the Giants is assured for at least the next decade, barring a potential position switch later on his career.
But then there are the two major league catchers in Chris Stewart and Eli Whiteside, who are considered to be the front runners for the backup catcher role. On top of that, prospects like Hector Sanchez, Andrew Susac and Tommy Joseph are all long shots to land to job, and Sanchez is the only one who is currently listed on the 40-man roster.
So if it truly is a two-man race, the Giants would be wise to give Stewart the job, as he is more of a prototypical backup catcher.
He is excellent defensively, and has an absolute cannon of an arm when attempting to throw out base runners. This was made evident by this video of him gunning down Matt Kemp trying to steal third base. This is one of many examples when Stewart showed off his lightening quick release.
Having a backup catcher who is an above-average defender is all the job really requires, and Stewart certainly fits the bill.
Whiteside, on the other hand, was exposed last season when he was forced to take over at catcher after Posey went down with the infamous injury. He is a below-average hitter, and an even worse defender. He had a caught stealing percentage of 25 last year, while Stewart threw runners out 39 percent of the time.
If you are one of the five people still left on the Whiteside bandwagon, watch this video. Whiteside should've been cut after this mental lapse.
But in the end, I'm just a sportswriter, and I have no say in the matter. But Bruce Bochy will be forced to make up his mind before Opening Day.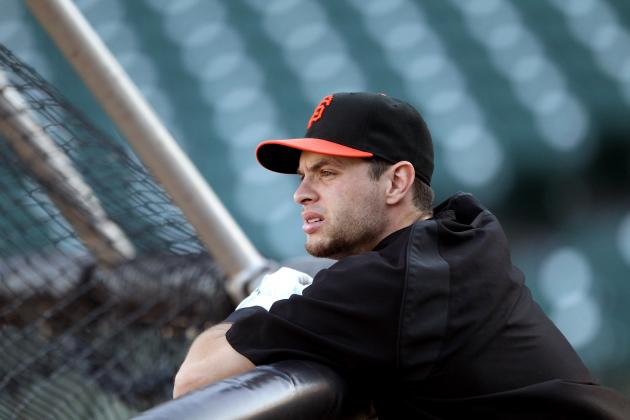 Ezra Shaw/Getty Images

Brandon Belt was the most mishandled prospect of 2011, and it grinds my gears when people question his ability to hit at the major league level.
First of all, the sample size is incredibly small, and it is construed as well. He was called up and sent down three separate times last year, which is extremely tough for any player to overcome.
Not to mention the fact that the Giants had him playing multiple decisions, which piled on another thing onto his already crowded plate.
His leash was also extremely short, which prevented him from trying to work out of his slump at the plate. The only way a baseball player can fix his swing is to get more at bats, and that's something that Belt was not given in 2011. He was sent down to the minor leagues at times to work out the kinks in his swing, but Belt has already proven that he's capable to mashing minor league hitting.
So now that last season is nothing but a distant memory, what will Belt's role be in 2012?
Are the Giants going to acknowledge that he is the first baseman of the future and award him with the starting job on Opening Day?
Is he going to start the season in the major leagues, but sit on the bench and play right field every other three days?
Is he going to start the season in triple-A so that he can get some playing time every day?
Deciding what to do with Belt will be Bruce Bochy's toughest decision of the spring.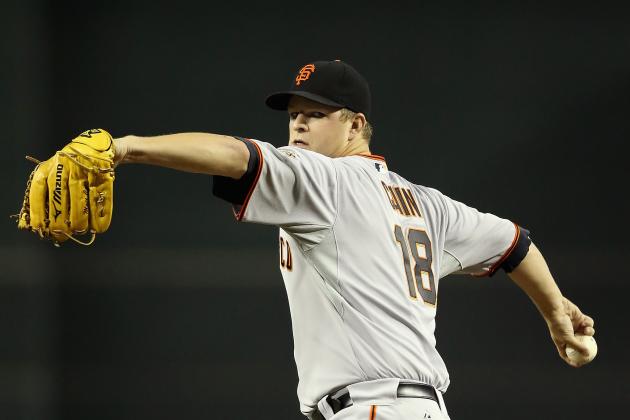 Christian Petersen/Getty Images

There was one thing that the Giants wanted to accomplish this offseason: re-sign Tim Lincecum and Matt Cain to long-term contracts.
Lincecum got his contract, even though it was only for two more years, but Cain is still slated to become a free agent at the end of the 2012 season.
That latter part of that sentence can make a Giants fan slam his or her first down on the desk and curse Brian Sabean and Larry Baer's name aloud.
In the beginning of February, Sabean announced that the Giants had the funds to re-sign both of their aces to long-term contracts.
So what's the holdup?
Cain stated he wanted to remain with the Giants, but now he's "torn" about his future with the club. And the longer the Giants front office waits, the more likely that Cain will elect to test the free agent market. And if that happens, even if his heart is in San Francisco, it's very difficult to turn down a $150 million contract.
If, and I mean if, the Giants happen to lose Matt Cain to free agency at the end of the year, it will go against everything this team has been aspiring to become ever since Barry Bonds set them free in 2007.
The Giants have developed a formula for success, and that's to build a team around excellent starting pitching and live and die by it.
Well, that formula worked in 2010 and it won them a World Series championship.
And you know what? Cain was one of the most, and arguably the most, important piece of that formula, as he pitched 21.1 scoreless innings during the postseason.
Losing Cain would set this franchise so far back and contradict everything they have been trying to build for the past five years.
The Giants need to re-sign Cain and restrain him from the temptations that free agency will inevitably bring.