Detroit Tigers: Why Strong Offense Will Struggle to Make Up for Weak Defense
March 22, 2012

After witnessing the carnage that was Miguel Cabrera's face earlier this week, it was yet another illustration of the multiple defensive liabilities a strong offensive powerhouse carries among its list of total assets. 
The opportunity to play devil's advocate, or perhaps a cheerleader of MLB pundits who have clearly staked claim to the position that Detroit may have one of the worst defenses in baseball, is enticing.
I'll take the invitation.
The biggest concern is Tigers slugger Cabrera, who is likely to take the rest of the preseason off as a result of his face meeting Rawlings stitches, and then his cheek needing stitches.
Cabrera took a bad hop to the face and diced his cheek open as a result of the ball ricocheting off his sunglasses. The play also resulted in a small bone fracture beneath his right eye and a couple weeks of bench warming while his hot corner battle scar heals.
Liabilities Abound
It could easily be argued that any infielder could have eaten a ball just as Cabrera did when Philadelphia Phillies outfielder Hunter Pence ripped a hot shot to third at the reigning AL hitting king.
It is also quite plausible that Cabrera's lack of opportunity and consistency at third so far this spring is a telltale sign of a concern the Tigers may endure for 162 games.
It's not just Cabrera who poses a defensive quandary for Detroit, it's the potential for an outfield meltdown in Delmon Young as well. Young has insisted on playing defense—much to the chagrin of Tigers fans, who feel Detroit has many other better defensive options, like Andy Dirks. 
While the Tigers need Young's stick in the lineup they don't need his waddle in left field. Dirks is a much faster and better skilled—albeit less seasoned—outfielder than Young. His potential to grow in the position far outweighs Young's. Defensively, with Young what you see is what you get—it isn't pretty, but serviceable.
It bears mentioning regardless of my inability to buy in that Prince Fielder may also cause the Tigers a handful of runs this season. Fielder should be a non-factor as he sports a career .992 fielding percentage and has never made more than 15 errors in a season, playing all but five games there over the past three seasons.
I don't buy that a change of scenery or the effect of a midsummer shadow is going to blind Fielder into a poor defensive player having had no previous history of foul play. 
And yes, Jhonny Peralta doesn't have the greatest range at short, so you won't find him making a ton of ESPN Play of the Day highlights, but what you will find is him fielding every ball hit to him cleanly and rarely making a bad throw. Peralta is solid despite the liability his lack of range presents. 
Finally, what shouldn't be forgotten is the battle that still seems uncertain at second base. Brandon Inge has done an admirable job both offensively and defensively this spring and is certain to make the trip to Detroit. However, Ryan Raburn has been absolutely lights out, hitting .462 with six home runs and 18 RBI in 26 at-bats this spring.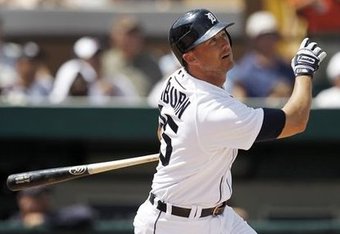 Neither may be the best defensive option, as Tigers utility infielder Ramon Santiago is likely to be the best defensive player, he's not an everyday guy and can't smack the way Raburn can at the plate.
Flowers may bloom in the spring, but everything isn't coming up roses for the Tigers' 2012 defensive landscape. 
Spring Chill
Granted, the local Detroit temperatures for March have been off the charts and more closely mimicking the sunny skies of the Tigers spring home in Lakeland, FL than the blustery lion mother nature normally blankets the Motor City with this time of year. However, weather that warm that early isn't likely to stay for an extended visit. 
Michiganders know if you don't like the weather just wait a few minutes, it will change. It does, and it will. The Tigers are sure to play plenty of games early on with long sleeves and the sight of their own breath in the air. It's Michigan, and it's how early spring rolls in Motown. 
Unfortunately, it also follows that the Tigers are never quite as hot in April as they are down the stretch of the Great Lakes State's humid and hot summer months. That said, when the Tigers need run production most, early on to help pitchers still adjusting to the weather as well, they aren't as likely to receive it.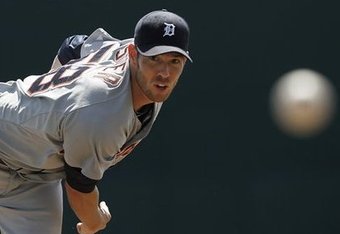 Even the Grapefruit League's hottest spring team could get an instant freeze out when they head northward, away from the more predictable climates of central Florida. A flurry of defensive mishaps early in the season could cloud the path the Tigers seem determined to travel in 2012. 
The weather will warm and the offense will follow but early onset of collateral damage from poor defensive play could force a lethal offense to play second fiddle to a predominate defensive mess.
Pitching Effect
The Tigers have gassers like Justin Verlander and Max Scherzer, but they also have pitchers who rely on defensive play and ground ball outs to make their mound performances masterful.
Pitchers like Rick Porcello and Doug Fister are sinker ball-type pitchers who force batters to chop at their nasty stuff the way a lumberjack swings his axe. Often this results in hard ground balls that can be routinely fielded by a good infield.
Unfortunately, the Tigers can't speak all that loudly about a good infield to back the type of pitching that is the bread and butter of the their No. 2 and 4 in the rotation.
In 2011, Detroit finished 23rd out of all 30 MLB teams in terms of defensive runs saved (minus-18), a well-accepted advanced defensive metric. In layman's terms, they were not all that good at preventing runners from scoring once on base.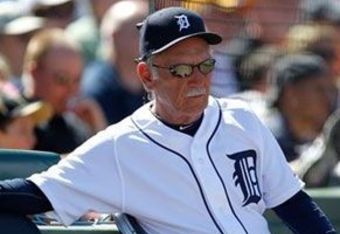 It's a damning statistic that this year's Tigers version, with an even more questionable defense, could prove detrimental during the dog days of summer. 
All this having not yet taken into account the routine scenario of relief pitchers entering the game with runners on base and more often than not in scoring position. A strong offense can dice a gaping hole through the lead of a weak defense, and in a hurry. 
The Detroit bullpen can ill afford to have games blown out of reach as a result of routine plays gone awry.
Bullpen guys live off the adrenaline that a great defensive play can pump through their veins. They relish in the opportunity to point and smile at the defensive gem that just resulted in a 6-4-3 double play. Finishing with a strong fist pump for good measure.
A miserable defense will result in a miserable staff something the Tigers cannot undo regardless of an offense perched to score bunches of runs. The former two far outweigh the latter in the end, and a potential titanic collapse with the potential to follow. 
Managing a Potential Mess
It leaves Detroit in a tough position concerning the juggling of egos and emotions when poor defense causes a negative tipping point against adequate pitching. With the offense Detroit is going to mash with this season adequate pitching should almost be enough.The Tigers will be much better than that if the defense can get it done.
Make no mistake, though. As blood poured from Cabrera's face, that was the concern on every Detroit fan's mind—can this team pull it together defensively to tip the scales back into offensive favor?
Leyland hasn't shown a ton of patience for pitchers that can't get out of a jam despite defensive blunders. That thinking and cycle is unlikely to change. It is just as unlikely to change concerning his patience for defensive miscues, despite feigning there is no great defensive concern. 
Cabrera's injury has already thrown a monkey wrench into a rickety defensive structure causing greater stress to an already tenuous situation. It isn't so much Cabrera's injury, it's the 10 games before it counts that he'll miss that is the real hindrance of his injury.
Cabrera most likely won't field another game speed live ball until it counts, in Detroit.