Stephen Jackson: Why San Antonio Spurs Aren't Closer to a Title Because of Him
March 21, 2012

Stephen Jackson is breathing that Texas air again, and he appears thrilled to be playing for the Spurs again.
I'm pretty sure after the trade was processed; R.C. Buford and Gregg Popovich gave each other a few jovial high-fives. After all, they are free from the four-year, $40 million mistake that was Richard Jefferson, and they get back a role player who was a vital piece to their 2003 championship run.
But does Jackson guarantee a Spurs' title?
Not so fast.
If the Spurs make a championship run this summer, Jackson will be a big reason why, but not the sole reason.
But let's be honest, anything he gives the Spurs at this point will be just icing on the cake, and that is more of a testament to how much of a disappointment Jefferson was.
The trade addressed the need for an extra perimeter threat, but it didn't fully address what has become an ongoing problem for the last three years—stopping their opponent.
Now, Jackson brings much more to the table than Jefferson. He's more versatile, more physical, much longer and has a dogged mentality.
But defending continues to be a problem as San Antonio ranks just 21st in field goal percentage. Even more troubling is the fact that the Spurs are ranked a poor 27th in pick and roll defense—this can be attributed to the lack of quickness in the Spurs front-court with the exception of Splitter. And they are ranked 28th in isolation defense.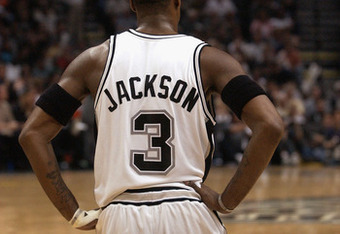 The elephant in the room is still the Spurs' interior defense. They have gone away from Duncan at power forward playing alongside a big center like Rasho Nesterovic or Nazr Mohammed who has huge impact defensively.
The main reason why Spurs are mediocre defensively is because their big men are just inept defensively. Duncan isn't as mobile as he once was and both DeJuan Blair and Matt Bonner are too small to protect the rim—which magnifies Duncan's lack of mobility.
Tiago Splitter is the most mobile big man on the Spurs' roster and he's quick enough to guard the game's better power forwards, but Popovich will not play him over 20 minutes a game.
Now, parts of those poor statistics are self-inflicted. I've believed all year that Popovich must start his best defensive line-up if he wants the best defensive results.
Starting Tiago Splitter and Tim Duncan together in the frontcourt is a nice start. But that is a discussion for another day.
Now, here are the positives of the Jackson move.
Make no mistake this was more of a financial move. Jackson's contract pays him just over $10 million next season and Jefferson is to be paid close to the same amount next season but over $11 million in 2013-14. By making this trade, the Spurs shredded the $11 million player option they would have owed Jefferson two seasons from now.
If Jefferson weren't traded, San Antonio would've ultimately amnestied him. And paying Jefferson close to $21 million to go away would've been tough for Spurs' ownership. So even if the Jackson trade blows up in everyone's faces, the Spurs are on the books for a lot less money than they were before the trade.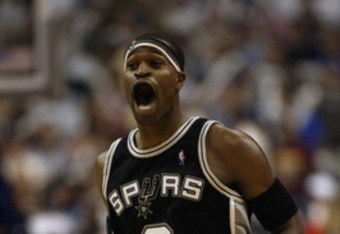 Jackson has the ability to help on offense. Jackson is a much better ball-handler, passer and playmaker, and possesses a much higher basketball IQ. And if the Spurs are going to be without a backup point guard, those skills become even more valuable.
Popovich loved coaching Jackson, so he was ecstatic about this trade. And there were rumors that Jackson wanted to make his way back to Texas two years ago. Tim Duncan, Manu Ginobili and Tony Parker have all raved about much they loved playing with him.
If the end for Duncan is near, he can go out playing with players who won't hesitate to lay it all on the line.
And Jackson and Blair can make a rap album together (under stage names DBlair and Stak Jack).
But if Tim Duncan and company want drive for number five they will have to rediscover that defensive prowess that lead to four titles in eight years.
However from the looks of it, they simply do not have the personnel to do so.