There is a small ray of light in what has been an incredibly dark and gloomy season for the Portland Trail Blazers.
Sam Amick of Sports Illustrated is reporting that forward JJ Hickson has been claimed off waivers by the 12th place Blazers:
Source says Portland has been awarded forward JJ Hickson from waivers. Golden State misses out.

— Sam Amick (@sam_amick) March 21, 2012
The Golden State Warriors and Phoenix Suns were also pursuing him according to Amick, but it's Portland that won out. This is perfect timing considering it was announced earlier on Wednesday that guard Elliot Williams will miss the remainder of the season after undergoing neck surgery. Hello roster spot!
The 23-year-old Hickson has been given up on by two separate teams now, which is extremely puzzling to me. He may be a tad undersized at 6'9'' for a power forward, but his athleticism and rebounding ability make him a rare breed.
Hickson has plenty of highlight reel worthy dunks because of his sheer explosiveness when jumping. That's what has allowed him to average over 13 rebounds a game per 48 minutes this season.
Aside from LaMarcus Aldridge, the points in the paint are incredibly difficult to come by for the Blazers. Hickson can take some of the pressure off Aldridge and make life a bit easier for struggling point guard Raymond Felton.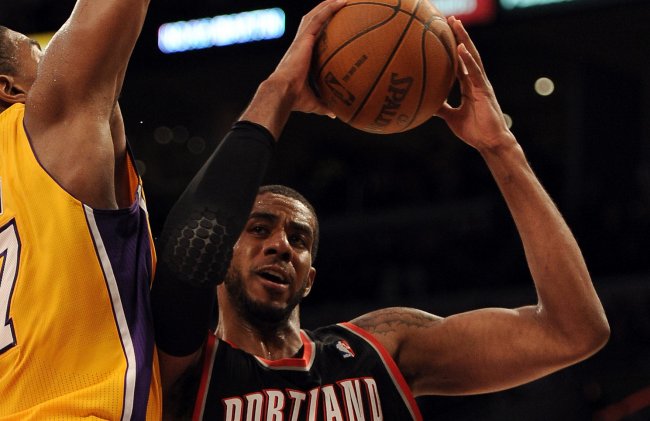 Harry How/Getty Images
Last year in Cleveland, Hickson averaged 13.8 points and 8.7 rebounds in only 28 minutes per game. He has a smooth mid-range jumper to go with an evolving post game that has seen significant improvement since coming into the league as a raw 19-year-old. There is no reason to think Hickson can't continue to improve over the next two to three years.
So what's not to like? Well, it's his defense, as ESPN's John Hollinger so eloquently puts it:
Good news: Can play 5 and score. Bad news: There's a better chance of water flowing uphill than of him curing Portland's defensive problems

— John Hollinger (@johnhollinger) March 21, 2012
Okay, so he won't be challenging Dwight Howard for Defensive Player of the Year anytime soon, but that's not a huge deal for Portland. The offense—particularly inside—has been the biggest issue and is the part of the team that needs to be fixed immediately.
It's of little risk to the Blazers to nab Hickson. He has a ton of potential and will be off the books at the end of the season if everything doesn't pan out. If he does, they'll have the inside track to re-sign him.
It's low risk and the reward is extremely high.