NCAA Tournament 2012: Final Four Odds for Each Sweet 16 Team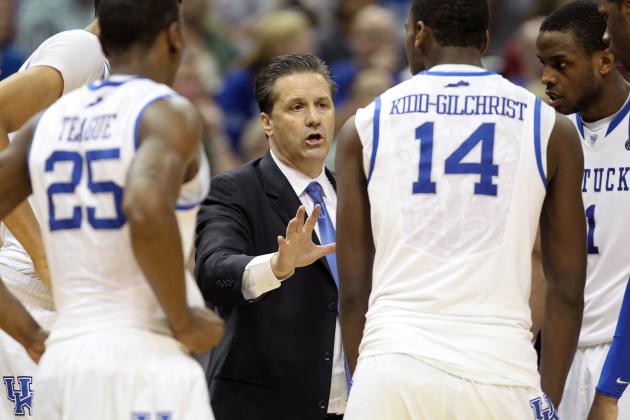 Andy Lyons/Getty Images

The road to the 2012 Final Four and the NCAA tournament continues with the Sweet Sixteen tonight.
It's been an amazing tournament so far, with some great contests and amazing upsets, such as Lehigh over Duke and Norfolk State over Missouri.
We still have three double-digit seeds left in this tournament: 10th-seed Xavier, 11th-seed North Carolina State, and 13th-seed Ohio.
Four of the schools in this tournament all hail from the state of Ohio (Ohio State, Xavier, Cincinnati, Ohio).
Which schools will be able to make it to the Final Four? Here are the odds for each of the sixteen teams left.
Begin Slideshow

»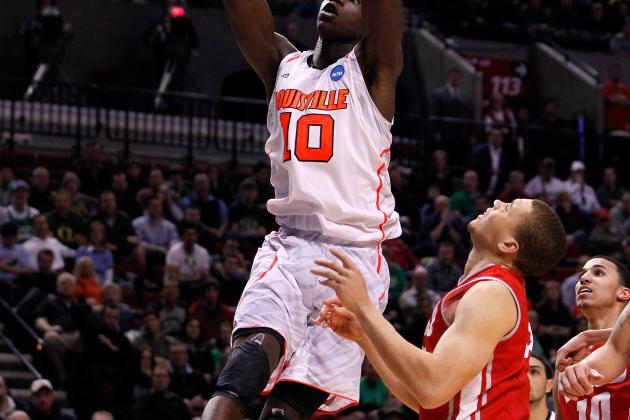 Jonathan Ferrey/Getty Images

The Louisville Cardinals may be in the Sweet Sixteen, but their wins against Davison (which they won primarily because they made 36 free throws) and New Mexico are not very convincing.
Yes, they may have won the Big East Tournament, but this is an inconsistent team that's ranked 249th in turnover percentage, shoots poorly from beyond the arc, and is mediocre when it comes to free throws.
They have a solid defense, but outside of that, there's not much of a reason to have them go for the Final Four.
Oh, and they have to face Michigan State before they can even have a shot.
Odds: 50-1
Jamie Squire/Getty Images

Personally, I think the Cincinnati Bearcats have the toughest road to reach the Final Four. They have to face Ohio State, followed by either Syracuse or Wisconsin.
If the Bearcats are going to want to get there, they need to score more often. They're not a prolific scoring team, but if they can do anything like they have in the last two months (outside of their games against South Florida and the Big East tournament final against Louisville), they have a shot.
They don't turn over the ball much and have a very solid defense. But then again, so does Ohio State...
Odds: 36-1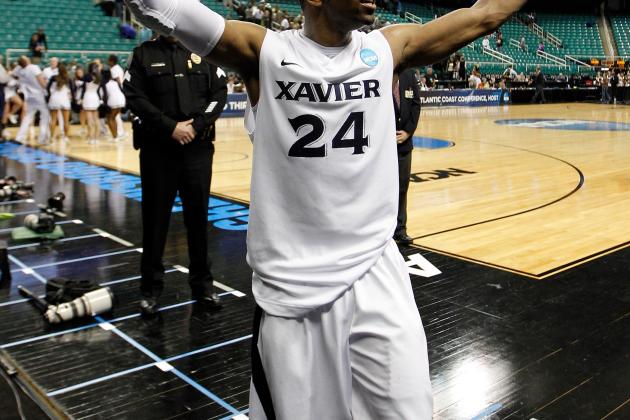 Streeter Lecka/Getty Images

Xavier has been lucky up to this point. They took care of seventh-seed Notre Dame, but then got lucky after Lehigh upset Duke in the second round. This allowed Xavier to take advantage and win over them. I know there aren't any handouts when it comes to the NCAA Tournament, but it feels like it.
But now we're in the Sweet 16, and at this point, nothing is easy.
They have to face off against Baylor, a team that scores big and gets plenty of opportunities due to their ability to grab offensive rebounds.
Xavier does have Tu Holloway, and he's certainly a fun player to watch. There's also Kenny Frease, a big man that knows how to get the job done for the Musketeers.
However, this team is very average in several offensive and defensive categories, and at this point, average is not going to cut it, especially against a team like Baylor.
And if they can somehow get around Baylor, they have to face Kentucky or Indiana.
Odds: 28-1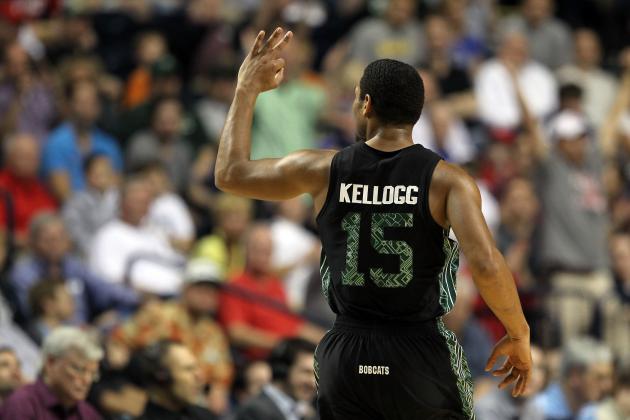 Jamie Squire/Getty Images

Yes, I'm giving the Ohio Bobcats better odds than Xavier, Louisville, and Cincinnati for several reasons:
1.) If North Carolina's Kendall Marshall is out, it helps out the Bobcats considerably.
2.) Whether he does play or not, if Ohio can win, they can certainly fare better against Kansas or North Carolina State, whose style is similar to that of the Tar Heels.
3.) Defense. Ohio does one particularly great thing, and that's create turnovers. Opponents turn over the ball an amazing 26.7 percent of the time. Now that's effective!
What hurts this team, though, is outside of Nick Kellogg, this team does not shoot threes well. They're also mediocre when it comes to free throws, which could hurt them at the end of the game.
Still, they've proven that they belong in this tournament after wins over Michigan and South Florida. Ohio's current position and overall defense gives them a shot to make it. A long shot, yes, but a decent shot nonetheless.
Odds: 25-1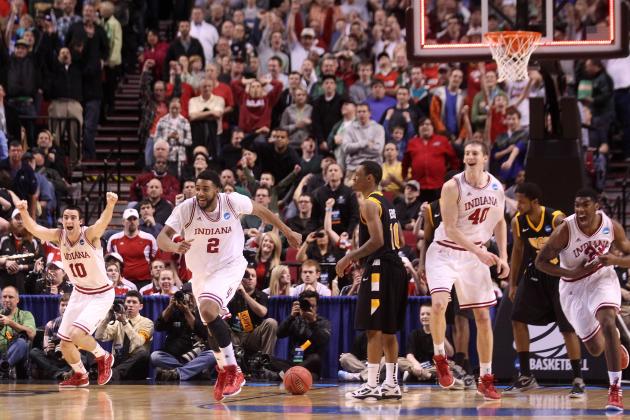 Jed Jacobsohn/Getty Images

They did beat Kentucky, and that's all well and good, but that was December. This is March.
They beat New Mexico State in the second round convincingly, but they had a tough time against Virginia Commonwealth.
I really like freshman Cody Zeller. He'll be someone to watch out for in the years to come.
However, this Hoosiers team is not defensively efficient. They're also not great when it comes to rebounding.
Now they face Kentucky in a rematch, and the Wildcats will be out for blood.
My father thinks they're going to go all 1975-76 on this tournament and not only beat Kentucky, but win the National Championship. He also thought Georgetown would get to the National Championship game too...
Odds: 22-1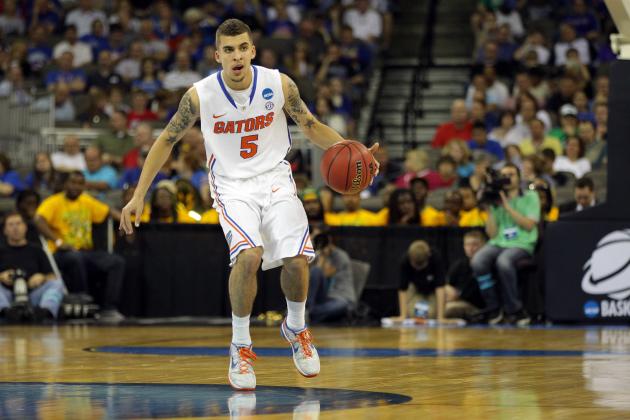 Doug Pensinger/Getty Images

Score, score, score.
If there's one thing the Florida Gators know how to do, it's score points. They average 1.21 points per possession, third-best amongst all teams in the tournament.
Defense, on the other hand, is another story. They're ranked 117th in defensive efficiency.
In addition, Florida's record recently is a bit of a mixed bag. They lost games to Georgia, Vanderbilt, Tennessee, and Kentucky (three times!) in the last couple of months. They crushed Virginia and Norfolk State in the tournament, but they're not exactly the strongest teams in the tournament (even if Norfolk State did beat Missouri...).
They play Marquette, a very defensively efficient team. If they can get around them, they have a chance.
Odds: 20-1
Christian Petersen/Getty Images

For the Wisconsin Badgers, they like to play at a slow pace, crash the boards, and focus on defense. And so far, it works.
Only Kentucky is better in field-goal defense, and that's going to give this team a chance to make it to the Final Four.
But this is also a very low-scoring team; their 64.03 points per game is ranked 263rd in the nation, and their 42.4 field goal percentage is ranked 230th.
Though Syracuse lacks interior strength, and Wisconsin's ability to crash the board would normally give them an advantage, the Orange's depth coupled with Wisconsin's mediocre shooting leaves me with a hard time believing that they can beat them and the winner of Ohio State/Cincinnati.
Odds: 17-1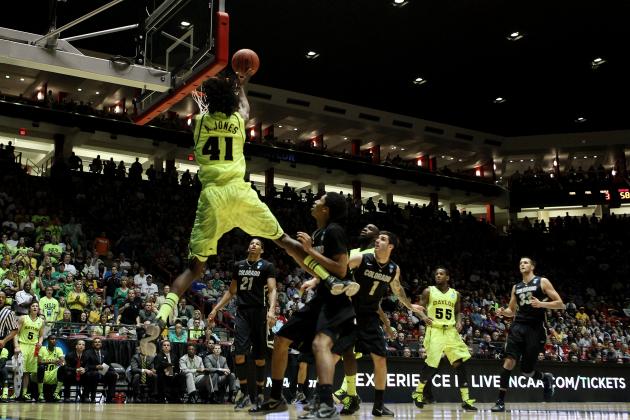 Christian Petersen/Getty Images

Let me just say, before I begin, that I really dig those jerseys.
Anyway, what's great about the Baylor Bears is their ability to score. They don't have a true scorer, although if there was one, Perry Jones III would have to be it.
They rank highly in several categories, including offensive and defensive efficiency, offensive rebounding, three-pointers, and free throws.
Problem is, when they face off against high-level teams, they suffer, including blowout losses to Kansas and Missouri (twice!).
While I think they are more than capable of taking out Xavier, it's the winner of Kentucky/Indiana that gives me some concern as to whether or not this team can make it to the Final Four.
Odds: 15-1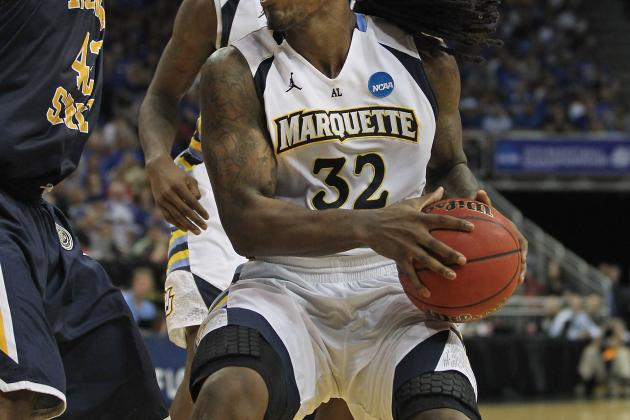 Jonathan Daniel/Getty Images

The Marquette Golden Eagles lack proficiency in rebounding and shooting threes, but there's one reason I like this team: Jae Crowder.
Watching him when he and his team faced off against Murray State, I've got to say, this kid can do a lot of things. He can shoot, he can rebound, he can block, he can steal. If Crowder can do that against Florida and the winner of Michigan State/Louisville, this team will be quite a force.
In addition, they have Darius Johnson-Odom, who does a good job scoring for the Golden Eagles.
Marquette is aggressive and efficient, and have what it takes to make it deeper in this tournament.
Odds: 13-1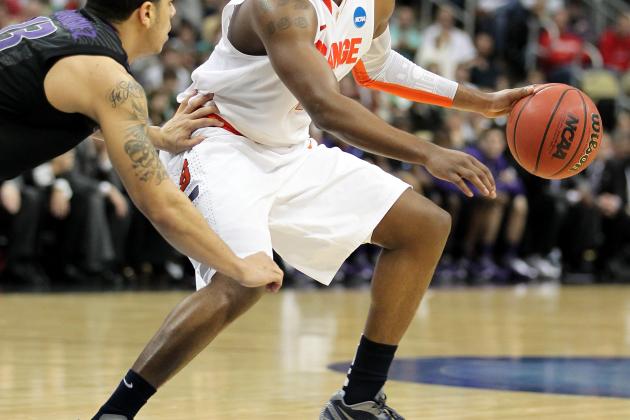 Gregory Shamus/Getty Images

The loss of Fab Melo hurts Syracuse considerably. However, this is a deep team, with 10 players averaging 10 minutes or more a game. With depth like that, it definitely helps the Orange.
The biggest concern about this team is defensive rebounding. Despite all their talent, they rank 341st out of the 345 Division I schools in that category. Wow.
They scared me in the match-up against UNC-Asheville. After that game, I thought they had little chance of getting to the Elite Eight, but their game against Kansas State has since changed my mind.
Their next match-up will be tough. Wisconsin's slow-paced style could frustrate Syracuse players. After that, they either face against Ohio State or Cincinnati, who they lost to in the Big East Tournament.
Odds: 13-1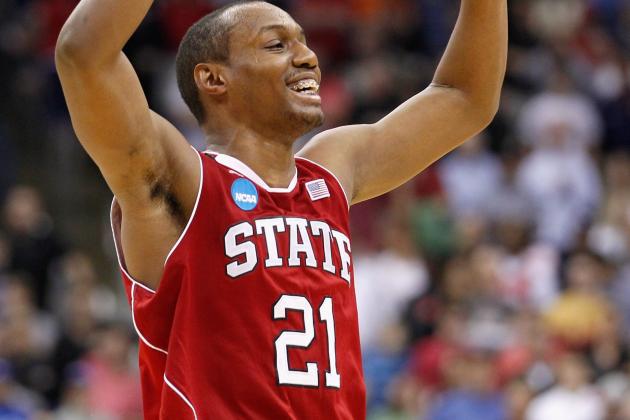 Rob Carr/Getty Images

North Carolina State's playing style is very similar to that of their in-state rival, the Tar Heels, which is why I give them favorable odds.
This team has plenty of offensive firepower. C.J. Leslie, the team's leader in points, has an impressive wingspan for someone 6'8" and knows how to attack the glass. I also like Lorenzo Brown, who averaged 12.8 points per game and a team-leading 6.4 assists per game; he's a solid but underrated guard.
The problem with this team is defensive efficiency, allowing an average of 67.81 points per game.
If they can beat Kansas, they could face North Carolina for the fourth time this season. The last time they faced each other was in the ACC Tournament Semifinal, in which the Wolfpack lost a close one 69-67.
Odds: 13-1
Eric Francis/Getty Images

Kansas' win against Purdue wasn't very convincing for me, but this team's starting five are nonetheless great.
Thomas Robinson, who leads the team in points and rebounds, is a very solid player. Jeff Withey, the team's big man, is almost equally as impressive.
The Jayhawks are ranked in the Top-10 nationally in both two-point offense and defense.
They're definitely going to need that defense against North Carolina State, a team that does very well in terms of scoring.
However, if they can beat the Wolfpack in very convincing fashion, the winner of the North Carolina/Ohio match might not matter much.
Odds: 10-1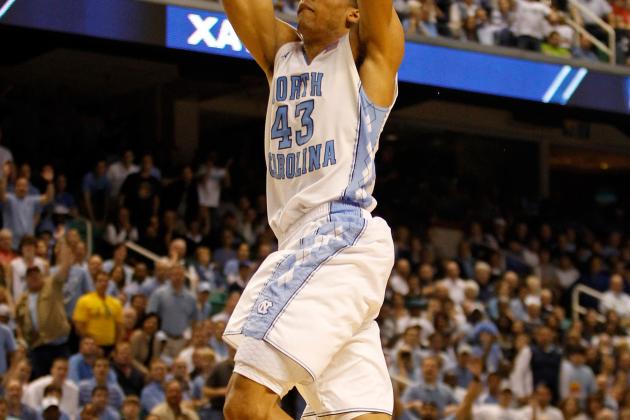 Streeter Lecka/Getty Images

To be honest, the winner of the Midwest regional is a bit of a toss up to me. North Carolina's success may be affected by whether or not Kendall Marshall—-who leads the ACC in assists, averaging 9.8 per game—is capable of playing. The cast on his wrist has been removed and he now wears a removable splint. If he is capable, it makes the team a whole lot better and gives the team a bit of an edge.
Besides Marshall, the Tar Heels have plenty of talent as they do every year; players such as Marshall, Tyler Zeller, and Harrison Barnes all help to earn their team the top seed in the Midwest region.
This team likes to score particularly from the paint (just 18.5 percent of its points are three-pointers), and is number one in the nation in rebounds.
They face Ohio, whose great defense has kept them in this tournament up to this point, and could give the Tar Heels a run for their money, followed by the winner of NC State/Kansas.
Odds: 9-1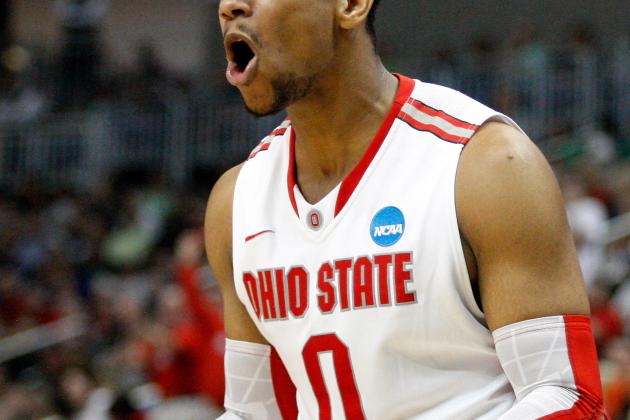 Jared Wickerham/Getty Images

Ohio State may have dropped at the end of the regular season, but were still the second best team in the Big Ten conference.
With a core of Jared Sullinger, DeShaun Thomas, and William Buford, this Buckeyes team is young but experienced.
They're also very good when it comes to rebounding (ranked 57th amongst all Division I teams) and defense, allowing an NCAA-low 0.83 points per possession.
Only problem is that the team does not shoot particularly well from beyond the arc.
To reach the Final Four, they must square off against Cincinnati, and then the winner of Syracuse/Wisconsin. Cincinnati isn't too much of a concern, but I believe the Buckeyes will have a much tougher Elite Eight match if Wisconsin wins (Wisconsin won their last match in February, 63-60).
Odds: 7-1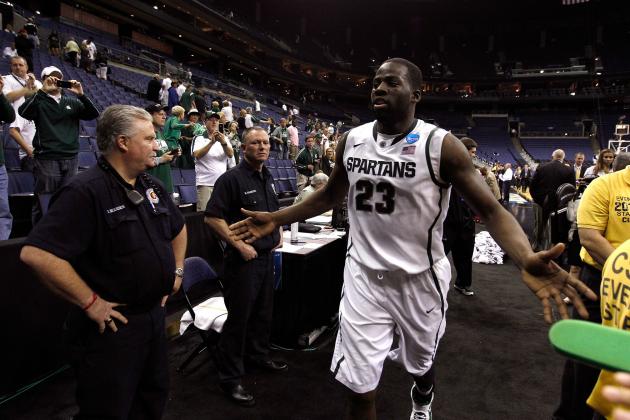 Rob Carr/Getty Images

When it comes to the end of the season, Tom Izzo and his Michigan State Spartans know how to get it done.
Winning nine of the last 11 regular-season match-ups, Michigan State is looking very good, though their win against ninth-seed Saint Louis wasn't all that convincing.
This is a top-15 team both offensively and defensively, and forward Draymond Green is a great, versatile player.
The only problem the Spartans have is shooting three-pointers, which may be an issue if their next two games are kept close or if they fall behind, especially in the second half.
They face fourth-seed Louisville next, and then square off against either Marquette or Florida.
Odds: 5-1
Jonathan Daniel/Getty Images

35.1 percent have picked the Kentucky Wildcats to win the national championship in ESPN's Tournament Challenge, and why not?
They're ranked number-one in the AP Polls, and only have two losses this season; a one-point loss to Indiana, and a loss to Vanderbilt in the SEC Conference Tournament Finals.
Though they lack experience, coach John Calipari is one of the best in college basketball.
They rank in the top 10 in both offensive and defensive efficiency.
The Wildcats boast plenty of weapons and any one of them can make an impact in games. There's forward Anthony Davis, a contender for the Naismith. Guard/forward Michael Kidd-Gilchrist is a great transition threat. Doron Lamb shoots 48 percent from the three-point range.
The only thing that might stop the Wildcats from advancing may be themselves... that and Indiana, as noted before, who they lost to earlier in the season. But I consider that loss could be a fluke, as the Hoosiers are not defensively efficient and lack front court depth.
Odds: 3-1