Kentucky Wildcats: Wish Granted, Kentucky Gets Another Shot at the Hoosiers
March 22, 2012

Jonathan Daniel/Getty Images
Kentucky and Indiana meet again, a little more than three months after their Round 1 battle in the regular season.  This time a trip to the Elite Eight is tossed into the equation.
As if being border rivals wasn't enough. 
Christian Watford's game-winning three at the buzzer back in December was cold blooded.  Credit must be given where credit is due.
Since defeating Iowa State last weekend, Kentucky has been playing the "we're not out for revenge" card.
The surprising thing would be if this wasn't the case.
Both teams have improved as the season has progressed.  However, it was all Indiana could do to scrap and get  the win in December in front of a raucous Assembly Hall crowd.
It will be a different scene in Atlanta on Saturday night.
Indiana should also see a different Terrence Jones.  He was non-existent in Bloomington.  He's been playing closer to his capabilities lately.
Anthony Davis, the national player of the year, continues to do what he does: anchor the defense, avoid foul trouble and show more and more offensive skills with each passing game.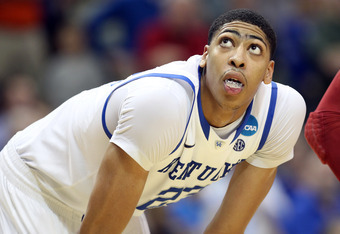 Andy Lyons/Getty Images
Doron Lamb is just having fun out there.  His corner threes keep defenses honest and open things up for Jones and Davis.
Marquis was in a league of his own against Iowa State.  Deep down the Indy native has got to be excited to play his home-state school again. 
He poured in a career-high 24 to go along with seven assists in his last game.  His jumper is also looking better and he seems to be more confident when he shoots it. 
He just needs to remember that defenders are sitting on his left to right crossover which has caused him to get his pocket picked a couple of times.  Mixing in a right to left cross or faking the left to right and continuing left will only make him that much harder to guard.
That's nitpicking a little but it is what it is.
The X-factor is Darius Miller.  I've said it all season long.  If Darius just played with a fraction of Michael Kidd-Gilchrist's aggressiveness he would be tough to deal with. 
Aggressive Darius put on a show against the Cyclones.  He played with fire, emotion and passion.  That tinge of an edge that he's been so hesitant to display throughout his career was manifesting itself and his game was better for it.
He played like the versatile, veteran senior he is.  He played with urgency, knowing that this is his last go 'round.
Kentucky has jumped on their opponents early in each of the first two rounds of the tournament only to allow them to get back in the game briefly.  Then they have gone on to win comfortably.
If they get the Hoosiers down early they need to keep them down.
Again, this is nitpicking.  Again, it is what it is.  It will just make settling the score with Indiana, surviving, and advancing a little easier.