Alex Smith: Go Ahead, Prove All Your Skeptics Wrong; We're Waiting
March 22, 2012

Mike Coppola/Getty Images
San Francisco 49ers fans were not happy when the team made Alex Smith the No. 1 overall selection in the 2005 NFL draft. Many were clamoring that the 49ers should have selected local boy Aaron Rodgers with that pick.
While there is no doubt who the better quarterback today is, Smith has proven himself to be a true team leader. Sure, Smith has physical limitations and doesn't hold as much talent in his whole body as Rodgers has on one thumb, but that really isn't the point here.
San Francisco's previous regime made a blunder of epic proportions by selecting Smith over Rodgers. That is pretty much a certainty eight years after the fact.
What isn't a certainty is the idea that Smith is a bust and cannot lead the 49ers to the promised land. While skeptics, including myself, were busy pointing out all that is wrong about the quarterback, we never stopped to look at what is good about him.
We never gave one iota of thought to the fact that he is the 49ers' best option right now, that he is the guy that can lead this team to a championship.
We attacked Smith for not taking the $24 million contract San Francisco has had on the table over the course of the last couple weeks. We ignored that the 49ers weren't or didn't need to show loyalty to their current signal-caller.
It was the idea that the fanbase and the 49ers as an organization don't owe Smith anything. (I even wrote a scathing article about No. 11 that suggested such.)
While we don't owe Smith anything, he owes us absolutely nothing in return. We have been rather dogmatic in out distrust of the quarterback. The boos were out in full bloom to end the 2010 season, a year that saw the entire fabric of a once great generation torn to shreds by disastrous front office and coaching blunders.
It wasn't solely Smith's fault that these teams stunk it up to the point of no return. However, he was the quarterback and blame had to be placed somewhere, and it became a foregone conclusion that Smith was going to be on his way out of San Francisco following that disappointing season. In fact, local newspapers ran articles titled "Smith's San Francisco Swan Song."
Then Trent Baalke was hired to become the team's next general manager. His first order of business was to hire Jim Harbaugh, who had a reputation for being a quarterback guru. This furthered the idea that Smith was going to exit San Francisco quicker than Michelle Bachman on Gay Pride Day.
Forced to believe in Smith because of the lockout, Harbaugh put on his best face to show the fanbase that the former No. 1 pick was the guy to lead the 49ers. Whether or not to believe the coach was sincere in this sentiment, he had to run with it.
Smith led the team to two game-winning touchdown drives in the final three minutes of their playoff victory against the New Orleans Saints as the 49ers came an overtime loss away from the Super Bowl the next week against the New York Giants.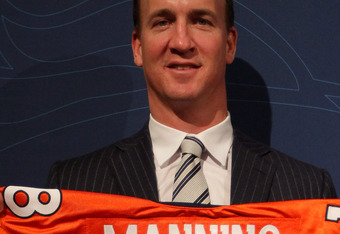 Doug Pensinger/Getty Images
Still, it was a widespread belief that the 49ers won in spite of the enigmatic quarterback. While all signs pointed to him being nothing more than a game manager, Smith proved he can win in the NFL—something we weren't too sure about in his first six seasons with the team.
Give him a supporting cast and coaching staff that resembles competence and he could succeed. This didn't stop the naysayers from concluding that Smith was a product of the system or just a marginally good starting quarterback.
When free agency started the 49ers were clear about the fact that Smith was "their man." They didn't show any interest in Peyton Manning and it became a foregone conclusion that San Francisco was fully prepared to move on with No. 11 as its starting quarterback in 2012 and beyond.
Then the news broke that San Francisco was actually the first team to meet with Manning, making this public sentiment nothing more than the most grandiose public performance in the history of the franchise. The 49ers were, in fact, looking to move on from Smith, and for good reason. 
After all, we were talking about Peyton Freaking Manning here.
Smith's next order of business was to attempt to find a new team in case Manning chose to come to the 49ers. He met with the Miami Dolphins and was apparently negotiating a contract with him. News that the quarterback was upset about the lack of loyalty San Francisco showed him was overblown. He was attempting to do what was best for his career.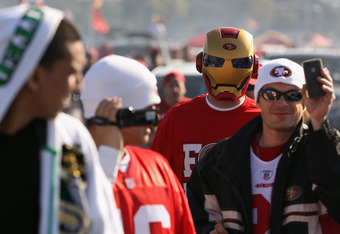 Ezra Shaw/Getty Images
In the end Manning chose against coming to San Francisco, which left open the idea that Smith would return for his eighth season by the bay. With that dust clearing many people had just come to the conclusion that he would sign on the dotted line in relatively quick fashion.
That didn't happen. Smith and the 49ers continued to negotiate, still somewhat reeling from the Manning situation. Even team president Jed York apologized to Smith on Twitter, "Thanks for choosing the 49ers, Alex. Sorry it was a tough week."
In the process of just a few days Smith went from being the man, to being hustled out of town, to being their backup plan. Sure, the veteran quarterback was probably taken aback by the entire process. Wouldn't you be?
This didn't stop 49ers fans from filling up my inbox with some of the most incendiary remarks about Smith to date. They were upset he didn't sign the contact immediately or that he even explored other options, despite the fact the 49ers were doing the same thing. I am not innocent in this whole situation, either, as I even suggested he just needed to make the decision and re-sign with San Francisco.
This was extremely narrow thinking, but something that fandom tends to bring out in those who have a vested stake in the progress and performance of a franchise.
Now that Smith has re-signed with San Francisco and the team appears destined to be contenders for the Super Bowl in 2012, all is good in 49ers land. It is like the last week of conjecture, rumors, opinions and craziness never even existed.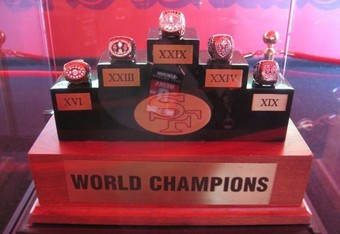 Where does this leave Smith with the 49ers fanbase? Probably in the same situation he was prior to the whole Manning-Watch.
He is the team's quarterback for better or worse. Smith will continue to receive the ire of the fanbase because he is an easy target. He will not be given the credit when it is deserved, but will receive the full wrath when it isn't deserved.
"As thick as a cow's hide" is a phrase that I would use when drawing a conclusion about Smith. He could have left this city multiple times over the years and no one would have blamed him. Now it is Super Bowl or bust for the franchise and its fanbase. This just puts a greater amount of pressure on Smith and enables the fans to be even more skeptical of his performance on the field.
Should he shine on Sundays and in the postseason, leading the 49ers to their sixth Super Bowl, Smith would immediately become the toast of the town. Much like Steve Young before, that monkey would slip off his back in a heartbeat.
I want a quarterback that has something to prove and that might be angry at his franchise. More so, I want a quarterback that was shown the middle finger by a league that doesn't respect him. This gives Smith more fuel to that fire. It brings him to a point of no return. And it enables him to play with an unbridled passion, something we haven't seen in San Francisco in over three generations.
You want to be skeptical of Alex Smith? I am sure he wouldn't have it any other way.
Ambrose Bierce once said the following about skepticism: "It is evident that skepticism, while it makes no actual change in man, always makes him feel better."
I am pretty sure Alex Smith will look up at you cheering at him on Sundays this fall with that quote in mind. Proving us all wrong couldn't possibly make him feel any better and I hope he does.
Follow me on Twitter @VincentFrankNFL