Philadelphia Eagles Trade Rumors: Top 5 Teams Best Fit for Asante Samuel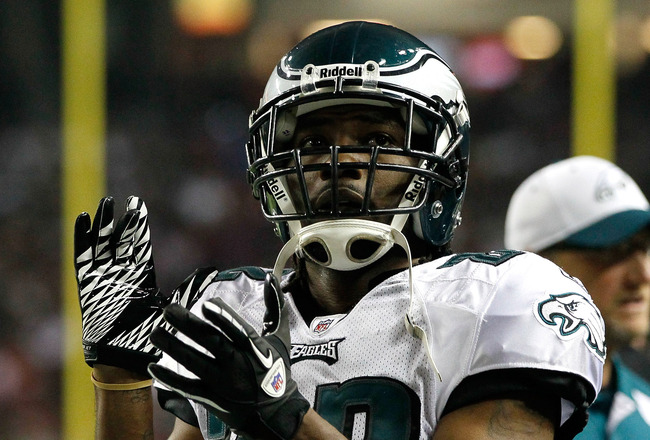 Kevin C. Cox/Getty Images
Since the Philadelphia Eagles acquired cornerbacks Nnamdi Asomugha and Dominique Rodgers-Cromartie over the 2011 offseason, Asante Samuel's future in the City of Brotherly Love has been in question.
This became even more apparent with the recent acquisition of LB DeMeco Ryans and his $5.9 million contract.
With Samuel set to make $9.5 million this season, and feature running back LeSean McCoy's rookie contract set to expire at the end of the 2012 season, it is safe to say that Samuel has played his last game as an Eagle.
Last season, the 31-year-old Samuel was unable to return to his 2009 form due to a nagging hamstring injury as well as a dislocated finger suffered in Week 2.
At his best, Samuel was a perennial Pro Bowl talent from 2007 to 2010, winning two Super Bowls along the way.
While a prosperous career has taken its physical toll, Samuel still possesses excellent intelligence in coverage and an incredible ball-hawking ability which could prove valuable to many teams around the league, five in particular.
5. Minnesota Vikings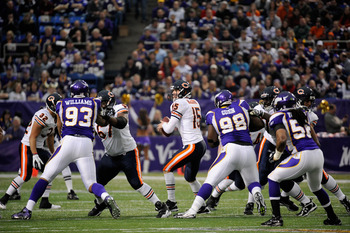 Hannah Foslien/Getty Images
Flush with cap space this offseason, the Minnesota Vikings are in desperate need of a ball-hawking cornerback.
DE Jarred Allen and the Vikings' front seven rallied to amass 50 sacks during the regular season, enough to best all but one defensive unit (Philadelphia Eagles). However, the unit struggled desperately to stop the pass and recorded a meager eight interceptions, tied with the Indianapolis Colts for an NFL worst.
The addition of Asante Samuel to the Vikings' defensive unit would bring the much-needed turnover threat that they lacked last season, and move them one step closer to competing with their division rival, the Green Bay Packers.
4. Indianapolis Colts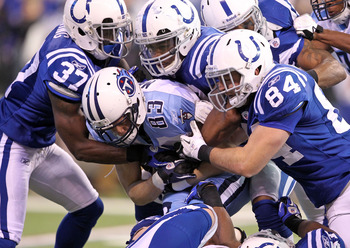 Andy Lyons/Getty Images
Coming off a disappointing season in which their defense couldn't seem to get anything right, the Indianapolis Colts desperately need to improve their pass defense.
These improvements could very well include the services of Asante Samuel.
In 2011, the Colts allowed nearly 230 yards per game through the air and recorded just 8 interceptions, tied for last with Minnesota.
While the Colts aren't exactly bursting at the seams when it comes to draft picks, they could afford to give up their early third-round pick to land a Pro Bowl defensive back like Samuel.
3. Detroit Lions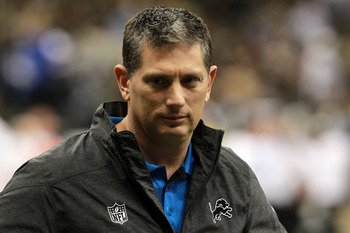 Ronald Martinez/Getty Images
The Detroit Lions were among the worst defenses against the pass in 2011, and may have flirted with the idea of trading for Asante Samuel before the 2011 season began.
After many disappointing years, the Lions found themselves ousted from the 2011 NFL Playoffs by the New Orleans Saints in the first round, allowing 459 passing yards and 45 points. After such an abysmal performance, expect the Lions to take another look at Samuel this offseason.
In a conference with QB/WR combinations like Rodgers/Jennings and Vick/Jackson, the Lions need to make a move to improve their pass defense, and this could be it.
2. New England Patriots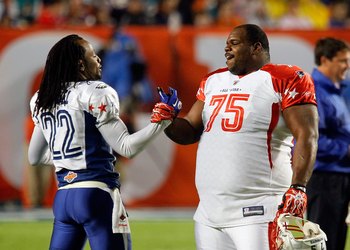 Asante Samuel with Vince Wilfork, of the New England Patriots
Scott Halleran/Getty Images
Without question, the New England Patriots had a very difficult time stopping the pass in 2011.
The unit visibly struggled throughout the regular season and completed the season allowing a pedestrian 293 passing yards per game, ranked 31st.
Asante Samuel is an obvious fit in New England as he won Super Bowls XXXVIII and XXXIX with Bill Belichick and Co. He could be the boost the Patriots need to take another shot at the Lombardi Trophy in 2013.
While the Patriots may not have enough enough room under the salary cap to make an offer for Samuel, he would instantly add an explosive presence to a defense which was lacking just that in 2011.
1. Cincinnati Bengals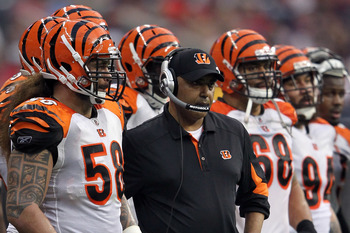 Jamie Squire/Getty Images
With the Cincinnati Bengals' offense emerging as a legitimate contender in 2011, a move to upgrade their pass defense seems imminent.
This offseason, the Bengals have a tremendous amount of room to work under the salary cap. They struggled when it came to forcing turnovers on defense last season, interceptions in particular.
In the competitive AFC North, the Bengals might be one good move away from boosting themselves into the late playoff picture, and possibly the Super Bowl.
The addition of Asante Samuel would aid a defense that performed reasonably well in 2011, and would also add another veteran presence to aid in the development of young defensive backs within the system.
Keep Reading

Philadelphia Eagles: Like this team?