Pittsburgh Steelers: Unknowns Who Will Become Star Players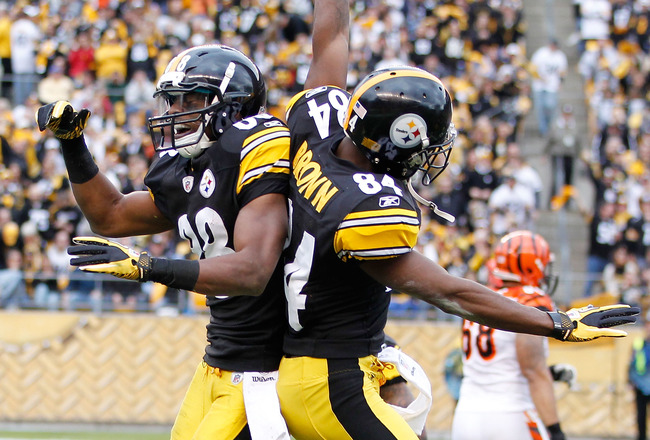 Gregory Shamus/Getty Images
This past winter the Pittsburgh Steelers saw a massive exodus of players jettisoned from their ranks.
Most notably was fan favorite and beloved wide receiver Hines Ward, as well as longtime defensive end Aaron Smith—who apparently decided retirement was a better future than to ever put on a different jersey.
Steelers nation experienced a huge blow to their offense when feature-back Rashard Mendenhall was injured in the last game of the season against the Cleveland Browns, making him unable to play against the Denver Broncos in the Wild Card round of the playoffs.
Some youngsters who have already made a slight impact intend to become big time players and have their names forever remembered in Steelers lore just as Ward, Smith, and Farrior did during their time in Pittsburgh.
The following are some relatively unknown Steelers, who through injury, retirement, or contract holdouts will find a way to claw their way up the depth chart to become permanent fixtures on the starting Steelers' lineup.
Jonathan Dwyer RB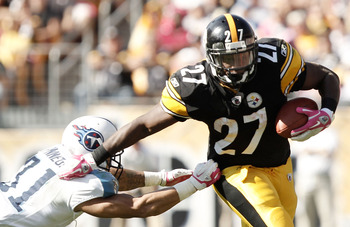 Jared Wickerham/Getty Images
Dwyer is a decorated collegiate athlete during his time at Georgia Tech. The former Yellow Jacket's resume includes:
2007 ACC All-Freshman Team
2008 ACC Player of the Year
2008 First Team All-ACC
With starting running back Rashard Mendenhall's year as well as future with the Steelers up in the air, Pittsburgh is going to look at a freshly recovered Dwyer who impressed his coaches last pre-season before suffering a season-ending injury.
With the backfield relatively devoid of talent beyond the injured Mendenhall and aging Moore, Dwyer is going to get a good look at being the team's feature back for the 2012 season.
Cameron Heyward DE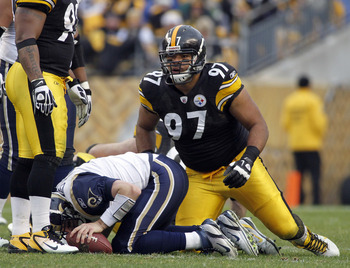 Justin K. Aller/Getty Images
Heyward is one of the many young Steelers who is going to directly benefit from the exit of older Steelers this past offseason.
With Aaron Smith retiring, Heyward finds himself in an excellent position to cement himself as an everyday starter.
Heyward is a local product, born in Pittsburgh before moving to Georgia and eventually playing for nearby Ohio State Buckeyes, Heyward is also a legacy NFL player, son of Craig Heyward.
Cameron's accomplishments early in his career even with limited action include a blocked field goal, and a sack and forced fumble.
When Heyward is moved to a permanent position at either defensive end, Steeler nation can expect big things.
Evander "Ziggy" Hood DT/DE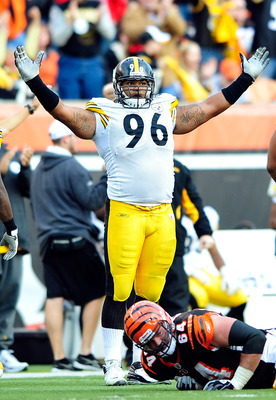 Grant Halverson/Getty Images
While he is a few years older and more experienced than Cameron Heyward, we might have to wait another year or two before we finally get to see Ziggy Hood reach his full potential.
The seemingly eternal backup behind old-timer Casey Hampton, Hood was another first round draft pick that focused on retooling an aging defense.
If Hood pushes long time defensive end backup Brett Keisel down the depth chart we might finally see Hood start double digit games.
Marcus Gilbert G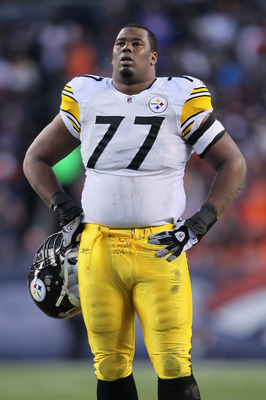 Jeff Gross/Getty Images
Gilbert is a towering man with ample weight, 6'6" 330 lbs to be exact.
Like him or not, Gilbert is here to stay on an understaffed and under talented offensive line that still needs massive work.
A fellow collegiate athlete of Florida Gator center Maurkice Pouncey, Gilbert hasn't shown the immediate success of Pouncey, but he is projected to be a starting offensive lineman with substantial upside.
All this should be incredibly exciting for Steelers fans despite Gilbert playing a non-exciting position as protecting Ben Roethlisberger and building a line capable of sustaining a good running game is paramount to the Steelers' future success under offensive coordinator Todd Haley.
Emmanuel Sanders WR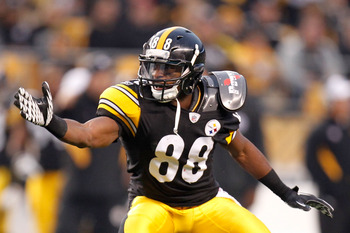 Gregory Shamus/Getty Images
Someone who might benefit for all the wrong reasons, Emmanuel Sanders already finds himself in the third spot down the depth chart when it comes to wide receiver.
As of right now with Mike Wallace's unfruitful contract negotiations have Sanders as a starting wide receiver opposite Pro Bowler Antonio Brown.
Brown, who received a bit more playing time last year is a component of a mighty hydra with Sanders and Wallace on the field. When the Steelers spread the offense out and use a three or four receiver set, it is usually very successful when the ball is released quickly. With a bit more pass protection for Big Ben, Sanders' numbers could skyrocket.
Sanders' limited action last year saw him haul in twenty-two passes for 288 yards and two scores. He averaged just over thirteen yards a catch. With Jericho Cotchery's depth unknown, Ward's retirement, and Wallace's contract status, it is not at all unlikely that Sanders could do as much as double or even triple his numbers from last year!
Keep Reading

Pittsburgh Steelers: Like this team?