Arnold Palmer Still the King at Bay Hill
March 21, 2012

Sam Greenwood/Getty Images
Kathy Bissell
From ice tea and lemonade to Mastercard to Cadillac dealerships, Arnold Palmer still has a Q-rating that is the highest among professional golfers, followed by Jack Nicklaus. 
For that reason, and out of respect for his accomplishments and contributions to the sport of golf, Palmer's tournament is still a must play for the likes of Tiger Woods, Phil Mickelson, Ernie Els and other big names.  The only notable absences this year are Luke Donald and Rory McIlroy, and Palmer has not given up on getting them back.
"We are doing everything we can to entice them to come and play," Palmer said.  "I think we can get that squared away and maybe we'll entice them to come in the future."  Donald has played in the past.  McIlroy has not yet participated, but he has played few events in the US to date. 
Meantime, the truly big stars are in attendance: Tiger Woods and Phil Mickelson.  Woods plays with Hall of Famer Els and Hunter Mahan.  Mickelson is with Justin Rose and one of the long putter sensations, Webb Simpson. 
But they are not the only players fans like.
Golf has recently become populated with a variety of interesting young talent.  Long hitting Bubba Watson is in the field, and so are 2012 winners Rose, Mickelson,  Brandt Snedeker, Mark Wilson, Bill Haas, George McNeill, Johnson Wagner and John Huh, who won for the first time last month at the Mayakoba Golf Classic.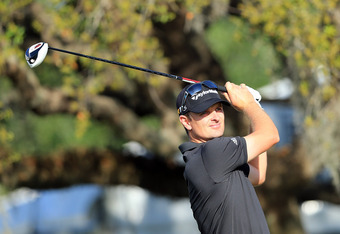 David Cannon/Getty Images
Rose compared Bay Hill's current configurations to Augusta National. 
"I think the course has evolved into being a good warm up for Augusta in terms of there seem to be a lot more run-offs around the greens, which is similar to what you face at Augusta," Rose said.  "I think it's quite a difficult chipping test, playing this course."
In addition, the hole layouts provide some similarities, Rose thinks. 
"If you look at this golf course it tends to suit a right to left ball flight for the most part," Rose explained. "There's a lot of dogleg lefts around lakes, so if you start to get comfortable seeing a right to left flight this week, that will also suit you well at Augusta."   
Palmer commented on the modifications over recent years changing some par fives into fours.
"I came to the opinion and the feeling that the galleries and the people watching on television and all of the things that were happening, they would rather see the players making birdies than bogeys," he said.  "After giving that careful consideration, we moved those holes back to par fives.  I'm very pleased that we did."
When asked what Palmer thought of Woods' chances for a victory soon, he replied, "If I were making a prediction, I would say, look out, because one of these days, he's going to come back and play pretty good golf."
Maybe as early as this week where Woods has won six times.  
Kathy Bissell is a Golf Writer for Bleacher Report. Unless otherwise noted, all quotes were obtained first-hand or from official interview materials from the USGA, PGA Tour or PGA of America.