Florida Gators Basketball: 5 Keys to Victory over Marquette in Sweet 16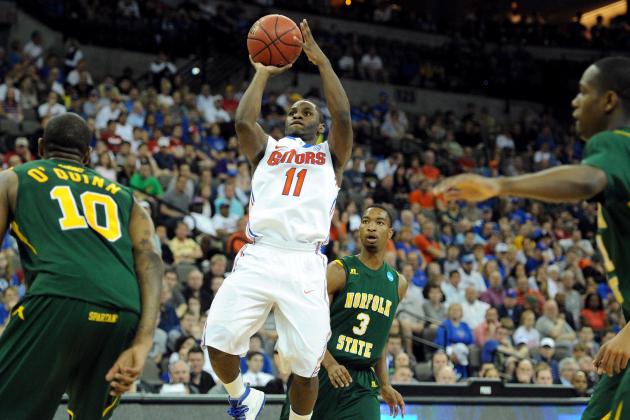 Eric Francis/Getty Images

The Florida Gators, as a No. 7 seed, have an opportunity to make their second-consecutive Elite Eight appearance in the 2012 NCAA Tournament.
They'll have to outplay the No. 3 seed, Marquette Golden Eagles, in the Sweet 16 to advance.
This Marquette team is easily the Gator's biggest challenge in the tournament thus far. They have an assortment of length and speed on their roster to keep up with Florida's guard-laden attack.
Here are the keys for the Florida Gators to advance in the Sweet 16.
Begin Slideshow

»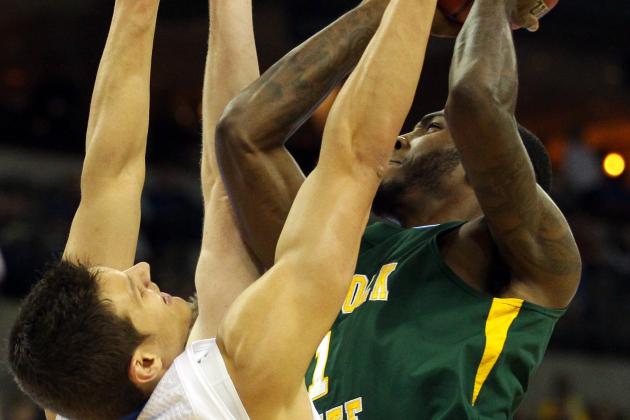 Doug Pensinger/Getty Images

The Florida Gators have arguably played their best defensive stretch in the first two games of the NCAA Tournament.
First, they were able to hold a Virginia team that beat Duke and Florida State earlier in the season to a mere 45 points. Then, they followed up that strong outing with an encore against Norfolk State, holding them to 27 percent shooting and winning by 34 points, the largest win margin in this year's tournament.
The Florida Gators did not choose their NCAA tournament draw. So let's throw out the notion that they have not played a quality opponent thus far.
Norfolk St. beat a Missouri team that only lost five games and predicted by many to beat the Gators handily in the Round of 32. Any team that can shoot over 50 percent from three to beat the Big 12 champion is a quality opponent in my book.
This Florida team has been prone to defensive lapses against more efficient opponents. Marquette can get to the free throw line at will, ranking in the top 20 in both free throws attempted and made this season.
If the Gator's threes are not falling on the offensive end, Jae Crowder and Darius Johnson-Odom, in particular, will use their combination of speed and quickness to methodically build a lead from the charity stripe.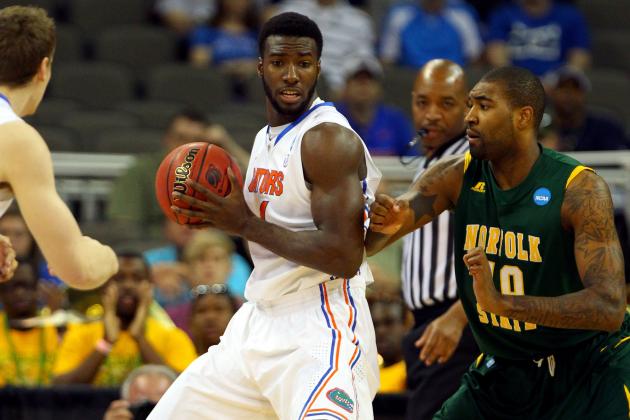 Doug Pensinger/Getty Images

Marquette may have a height advantage in the 1 to 3 spots, but they are clearly outsized in the big man category.
The Golden Eagles tallest starter stands at 6'7". Patric Young and Erik Murphy are 6'10" and 6'11" respectively.
Talk about a height disadvantage.
Murphy, though, scores the majority of his points from outside. Young can dominate from the interior utilizing his righty hook shot and owning the offensive glass if he asserts himself.
At times Young is ignored on offense because Donovan's offense emphasizes three-point shooting, but they have been much better recently at giving the rock to the big fella. Most notably facing off against Anthony Davis, Young held his own, with 21 points on 67 percent shooting and nine rebounds.
If Young capitalizes on his tasty matchup against an undersized Marquette front line, the Golden Eagles will have trouble keeping pace.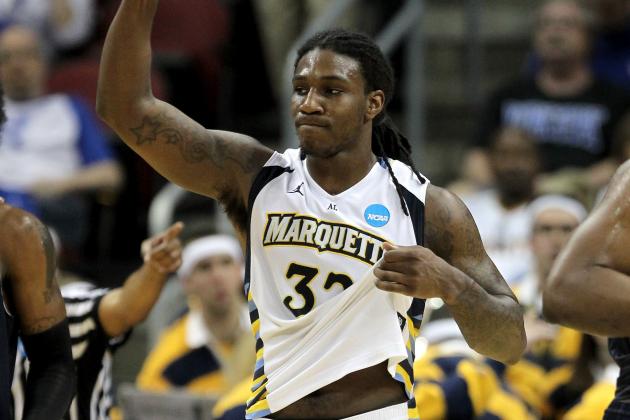 Jonathan Daniel/Getty Images

The Gators have had their share of trouble against the SEC Player of the Year Anthony Davis.
In the Sweet 16, they'll face off against the Big East's best in forward Jae Crowder.
Crowder has been the engine that keeps the Golden Eagles rolling. He is one of the most complete players in basketball, posting one of the best overall stat lines in the country (17 PTS, 8 REB, 2.5 STL). In addition, he's been a walking double-double in the NCAA tournament, averaging 17 points and 14.5 rebounds.
The Gators don't match up well for the 6'6", 235 pound forward. They will certainly miss Will Yeguete and his ability to contain athletic forwards in this contest.
Billy Donovan's options are limited but not hopeless. He could throw out Bradley Beal to body up Crowder. The 6'3" guard may be able to keep up with him, but he may be overpowered by Crowder's 235 pound build.
I imagine Florida PF Erik Murphy will see a chunk of minutes guarding Crowder. At 6'10" and weighing 230 pounds, he has the length to shield Crowder's view and keep him from the paint. This season Murphy had issues guarding Kentucky's Terrence Jones, a similar player, so Patric Young will need to provide help defense and protect the rim.
Jae Crowder will certainly be a handful for the Gators. Strong defensive awareness and alternating different looks will help contain the Marquette forward.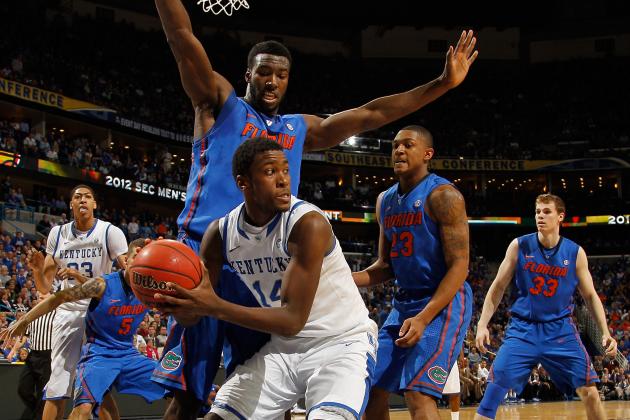 Chris Graythen/Getty Images

The last time Marquette lost a game, they were blanketed by Louisville's pressure defense. The Golden Eagles could not handle the full court press, turning the ball over 25 times in the Big East Tournament semifinal.
Somewhere, Billy Donovan can't stop smiling. His team has been playing a press all season.
You can bet he'll be unleashing the hounds on the Golden Eagles suspect ball-handlers on Thursday.
Florida has a size disadvantage against the Golden Eagles at the guard spots, but what they lack in mass they'll try to make up for with their quickness. Both Bradley Beal and backup guard Scotty Wilbekin are solid on-ball defenders that can keep pace with anybody for 90 feet.
If they can fluster Marquette early, the Gators will grab the momentum from the onset and put Marquette on their heels. Then they'll start remembering what happened against Louisville.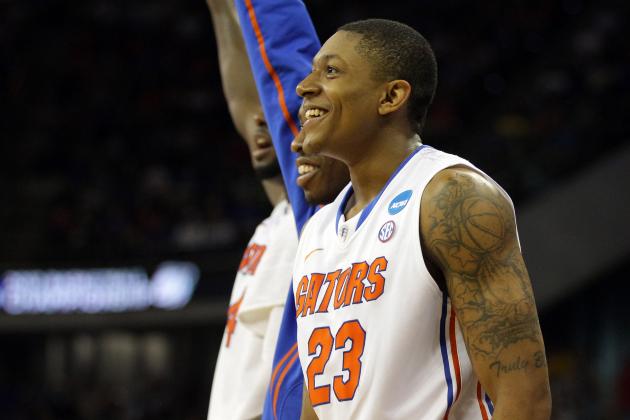 Doug Pensinger/Getty Images

College basketball might be regarded as a team game, but the Gators need to get the ball to their star.
Bradley Beal may not be Florida's leading scorer. Against the top-50 teams, though, the future NBA lottery pick has been far and away the Gator's best player.
The statistics agree as well. According to TeamRankings.com, Beal leads the team in Player Efficiency Rating (16.5) and Win Shares against top-50 opponents.
When the Gators need a bucket against quality foes, Beal has shown he can deliver. He displays the most complete offensive game amongst the Florida roster.
Facing their toughest opponent in the NCAA tournament yet, there most likely will be pressure-filled moments against Marquette.
Billy Donovan would be wise to call on Beal's number.