TNA Impact Wrestling Preview: Three Title Matches and Fallout from Victory Road
March 22, 2012

Off the heels of the Victory Road pay-per-view, TNA Wrestling presents another new episode of Impact Wrestling!
Victory Road was quite the eventful show and it gives us plenty to consider for this week's episode of Impact Wrestling.
Not only will the fans witness the fallout of the PPV, the company has booked three title matches for the show.
Let's see what TNA Wrestling has in store for the fans this week!
Gail Kim Retained the Knockouts Title: Who Will Step Up to the Challenge?
At Victory Road, Gail Kim defeated her best friend Madison Rayne to retain the TNA Knockouts Championship.
Gail has held the title for four months, defeating Velvet Sky, Mickie James, Tara and now Madison to keep her title reign intact.
With Lockdown about four weeks away, the champion is in need of a new challenger.
TNA Wrestling has plenty of Knockouts on the roster who haven't received a shot at the title in a while, or not at all, and the fans could see one of them rise up and challenge Gail for the title.
At the same time, there are plenty of women on the independent circuit who are awaiting their shot at glory.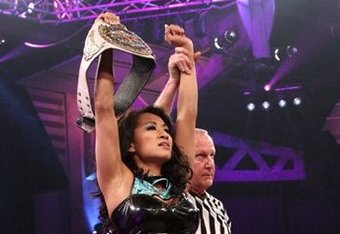 Will a current Knockout step up to the plate or will TNA bring in someone new?
A Bully Defeated: What's Next for Bully Ray?
Since becoming the bully, Bully Ray has been on a crusade for the TNA World Heavyweight Championship.
Despite his dominating ways, the former Dudley Boy didn't get much attention in the title picture until he started to become the sidekick of world champion Bobby Roode.
As he helped Roode retain his title on multiple occasions, the champion would promise him shots at the title that he would never receive.
Due to his growing frustrations with the champion, Sting put him in a fatal four way match for the title at last month's Against All Odds. After losing the match, his anger over the situation has only increased.
He battled James Storm over the No. 1 contender spot right up until Victory Road, where the bully was defeated by the Cowboy.
Bully Ray will no doubt be on the war path now.
What will he do? Who will he go after next?
A.J. Styles Gains Revenge: What's Next in His Feud with Daniels and Kazarian?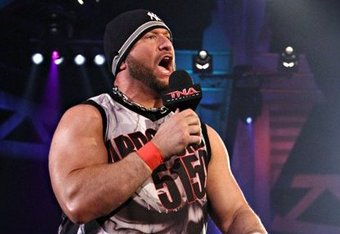 The A.J. Styles/Christopher Daniels feud has been ongoing for quite some time. Every time it would end, they would eventually make up and become a team again.
Then Daniels would grow jealous again and the feud would be back on.
It happened again last year when Daniels challenged Styles to a friendly match during the summer.
After the loss, Daniels once again grew jealous and the feud lasted until Bound for Glory.
It kicked right back into a gear a few months later, though, when the Fallen Angel enlisted Kazarian to help him take down Styles.
His former friends would keep the momentum throughout the feud until Styles brought in Mr. Anderson for some help.
At Victory Road, the team of Styles and Anderson defeated Daniels and Kaz, finally giving Styles some revenge.
Has A.J. Styles finally ditched Christopher Daniels for good, or will Daniels and Kazarian be looking for some revenge of their own?
Kurt Angle Takes Down Jeff Hardy: What's Next for These Two Wrestlers?
After losing the TNA World Championship and then a No. 1 contender's match, Kurt Angle disappeared from TNA Wrestling. He returned after the Against All Odds PPV and targeted Jeff Hardy.
After meeting in a tag-team match, Angle revealed that he went after Hardy because his son saw the Charismatic Enigma as his hero instead of his own father.
This enraged Angle and he wanted to take Hardy out for good.
The match was made for Victory Road and the two went to war.
Angle was victorious in this encounter, but in the world of professional wrestling, one match is rarely the end of a conflict.
Will Jeff Hardy be looking for revenge or will Kurt Angle be able to keep the momentum on his side?
Devon Wins the Television Title: Will He Defend it on a Regular Basis?
When A.J. Styles gave the Television Championship its name in July 2010, he vowed to defend the title every time he was on television, much the TV titles of old.
While he did defend it quite a bit, it wasn't as much as he promised and it was defended even less once he lost the title.
Robbie E's title reign was starting to look promising as he defended it more than the previous champion, Eric Young.
He popped up once in a while to defend on Impact Wrestling and issued open challenges for PPVs.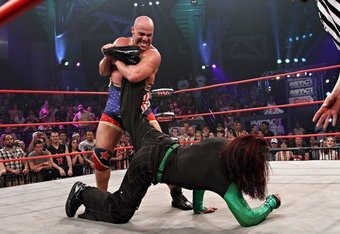 His latest open challenge would result in him losing the title, though. As he was about to leave the ring, Devon answered the challenge and defeated the Jersey Shore wannabe to become the new champion.
Now that a veteran holds the title, will it be defended more often? Can Devon prove to be a worthy champion?
The Motor City Machine Guns Are Coming
Chris Sabin and Alex Shelley formed the Motor Machine Guns in 2007 and immediately became very popular with fans due their fast-paced style and their ability to work extremely well together.
It wouldn't be until Victory Road 2010 when they would finally win the Tag Team Championship, though.
They would soon enter into a best-of-five series of matches with Beer Money, giving the fans some of the best tag-team wrestling seen in years.
The Guns would hold the titles for 182 days before losing them to Beer Money at Genesis 2011.
The team would go inactive for three months after Shelley went down with an injury. He would return in April ready for the team do dominate once again but on the very day he returned, Chris Sabin went down with an injury.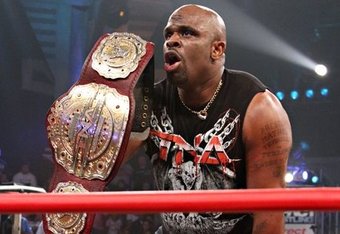 His was much more serious than Shelley's and he would be out for a year.
Shelley would re-enter singles competition but disappear after Hardcore Justice. He returned in December in a losing effort to Austin Aries and appeared sparingly after that.
At Victory Road, a video was shown hyping the return of the Motor City Machine Guns!
When will the former tag team champions be returning? Will the fans see them this week or will we have to wait until Lockdown, or even Slammiversary for the return?
ODB and Eric Young vs. Sarita and Rosita: Knockouts Tag Team Championship
On International Women's Day, TNA Wrestling gave one-half of the Knockouts Tag Team Championship to a man.
Eric Young and ODB were brought together during the Wild Card Tag Team Tournament and they managed to make it to the semi-finals before losing.
Young would fall hard for ODB and the former Knockouts champion soon followed suit when she fell for him as well.
It was certainly a strange pairing and it was made stranger when EY got Sting to give ODB a shot at the tag belts. To his surprise, the Icon made him her partner.
He was given a bigger surprise when they actually won the belts, but EY was about to reveal a surprise of his own.
He proposed to ODB in the middle of the ring, and after she took the ring and proposed back, the wedding was on.
Last week they decided that they would be having the wedding in the ring on Impact Wrestling but this week, they must defend their newly won titles against former champions Sarita and Rosita.
Can Eric Young and ODB prove their win wasn't a fluke or will the fans see some new champions this week?
Austin Aries vs. Zema Ion vs. Kid Kash vs. Anthony Nese: X-Division Championship
At 193 days as of this writing, Austin Aries is the longest reigning X-Division champion in history.
He has taken on all comers and has taken them all down.
"A Double" is without a doubt the most dominant champion in the title's history and he looks to continue that this week.
At Victory Road, Aries put down another challenger in Zema Ion, but the "greatest man who ever lived" must contend with him again, this time in a fatal four-way match.
In addition to Ion, Aries must defend his title against Anthony Nese and former X-Division champion Kid Kash.
Will Austin Aries continue his X-Division dominance or can one of the challengers outsmart "A Double" to win the title?
Samoa Joe and Magnus vs. Mexican America: Tag Team Championship
The tag team scene in TNA Wrestling is the thinnest it has been in years. There are so few teams that I forgot that Mexican America were even still around.
Samoa Joe and Magnus were the surprise of the Wild Card Tag Team Tournament. Nobody expected them to have the chemistry they did and it led them to winning the whole thing.
They earned a shot at the Tag Team Championship at Genesis but failed in winning the belts. That didn't stop them, though, as they began to attack the champions night in and night out until they received another shot.
They got it at Against All Odds and won the titles. Former champions Matt Morgan and Crimson started to grow apart due to the loss but did earn a rematch at Victory Road.
When Crimson walked out on Morgan, Joe and Magnus retained their titles.
Their celebration won't last long as they must defend the titles this week against Mexican America.
Will Samoa Joe and Magnus continue to dominate TNA's small tag division or will Mexican America upset the champs?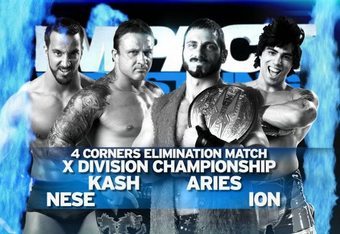 The TNA Regime is Defeated: Has Bobby Roode Eliminated Sting and Dixie Carter for Good?
Bobby Roode has been the TNA world heavyweight champion since the end of October and he has been a dominating champion.
To win his matches, though, he tended to take the easy way out. He would either hit his opponent with something or intentionally get disqualified. Sometimes, he'd even enlist the help of Bully Ray.
No matter how he did it, Roode has remained the champion for 147 days as of this writing.
The general manager of Impact Wrestling, Sting, has tried many times to punish Roode for his actions but each time ,the champion would weasel his way out of them.
Sting finally had enough and booked himself in a no holds barred match against Roode at Victory Road. Roode would defeat the wrestling legend but he wasn't happy with just winning, he wanted to take Sting out.
He beat Sting with a chair post-match and even put his hands on TNA President Dixie Carter.
Bobby Roode is at the very top of TNA right now and it's going to be very hard to knock him down.
Has Roode dismantled TNA management? Will Sting and Dixie Carter try another fruitless punishment?
Will Roode's Lockdown challenger James Storm have anything to say about what he did?
This week's episode of Impact Wrestling is shaping up to be a huge one.
Can TNA Wrestling keep up the great year they've been having so far? Tune in to find out!