NBA: Charlotte Buys out Boris Diaw; Where Will He Land?
March 21, 2012

Streeter Lecka/Getty Images
The Bobcats are easily the league's worst team and they have to get better at some point. It starts with their bold move today, as the team has reportedly bought out Boris Diaw's contract, making him a free agent.
Lately, Diaw's minutes have been trimmed down quite a bit and it has almost been a certainty that something would happen to Diaw. He wasn't dealt at the deadline, so the conclusion seemed to be that the Bobcats would buy out the remainder of his contract.
Diaw's contract would have expired at the end of the season anyway, as he was scheduled to make $9 million for the 2011-12 campaign.
According to Rick Bonnell of the Charlotte Observer on Twitter:
"OBSSERVER EXCLUSIVE: Bobcats and Boris Diaw agree in principle on contract buyout. More coming."
Now that Diaw is a freed man, that leaves one question: Where will he go?
There's no doubt in my mind that Diaw heads to any contender that wants him. He's not going to go to a bottom-feeder such as the Wizards, Raptors or Hornets, among other teams. Like any other player in the NBA, Diaw wants to win a championship and he's going to go to a team that has a chance at delivering him a ring.
With that being said, the Spurs seem to be the most viable option, as Diaw would be re-united with fellow Frenchman Tony Parker. Despite averaging just 7.4 points, 5.3 rebounds and 4.3 assists per game, Diaw is still a player that is capable of starting on a good amount of teams.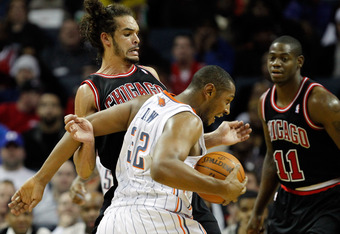 Streeter Lecka/Getty Images
San Antonio really doesn't need Diaw, as they already have Tim Duncan, Tiago Splitter, DeJuan Blair and Matt Bonner. But it is entirely plausible for Diaw to come in to Popovich's system and receive a good amount of playing time. There's even the possibility that the Spurs could eventually start Diaw at power forward, depending on how well and quick he picks up on the playbook.
You can also never rule out the Lakers, a team that has gone after the retired Rasheed Wallace and Gilbert Arenas, who signed with the Grizzlies yesterday.
The Lakers need some frontcourt depth, as Pau Gasol and Andrew Bynum can't play over 40 minutes per game. The team acquired Jordan Hill at the trade deadline, but it remains to be seen as to how much he will play in L.A.
Outside of Hill, the Lakers have Josh McRoberts and Troy Murphy, both of whom have been mild disappointments since arriving in L.A. this offseason. McRoberts is averaging just 2.3 points and 2.8 rebounds per game, while Murphy hasn't done that much better with averages of 3.4 points and 3.6 rebounds.
When utilized correctly, Diaw is a solid player. He can do good things with the basketball when he's healthy. He's had a down year this season, but that could change if he were to go elsewhere with a better system. Mike Brown's system could be what he needs.
There's also a team like the Celtics, who also need frontcourt depth. Currently, the Celtics' frontcourt consists of the aging Kevin Garnett, the injury-prone and knee-less Jermaine O'Neal, Brandon Bass, Greg Stiemsma and the seldom-used Chris Wilcox. Boston really needs to add someone to the frontcourt if they plan on making the playoffs and doing some damage in the process.
The Celtics could really use someone like Diaw, who could come in and immediately receive quality minutes in Doc Rivers' system. The Frenchman really isn't young, but at 29 years old, he's still a player that could be considered as part of their "future" if they elected to re-sign him at the end of the season.
Boston could really use a player like Diaw. At this point, he's worth a shot for the C's.
Additionally, there's the Knicks, a team who desperately needs some frontcourt help. The Knicks are stacked in the backcourt, but they are considerably thin at power forward and center.
Currently, the team has Jared Jeffries, Steve Novak, Josh Harrellson and Jerome Jordan coming off of the bench behind Amare Stoudemire and Tyson Chandler. Needless to say, the Knicks aren't going to be winning a championship anytime soon with back-ups like that in their frontcourt. They need a player like Diaw, who can help alleviate pressure off of Stoudemire, his former teammate in Phoenix.
Diaw would likely not command that big of a salary for the rest of the season, and if the Knicks were to offer him a deal Diaw should take it. He'd likely receive a decent amount of playing time in the Big Apple with head coach Mike Woodson.
A Diaw to New York scenario seems to work out well for both sides. I wouldn't consider the Knicks to be championship contenders, but they are a team that could make some noise if they were to make it to the postseason.
The Chicago Bulls should also take a look at Diaw, as the Bulls are contending with the Heat as the conference's best team. Behind Carlos Boozer and Joakim Noah, the Bulls currently list Omer Asik, Taj Gibson and Brian Scalabrine as the back-ups.
So needless to say, outside of Gibson and Asik, there isn't much. That's where Diaw comes in.
He would likely not receive as much playing time in Chicago as he would in San Antonio or Boston, but the Bulls have a much better chance at winning a championship than those two teams. If Diaw wants to win a championship, Chicago would be the best option of the teams listed.
Clearly, the Bulls are a great team. They're doing amazing things right now and they are also one of the best teams in the NBA, not just the Eastern Conference. A Diaw addition may disrupt the team's chemistry slightly, but he could vastly help them in the playoffs –– as a member of the Suns during the 2006 postseason, Diaw averaged nearly 19 points, seven rebounds and five assists per game.
I also wouldn't rule out the Miami Heat, even though they signed Ronny Turiaf earlier today. Anything is possible.
As stated above, there's no chance that Diaw latches on to a bottom-feeder. He will likely go to any contender that wants him. That's obvious –– Mike Bibby did it last season when he was bought out by Washington and then signed with Miami.
Diaw may not be the best player in the world, but there's no doubt that he can help a team's postseason hopes. If he were to go to a contender, he would likely not be a starter on any team, except for maybe the Spurs, but he could become a role player and a key contributor to the team's success. The Frenchman definitely has the ability to help a team win a championship this season. We just have to wait and see where he'll go.