NIT 2012: Predicting Final Two Teams That Will Make Semifinals
March 21, 2012

Ethan Miller/Getty Images
After Washington and UMass advanced on Tuesday, there are two more matchups to decide who will battle in the semifinals of the NIT tournament.
Middle Tennessee and Minnesota kick off the action on Wednesday night, while Stanford and Nevada follow.
Here's a look at how I see the games shaking out.
Middle Tennessee (No. 4 Seed, Region 2) vs. Minnesota (No. 6 Seed)
Middle Tennessee has been very efficient shooting the basketball this season. The Blue Raiders shot 49.6 percent in the regular season, fourth in the nation.
Led by LaRon Dendy, Marcos Knight and JT Sulton, the Blue Raiders have the firepower to create havoc, as they did against No. 1 seed Tennessee in the second round.
Minnesota has a big body in Rodney Williams to slow the Middle Tennessee offense down, as well as a good supporting cast on offense. The Golden Gophers have 10 players averaging 14 minutes per game or more.
In the end, I see Middle Tennessee coming away with the victory. The Blue Raiders have a good player in Dendy and I think the offense will be too efficient for the Golden Gophers down the stretch.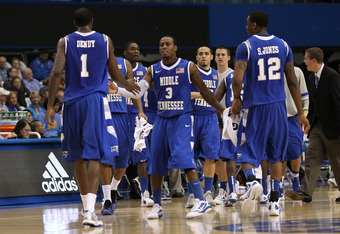 Stephen Dunn/Getty Images
Stanford (No. 3 Seed, Region 4) vs. Nevada (No. 5 Seed)
Every time I look at the Stanford Cardinal, I wonder how they keep winning games. Their biggest strength is their rebounding (50th in the nation during the regular season), but they were outrebounded by Cleveland State and Illinois State in the NIT tournament and still came away with victories.
The reason for Stanford's recent success has been its shooting. The Cardinal shot 49 percent against Cleveland State and 52 percent against Illinois State. That impressive shooting percentage is a marked contrast from the regular season when Stanford shot only 44 percent from the field, good for 147th in the nation.
I tend to have more faith in Nevada. The Wolf Pack can outrebound the Cardinal (45th in the nation during the regular season), and they are a better shooting team overall. Nevada shot 50 percent against Bucknell in the second round and attacked the rim, getting to the free-throw line 32 times.
Multiple players have also been stepping up for the Wolf Pack. Dario Hunt has been a rebounding and blocking machine all season long, Olek Czyz and Malik Story just dropped 24 points and 18 points, respectively, on Bucknell, and leading scorer Deonte Burton has been known to hit some timely shots.
The only concern for the Wolf Pack is that they aren't very deep beyond these players, so if they get into foul trouble, momentum could shift to Stanford.
But if the Wolf Pack stay out of foul trouble, I see them upsetting Stanford.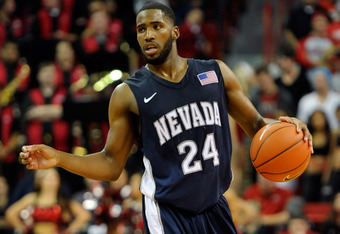 Ethan Miller/Getty Images
Follow me on Twitter. We can talk about the NIT tournament.