Tim Tebow Traded to Jets: Why Move Will Be a Complete Disaster for New York
March 21, 2012

Doug Pensinger/Getty Images
The rumors were there from the beginning, but faint and easily disregarded.
The New York Jets were interested in Tim Tebow, but so were the Miami Dolphins and Jacksonville Jaguars. Those were the teams with open quarterback situations and disgruntled fans—from Florida, no less.
Tebow was going there, not New York.
Surprise. Turns out, the Jets not only wanted Tebow, but they had to have him. For just a fourth-round pick, Gang Green cut to the front of the line, beat the Jags and Fins to the punch and landed the polarizing Denver quarterback.
It's a bold move. But "bold" is a funny word in the NFL. "Bold" can mean brave. It can also mean stupid.
Unfortunately for Rex Ryan and Co., this move has a lot of the second meaning to it.
The problem isn't so much Tebow. He's proven he's a good football player with—depending on who you ask—a bright future in the league as a quarterback. He rescued a floundering Broncos team last year almost singlehandedly.
The guy can play—it's been proven.
But this was not the situation to bring him into. There were two ideal teams for Tebow. One would have had an open starting quarterback position (such as Jacksonville), where he could have taken over with the full support of the front office and coaching staff.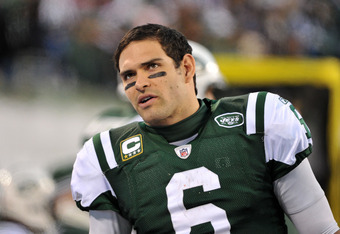 Christopher Pasatieri/Getty Images
Another would be a team with a locked-up quarterback situation (Green Bay or New England), where he could have patiently grown and learned behind a star signal-caller while the media hype settled down. Not even the most fervent Tebow supporter would insist that he start over Aaron Rodgers or Tom Brady.
Instead, Tebow and his circus are headed to a team that was saturated with and broken down by drama last season. The Jets capsized last season because the outside scrutiny and miserable team chemistry climbed to unmanageable levels.
And now Tebow's being added to that mix?
On the field, it makes less sense. The Jets' on-again, off-again relationship with quarterback Mark Sanchez was thought to be back on after the team signed him to a three-year extension. Now Tebow's in his rear-view mirror.
Sanchez can call up Kyle Orton and get the skinny on how that tends to play out.
Sanchez is sensitive enough as it is, and that side of him was revealed with Mark Brunell as his backup. And now Tebow's back there? Sanchez will hear Tebow questions after his first loss, and chants from the fans after his first interception.
He's handled game pressure pretty well. He does have four playoff wins. But position pressure? That hasn't been a strong suit for the USC product, and his seat will be hotter than ever this season.
Now it'll be the emotional quarterback that the team's financially committed to vs. the one with arguably the biggest following in football. It's a lose-lose situation.
Either Tebow wins the quarterback battle and the team gets zero back on a $58.25 million investment, or Sanchez wins, Tebow's right behind him and the team that succumbed to distractions last year invites the circus right back in.
The Jets got themselves a good football player. Even so, they're still taking on way more than they bargained for.