Sweet 16 Bracket: Jared Sullinger and Forces Who'll Carry Teams into Elite 8
December 7, 2014
Gregory Shamus/Getty Images
Ohio State sophomore forward Jared Sullinger is one of the best players out of the remaining teams that make up the Sweet 16. He has led the Buckeyes through two victories while posting big numbers. 
However, Sullinger isn't the only player who will lead his team to into the Elite Eight. These other players will have just as big of games and will be a big reason why their team is heading into the Elite Eight. 
Jared Sullinger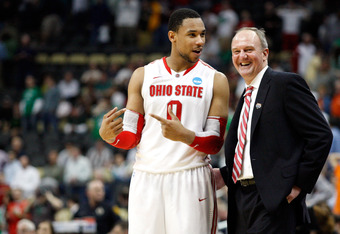 Jared Wickerham/Getty Images
Ohio State's victories over Loyola (MD) and Gonzaga were due in part to big games from Sullinger. 
Sullinger has seen his game improve over those two victories. He started with 12 points in their first game, only to improve his scoring to 18 against Gonzaga. 
In the Sweet 16, Sullinger will be a big reason why the Buckeyes will move onto an Elite Eight matchup against the winner of Wisconsin and Syracuse. Sullinger will have a performance against Cincinnati where he carries the Buckeyes with 22 points and 14 rebounds. 
Brady Heslip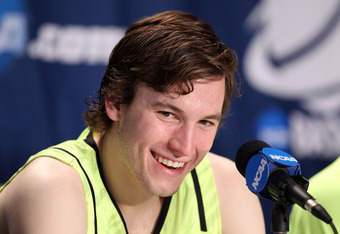 Christian Petersen/Getty Images
Heslip went off in Baylor's opening game in the NCAA tournament, hitting 5 three-pointers against South Dakota State. However, had an even better game in their third-round game against Colorado, hitting 9 three-pointers while scoring 27 points.
Helsip comes into the Sweet 16 on a five-game double-figures streak. Over those games, Helsip has averaged 17 points per game and 4.8 three pointers made. 
Heslip will find room against Xavier in the Sweet 16, which will result in another 20-point game for the talented sophomore.  
Harrison Barnes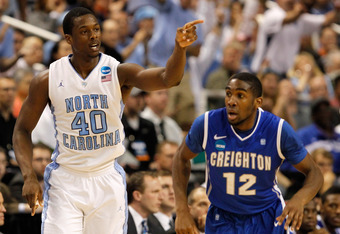 Streeter Lecka/Getty Images
Barnes will have to pick up the void that will be left by Kendall Wright, since the talented point guard will miss the game because of an injury to his left wrist. 
Picking up the scoring slack shouldn't be hard for Barnes, as he is on a six-game streak where he's scored in double-figures. Barnes has enough talent that he should find a way to find space against the Ohio defense to maintain his double-figures point average. 
So far in the tournament, he ripped Vermont for 23 points in North Carolina's first game and had a solid 14 point game against Creighton.
Against Ohio, Barnes should have no problem finding the basket and going off for 23 points, as North Carolina moves onto the Elite Eight.