Could Cleveland Browns LB Scott Fujita Be Subject to BountyGate Punishment?
March 21, 2012

Matt Sullivan/Getty Images
NFL commissioner Roger Goodell handed down a series of punishments today for the New Orleans Saints bounty program that was installed under the control of then-defensive coordinator Gregg Williams and signed off on by both head coach Sean Payton and general manager Mickey Loomis.
As a result, Williams has been handed an indefinite suspension that will last at least a year, Payton has been suspended a full year effective April 1, Loomis will be suspended for the first eight games of the regular season, assistant head coach Joe Vitt has a six-game suspension and the team was docked their second-round draft picks in 2012 and 2013 in addition to being fined $500,000.
Goodell said punishments for individual players are forthcoming and will be done in corroboration with the NFL Players Association.
Considering this affects every player who was a part of the Saints defense in the 2009-2011 time frame in which the bounty program was said to have been occurring, current Cleveland Browns linebacker Scott Fujita could be caught up in the turmoil.
It is unknown what kind of punishments involved players could face, but clearly, the hardest will go to the Saints' Jonathan Vilma, the team's defensive captain and the person who ponied up $10,000 of his own money to the player who could knock then-Minnesota Vikings quarterback Brett Favre out of the 2009-2010 NFC Championship game.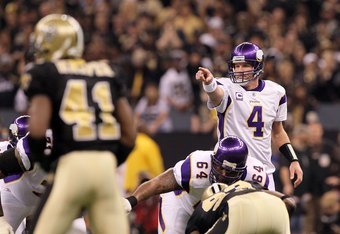 Jed Jacobsohn/Getty Images
Fujita was with the Saints starting in 2006, and his final season there was 2009, the year the bounty program began. Because he was just there for a single season means that even if he were involved, his punishment could be lighter than those who participated throughout all three seasons.
It's hard to believe a player like Fujita would condone or participate in such a system, however. He was considered to be a leader on the Saints defense and has advocated in favor of increased player safety.
Fujita's statistics in his final year with the Saints also don't line up to those of a player looking to earn extra cash by delivering big hits. He had just one sack and 43 tackles—his worst season as a Saint—before joining the Browns in 2010.
Knowing both Fujita's background and how he played in his final year in New Orleans, it seems likely that he will not be included among the current and former Saints who are due to be punished in the coming days or weeks.
But Browns fans should be aware that a punishment is possible simply because he was a part of the team when the program was active. His non-involvement does not necessarily mean he was ignorant of the bounty program, which could put him at risk for discipline.