Alex Smith Re-Signs with 49ers: Deal Analysis, Grade and Twitter Reaction
March 21, 2012

Thearon W. Henderson/Getty Images
There was another quarterback, flirtation, counter visits and counter flirtation. 
However, in the end, the San Francisco 49ers and quarterback Alex Smith made amends and agreed on a deal that will keep Smith with the team through the 2014 season. San Francisco general manager Trent Baalke made the agreement official on Wednesday.
We are pleased that Alex has chosen to continue his career as a 49er. His contributions were instrumental to our success in 2011, and we look forward to the continued growth of our offense under his leadership.
A deal between the two sides looked imminent as recently as early as last week, but the 49ers took a serious run at free-agent quarterback Peyton Manning that sidetracked discussions with Smith. In response, Smith made visits to both Miami and Seattle, but neither really looked like a serious candidate. 
When the team swung and missed on Manning, they swallowed their pride and took another run at getting Smith under contract.
In the end, Smith had little leverage and no other destination that could offer what the 49ers could.
According to a source from the Associated Press, Smith signed on for three years and $24 million with $16.5 million guaranteed. Surely, some of those millions were "sorry, Alex" money.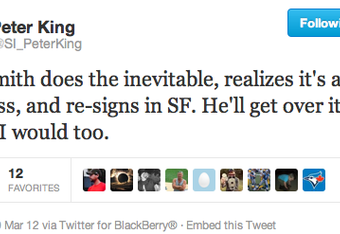 Mostly a bust after being picked No. 1 overall in the 2005 draft, Smith finally had a productive NFL season when he led the 49ers to a 13-3 record last season. The addition of head coach Jim Harbaugh brought some stability to San Francisco, and Smith flourished under his guidance.
Over 16 regular season games, Smith threw for 3,150 yards, 17 touchdowns and just five interceptions. His 90.7 passer rating was a career-best.
Facing the New Orleans Saints in the playoffs, Smith led the 49ers back twice with late touchdowns, including a career-altering strike to Vernon Davis that finished off New Orleans and sent the 49ers to the NFC Championship Game.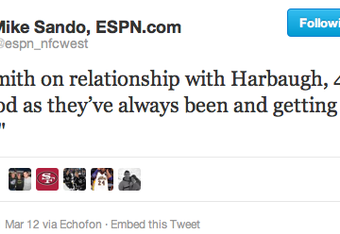 Now that he's under contract for three years, Smith should have his first real opportunity to grow and progress as an NFL quarterback. I'm sure the 49ers paid more than they wanted to overall, but handing over the keys to an unproven Colin Kaepernick never seemed like an ideal scenario for 2012.
With Smith on board, the 49ers remain Super Bowl contenders next season.
Grade: B+