NFL Free Agents 2012: Dallas Clark and More Underrated Players Left on Market
March 21, 2012

Andy Lyons/Getty Images
With the NFL's free-agency period in full swing, we have seen a number of players start to find new teams to call home to start the 2012 season. However, despite the first wave of free agency being signed, there are still some quality players left over. 
Dallas Clark is still on the free-agent market and could help out a new team like the Denver Broncos. 
However, he isn't the only player that is still looking for a new place to call home. 
Dallas Clark, Tight End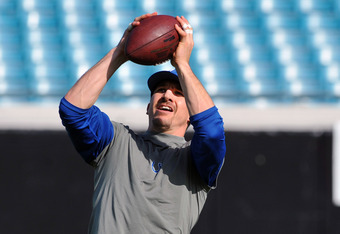 Al Messerschmidt/Getty Images
Clark is the best pass-catching tight end available on the market, and with Peyton Manning now signing with the Denver Broncos, it looks like he will be following there shortly. 
Having Clark go to Denver would be great for both sides. Clark's last season with both Manning and himself healthy saw the duo put together 100 receptions, 1,106 yards and 10 touchdowns.
If Clark can put together a season like that next year, he will surpass what Broncos leading receivers Eric Decker and Demaryius Thomas combined for last year in receptions. 
Clark with Manning would help ease the quarterback's transition into a new team and new system while being Manning's go-to receiver. 
BenJarvus Green-Ellis, Running Back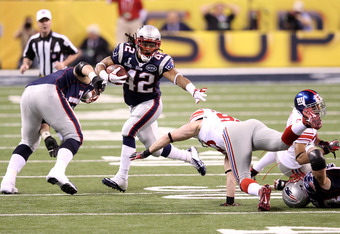 Andy Lyons/Getty Images
Green-Ellis hasn't put up huge rushing numbers while playing at New England, but what he can bring to his new team is a reliable runner who never fumbles. 
That's right. In four years and over 500 carries, he has never fumbled. He only has one season where he's rushed for over 1,000 yards, but over the last two seasons, he's scored 10 or more touchdowns. 
Whomever decides to sign Green-Ellis will not be getting a true featured running back. However, what they do get is a tough runner who is not going to turn the ball over. Plus, they will get a running back who is great at goal-line situations by finding his way into the end zone. 
A team like the Cincinnati Bengals could use Green-Ellis since they lost Cedric Benson to free agency. 
Neil Rackers, Kicker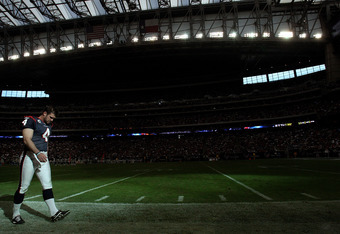 Ronald Martinez/Getty Images
Rackers is the best kicker available during free agency. Because of his ability to boom kicks from 50 yards out, he is a big player who could help a team win a couple of games. 
Rackers may be 35 years old, but he still has the ability to hit long-range field goals. Last year, he went 4-of-5 from 50 yards or more playing for the Houston Texans. If a team with a dome stadium needs a kicker, they have to sign Rackers to their team. 
These three players may not be the biggest names on the open market, but they can help their new team become a playoff contender.