Tim Tebow to the New York Jets Is a Gift from God
March 21, 2012

Garrett Ellwood/Getty Images
Christmas came early for the New York media. Well, for a lot of them it's probably Hanukkah, but the point still pertains: Tim Tebow just got traded from the Denver Broncos to the media capital of the world, instantly creating a quarterback controversy for New York's most dysfunctional football franchise. Yes, that includes the Bills. 
Let's be honest, it doesn't matter if Tebow is a better quarterback than Mark Sanchez. The fact that we will even have that debate says more about both as viable long-term starters in the NFL than the result of the debate ever could. Rex Ryan and his new offensive coordinator Tony Sparano love the Wildcat and Tebow's skill set on offense fits right in with a 10-play package to mix up looks in an effort to misdirect and befuddle defenses. Heck, the Jets will probably even use Tebow as a goal-line running back. 
Somehow, despite all the clever ways the Jets staff will install plays to highlight Tebow in an effort to make their offense more dynamic, the real meat of the story has less to do with football and more to do with everything else.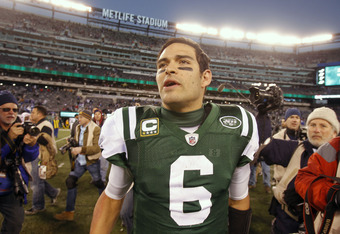 Rich Schultz/Getty Images
Tebow and Sanchez are suddenly fighting for more than just a starting quarterback job. Tebow's presence in New York—of all glorious places, thank you, Lord—has instantly created a fight for what is right versus what is wrong. Can there be two more polar opposites than the self-identified virgin and the man who reportedly bed a teenage girl? This it too good to be true, and yet it is true. Wrap your soul in a safety blanket—this is happening.
Tebow is not the first athlete to use his celebrity as a way to spread the word of God. (Well, his God anyway.) Tebow has just been better at spreading that word than any other athlete in history, reaching millions around the world from his pulpits in Gainesville, Florida and Denver, Colorado.
Now, Tebow has the world's biggest stage upon which to stand. New York City will be Tebow's home to spread the good word and it will be utterly fascinating to see how that word is received. New York is not Gainesville. New York is certainly not Denver. It's one thing to consider how the New York media will treat Tebow if he fails on the field—the back page headlines almost write themselves—but it will be more interesting than anything to see how the New York liberal elite media handles Tebow's life off the field.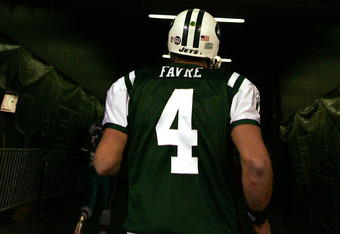 Al Bello/Getty Images
The media in New York have left no stone unturned when it's come to Sanchez's life. Let's not forget the starter who preceded Sanchez, a fellow by the name of Brett Favre, and what the New York media did to him. I don't suspect Tebow will be sending lurid pictures of himself to Jets staff members, but it doesn't mean the New York media won't find something about Tebow that's a little, shall we say, off message.
Ask Alex Rodriguez how the New York media handles polarizing athletes. Who is Tebow dating right now…Taylor Swift? Someone from the FOX show Glee? How are they going to feel having every awful photo ever taken plastered across the pages of the New York rags?
There are so many angles to dissect, and we haven't even gotten to all the other lurid stories surrounding the Jets. Should we talk about the flap with Ines Sainz? The foot thing? Outspoken players who already said they don't want Tebow in town?
Even with all that crazy Jets nonsense, this story is about Tebow. I'm certain there is something I have missed about him that might get the New York media salivating. What could that possibly be? Oh…right. Focus on the Family.
Focus on the Family is the organization Tebow and his mother did a Super Bowl commercial for in 2010. The organization is publicly anti-choice, anti-gambling, anti-gay and anti-sex education unless that education is "don't have sex until you are married."
How will those values fly in staunchly-liberal New York City? Sure, there are a lot of Jets fans who aren't pro-choice or may take umbrage with gay people having basic civil rights like non gay people do, but many people in the city which the Jets represent in a football-playing capacity—and most of the liberal elite media therein—don't exactly see these issues the same way Focus on the Family, nor Tebow's family do.
It doesn't matter on which side of the debate you stand. There is no debate that it will be impossible for Tebow to avoid his new-found soapbox in New York City and it will be equally impossible for the media to ignore the controversy his beliefs will inevitably create.
Tolerance and reason will be thrown out the window. (Heck, it's the Jets—would we expect anything less than a three-ring circus?) This isn't just about a back-up quarterback changing teams and fighting for a starting job. This is about a crusader being given the largest megaphone in the world—the New York media. The longer he stays and the more he plays, the more relevant he will become. We thought Linsanity was overkill? This story could keep New York's printed newspapers in business for years.