NFL Bounty Penalties: This Might Affect Drew Brees Too, and That's Not Fair!
March 21, 2012

Wesley Hitt/Getty Images
I apologize in advance if this is no more than incoherent babble. I am floored, as apparently are all the Saints' players, coaches and other members of the organization. This is simply my best attempt, in essentially a drunken stupor to explain why this is not fair, especially to one man in particular.
News abounded early today in the NFL as commissioner Roger Goodell announced a year-long suspension for Sean Payton, eight games for general manager Mickey Loomis and six games for assistant head coach Joe Vitt. 
Dang, my head is spinning. I can't even comprehend what is happening right now. I'm mostly incoherent as I even meditate for a moment on what all of this means. How can the NFL penalize a head coach for a whole year? How can they penalize a general manager any x number of games? Beyond my opinion that it's unfair, I don't even understand how it's possible. 
But what about Drew Brees—the guy the NFL has gone out of its way to promote as an ambassador for its brand and a guy it wants in New Orleans as a figurehead for a city still in recovery mode? They didn't think about that, did they?
Here's the problem with the Saints' penalties—it doesn't only affect the people in charge—Payton, Loomis, Vitt and Gregg Williams. It doesn't even just affect the team. It affects the city of New Orleans. And it does mainly because Drew Brees is now angry at the organization he loves and they him.  
The Saints really had no choice but to franchise its star quarterback upon realizing the enormous penalties they were about to face. They had to ensure they could simply bring in enough defensive players to fill out the roster. No player likes being franchised, especially when he's clearly earned a deal that should make him the highest-paid player in the league.
You must understand no man in the NFL is more important to a particular city than Drew Brees is to New Orleans. Without Brees, the Saints and the city of New Orleans are reminded of the sad reality of a franchise without hope. For that reason alone Brees should be the highest paid player in the NFL.
We also must realize the city of New Orleans is of course not just in love with the Saints, but its economy, its mindset, its attitude—right or wrong—is greatly influenced by this Saints team. When things are good at the Mercedes Benz Superdome, the city is more vibrant and the culture at its peak.
That is what Drew Brees helped to bring back to New Orleans. He brought back a relevance to the city of New Orleans. The Saints were no longer a laughingstock, which was really an analogy of the city no longer being down and out on its luck post-Katrina.
But Roger Goodell has decided the city of New Orleans is simply not that important. He's basically said, "I know what's going on there but screw you!"
How?
With no Sean Payton, and further player suspensions to come, this Saints squad is likely to take a giant step backwards in 2012. I'm not saying suspensions shouldn't have been handed down, certainly Payton and Co. were deserving of some penalty.
But Drew Brees' team and paycheck are ultimately going to pay because of the penalty the Saints suffered. That's the hypocrisy behind these decisions—Goodell wants to promote the good and yet in doing so is indirectly crushing one of his greatest ambassadors.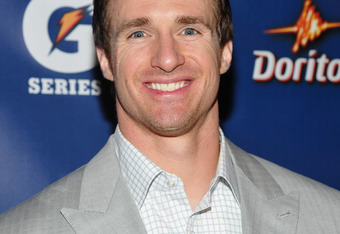 Mike Coppola/Getty Images
Brees is at the pinnacle of the NFL landscape—a man almost too good to be true. He makes Sean Payton look like the devil. Yet, Brees—New Orleans' patron Saint—is enduring the wrath of commissioner Goodell.
Roger is almost intentionally changing his last name to God-dell. In other words, he's playing God, passing down judgment on people who will receive theirs from the one true God in the end, should they not repent. Yet, he's punishing players such as Brees, Pierre Thomas and Marques Colston—who by all accounts are wonderful men who not only had nothing to do with the bounty system, but have done everything in their power to ensure the City of New Orleans is given a good name.
God-dell is actually passing his judgment, his wrath on those who have followed his rules, obeyed his commands and spread his gospel (the NFL) to the nations. Those men have given the NFL a good name to all people everywhere.
By no means am I saying the offensive players on the Saints' roster are perfect people, or that they're all going to heaven. That is not my point. But judgment has indirectly been placed on them by someone who is not worthy to judge them.
Suspend a couple players for a couple games—a team can handle that. They can make adjustments, they can figure out how to play without those players. But to take away a team's coach for an entire year is beyond belief.
Finally, to take away a team's second-round draft pick in a year that they have no first-round pick is somewhat harsh. It was expected, but harsh nonetheless. Any chance the team had to compete in 2012 is put at great risk.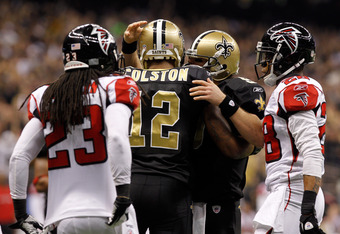 Chris Graythen/Getty Images
For a player such as Brees who just wants to win, taking away the chance to compete every Sunday is wrong. I mean maybe God-dell just wants the Saints to line up five players on defense each week and have 70 scored on them each week. "That'll show them!" Come on man, no it won't.
Here's the thing though—the Saints will be okay. Without a second-round pick and its head coach, the Saints still have something no other team has, Drew Brees.
The same guy who overcame a torn ACL his junior year of high school to become the greatest QB the Big Ten has ever seen. He's the same guy who overcame a torn labrum in his throwing shoulder only to lead the Saints to their first ever NFC Championship Game just one season later.
It's the same Brees who has shown nothing but class since he arrived in the NFL's most wounded and corrupt city. He's done everything asked of him, then went 10,000 miles more. Yet the NFL is turning this thing on him, basically asking him to endure a season no quarterback of his caliber should ever endure.
See this isn't just about this team, it's about the legacy of a quarterback who is too good to have it trashed.
But I'll make a bold prediction now. The NFL may be trying to keep Drew Brees down, but they can't. Drew Brees is the definition of a winner. He is at his best when everything is against him. Watch out NFL, you may think you've got the wounded down and out. You haven't though. All you have done is enacted a fire within the greatest competitor this sport has.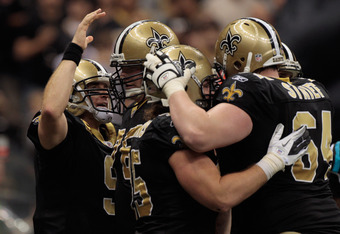 Chris Graythen/Getty Images
Don't be surprised if Brees and the Saints have their finest season of all in the midst of such trying circumstances. Brees has been doing it since high school. Too bad the Saints probably won't be able to keep him next year since they've had to put up extra money to bring in more players.
Remember God-dell, your suspensions don't just punish a team, they punish one of your greatest ambassadors in a city greatly in need of such a man. But you've already messed that up!