Man City V Chelsea: 7 Things We Learned at the Etihad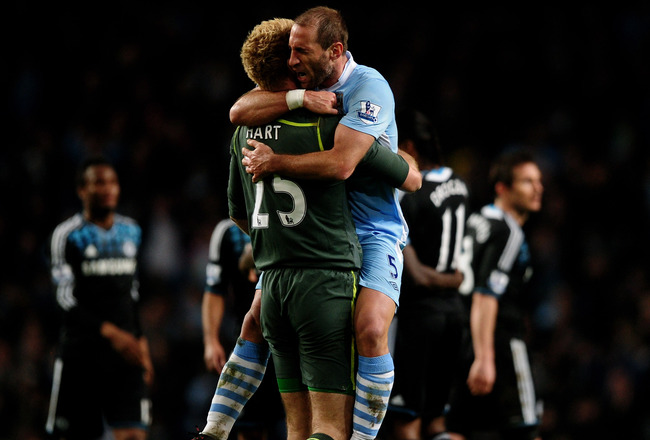 Laurence Griffiths/Getty Images
Now that the drama of the Manchester City and Chelsea match has subsided a little, let's look at some of the things we learned.
Aside from the obvious stuff like City beat Chelsea 2-1, what other insightful little tidbits did we pick up?
Well read on and I'll tell you.
Here is Manchester City V Chelsea: Seven Things We Learned at the Etihad.
Manchester United Haven't Won It Yet
Scott Heavey/Getty Images
Sir Alex Ferguson needn't pop the cork on his champagne bottle yet.
Manchester City are just a point behind their fierce rivals and neighbours Manchester United, with the latter still yet to visit the former in the league.
If they match each other for the rest of the season, Manchester City against Manchester United on April 30 is going to be pivotal.
City Are Fighting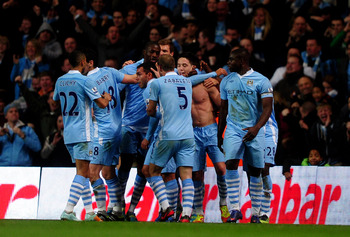 Laurence Griffiths/Getty Images
City are not going to give up on this title.
Losing to Chelsea would have been disastrous but the team showed how much the title means to them by not giving up.
Samir Nasri's celebration reeked of pure emotion and proved that Mancini's men are fighters.
Bobby Manc Knows His Stuff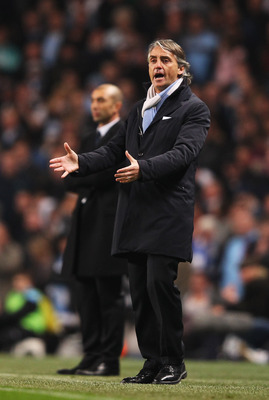 Alex Livesey/Getty Images
Roberto Mancini proved he knows his stuff with a great tactical substitution to win the game.
Whilst his starting XI looked a little odd, the Italian wasn't afraid to remove the misfiring Mario Balotelli, the off-key David Silva and the hardly noticeable Nigel De Jong.
On came Edin Dzeko, Gareth Barry and Carlos Tevez.
Dzeko won the corner which led to the penalty for Aguero, and Tevez—back from the cold—contributed with the assist for Nasri which won the game.
Tactical genius.
Chelsea Are Much Improved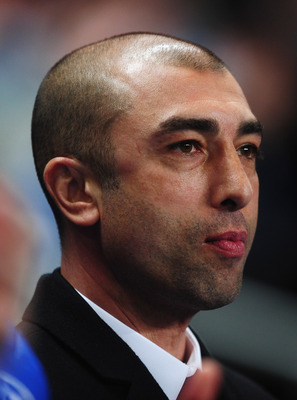 Laurence Griffiths/Getty Images
Chelsea might consider themselves unlucky not to have gotten at least a point from the game, but David Luis and Gary Cahill just don't seem to be the strongest centre-back pairing.
Roberto Di Matteo had things going his way until he removed the hard working Fernando Torres, but it was central midfield that let him down.
Lampard wasn't at his best and was almost guilty of giving a goal away were it not for Mario Balotelli's poor finishing.
Chelsea looked a lot stronger than in previous games under Andre Villas-Boas, and Chelsea fans probably won't be too disheartened to lose at a ground that no one has gained a league point from all season.
Tevez Is Set to Play a Role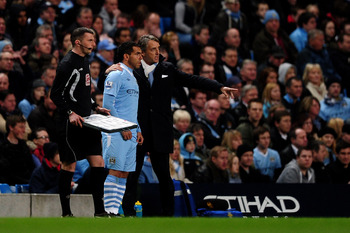 Laurence Griffiths/Getty Images
Despite declaring that Tevez was finished at the Etihad Stadium, Roberto Mancini has allowed the formerly A.W.O.L. Argentinean back in from the cold.
Tevez started today's game on the bench before coming on for a lacklustre Nigel De Jong in the second half.
That precedent—and his assist for Nasri—suggests that Tevez is going to feature quite a bit from now until the end of the season.
Chelsea Can Still Make the Champions League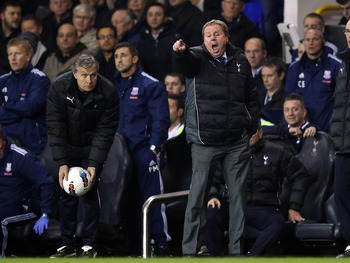 Julian Finney/Getty Images
All is not lost for Chelsea in the quest for Champions League football.
Arsenal have turned their season around and look set to take the automatic third spot, but Tottenham Hotspur have suffered a huge dip in form and have come crashing down to earth.
Despite the result against Manchester City tonight, Chelsea have endured a mini-revival under Roberto Di Matteo and the club will give themselves a real chance if they can beat Spurs at Stamford Bridge next time out.
Win that game and there's just two points between them.
City Have Been over-Reliant on David Silva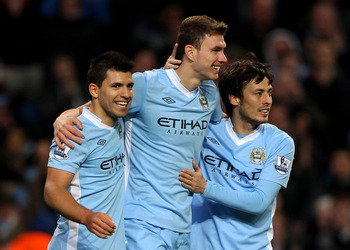 Alex Livesey/Getty Images
It's no coincidence that Manchester City's drop in form has come about at the same time that David Silva has begun to struggle with the rigorous demands of the Premier League season.
Silva looked exhausted and off the pace today, resulting in Roberto Mancini substituting him for Edin Dzeko later on in the game.
City may have to find a way to rest him more frequently next season so that their league form doesn't fade with him.
City won the game when he wasn't on the pitch today, but how often can they say that about previous games this season?
Afterthoughts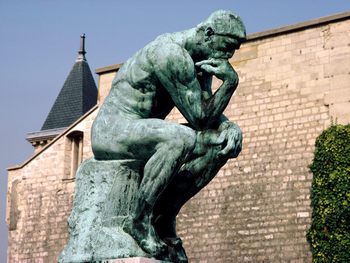 This season's Premier League title is surely going to be won or lost against Manchester United at the end of April.
United have hit their form at the right time and City seem to be almost desperately clinging on to whatever hope they have left.
I hope City do take the season all the way to its final week as it makes excellent viewing for everybody—not just Manchester fans.
Thanks for reading and be sure to check out Carlos Tevez and the 15 most annoying transfer sagas.
On Twitter? Follow me @petercwebster where I post all my B/R content.
Keep Reading

Manchester City: Like this team?