West Point Football: Talking with AAU Sullivan Award Winner Andrew Rodriguez
March 22, 2012

A few players in college football quietly over-achieve.  They live the image of what college sports should be about.  They play their hearts out on the field, come back from injuries, do well in the classroom and provide leadership to their schools.  But, they don't bring attention to themselves—leaving that to others.
These players just quietly excel at what they are asked to do and overcome obstacles that would stop most.  They prepare for greater challenges in life after sports.
Andrew Rodriguez, a linebacker and senior cadet at West Point, is that kind of guy.
The Amateur Athletic Union (AAU) agreed and awarded Cadet Rodriguez the 82nd James E. Sullivan Award Tuesday night as the nations' outstanding amateur athlete.  The presentation was made at a dinner at the New York Athletic Club in New York City.
The son of an Army general you have seen on news broadcasts handling the business of a nation-at-war for over a decade, the Alexandria, Virginia native has an older sister who graduated from West Point in 2006 and is back from a deployment to Iraq.  Yes, he comes from a family of over-achievers, but not everyone accepts the challenge of a family military legacy.
In the classroom, Rodriguez managed a 4.12 grade point average as a mechanical engineering major.  He made Dean's List six times.  He will graduate as the No. 3 cadet in the Class of 2012.
Last season, I had several chances to speak with the Army senior, and on Media Day asked him why he decided to attend West Point:
"Really like the challenge, to grow as a person by coming here, the opportunity to serve, be part of both the institution and the Army afterwards." 
As an athlete, West Point's "ARod" was a regular his sophomore and senior seasons in a defense which is set up for the linebackers to make the plays.  In 2009, his first season of varsity competition, he led the team in tackles with 85.  With the soul of the Army defense, linebacker Steve Anderson, out of the game injured for the Navy game, Rodriguez rose to the occasion, making 15 tackles.
Then, the challenges: serious back injuries appeared, resulting in surgery.  He missed playing the entire junior season when the Black Knights went to the Armed Forces Bowl.  Going into the summer training camp, the coaches said he should do his recovery in stages, limiting contact, testing what his back could handle.
In the mid-August scrimmage, Andrew Rodriguez was out in the middle of the defense, making plays.  I knew his recovery was going well when he intercepted a pass and made a short run-back. He ended up playing every game, making 59 tackles—including 24 unassisted.  Against Navy, he made four tackles. 
At the Army-Navy Press Conference, I asked Andrew what it took to come back from a serious back injury to play football for Army:
"First it took a lot of support from family, friends, teammates, coaches, to keep going despite the adversity.  Great help from the training staff at Army, and a good surgery by my doctor, the combination of things helped me get back."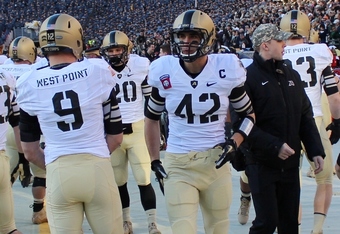 In December, days before the Army-Navy game, he was named the recipient of the Campbell Trophy as the National Football Foundation's National Scholar Athlete.
About what it took to excel both athletically and academically at West Point, he said:
"I am lucky to have great coaches who help me succeed athletically and good teammates, I really benefit from playing with a bunch of guys who can make me look good sometimes, even if I am not as good as it makes me out to be.  Academically, just try to do your best, work with teachers, and classmates."
Time management and working together with classmates on academics—we often hear—are keys to success at West Point.  Junior linebacker Nate Combs described for me that after practice, the engineering majors on the team would get together for study sessions.  Rodriguez commented on this in his team-oriented humble way:
"It takes a lot of time management, that is something we try to work on as a team.  So that we can succeed on the field, with school and with military duties."
Now, Rodriguez is the recipient of the AAU Sullivan Award as the nation's top amateur athlete, his second national award.  Only five college football players have won this award—two were from Army during their National Championship run from 1944 to 1946: Felix "Doc" Blanchard received the Sullivan Award in 1945 and Arnold Tucker won in 1946.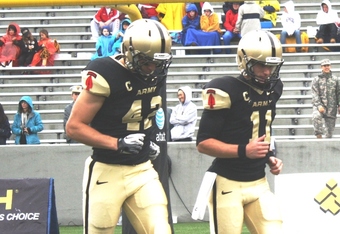 Arnold Tucker was the quarterback for the Army team which went undefeated in 1945 and 1946.  He went on to a career with the Air Force and was elected to the College Football Hall of Fame in 2008.  
Rodriguez will now be noted as one of only three college football players to win both the Sullivan and Campbell Trophies.  The others were Peyton Manning of Tennessee in 1997 and Tim Tebow of Florida in 2007.
Afterwards Cadet Rodriguez, in his typical humble way, commented to the National Football Foundation:
'It is an incredible honor to win the award, I hope the credit reflects on my teammates, coaches, the program, West Point and the Army in general".
When Andrew Rodriguez graduates in May, his career path will be quite different from Peyton Manning or Tim Tebow—perhaps more like Arnold Tucker.  He may have a chance to study on the scholarship he won with the Campbell Trophy, or he may just start the series of courses or field training challenges that newly-minted Army second lieutenants take.  He will likely then take over leadership of a platoon or other military unit, perhaps in harm's way in Afghanistan or another forward position as the military likes to say.  
Years down the road, I expect we will find Andrew Rodriguez in a senior Army leadership role, a corporate position, or government responsibility.  He might even be an elected official.  Learning to handle and deal with the simultaneous demands of football, academics and military life provide him with a high potential for whatever becomes his chosen field. 
Andrew's career will be proud to watch.
Ken Kraetzer is a contributor to Bleacher Report.  He covers Army football and Iona Basketball for WVOX 1460 in New Rochelle, NY and Sons of the American Legion Radio.