Big Ten Football: Thomas Gordon and Players Who Must Be More Aggressive in 2012
March 21, 2012
Leon Halip/Getty Images
AnnArbor.com has an interesting profile up about Michigan free safety Thomas Gordon, who split time at the position with former cornerback Troy Woolfolk last season and had himself a pretty decent season.
Gordon was third on the team in tackles with 67 on the year, recovered four fumbles (leading the Big Ten) and picked off a pass to boot. With Woolfolk graduating, Gordon would seem to have a lock on the free safety spot for the last two years of his Michigan career.
So what does Greg Mattison want out of his safety this year? Faster, Wolverine! Kill! Kill!
The article states:
But this time around, as a seasoned junior, defensive coordinator Greg Mattison wants Gordon to add an adjective to his repertoire.

'I love Thomas Gordon,' Mattison said. 'But he must play faster. He must play more reckless.'

'I think maybe he's understanding that a little bit. Give yourself a little credit, you can run pretty well, and don't think that everybody's going to out-run you, that's knowing yourself and knowing the scheme and knowing you can play faster.'
On its face, Mattison's advice for Gordon is a little counter-intuitive, given that the intent is to limit big plays for an offense. Anyone can be late to cover a pass; to really screw up, you need a safety to bite on play action.
That said, a safety correctly crashing on run support might not affect turnovers very often, but it will often be the difference between an 2nd-and-9 and a 2nd-and-5. That's the real goal of a defense: Turnovers are very, very nice, but limiting yards per play is a much more sustainable way to shut down an opposing offense.
Further, quick response on pass defense—which is what you really want from a safety in passing situations—is hugely important, especially on timing throws and other routes that depend on precision. Get to the spot before your receiver, and it's a negative play, and that doesn't happen if a safety takes two seconds scanning the field instead of running his assignment.
So yes, Mattison's advice is good here.
With that in mind, here are some more defenders who need to step up their games next season: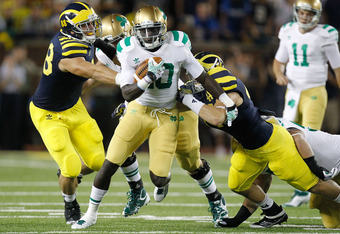 Gregory Shamus/Getty Images
Craig Roh, Michigan
Another Wolverine here. In terms of not matching physical ability to actual production, Roh has been notoriously unsatisfying in his collegiate career.
He's moving to the strong side of the ball, which means he'll have less contain responsibility and more "pin your ears back and destroy" responsibility. Hopefully, that translates into big numbers in his senior year.
Rico Allen, Purdue
Allen is one of the best cornerbacks in the Big Ten, but he seemed to take a bit of a step backwards last season, and it isn't entirely attributable to quarterbacks laying off him.
If he gets his nose for the ball back and regains the killer aggression that terrified offensive coordinators in 2010 as a true freshman, the sky's the limit. 
James Morris, Iowa
Another player who burst onto the scene as a true freshman in 2010, James Morris will be expected to be Iowa's defensive leader at middle linebacker this season.
He was productive but unspectacular last season, and while his instincts seem generally positive, he lacks the ferocity one expects from a middle linebacker or any other pace-setter of a defense.
If the Iowa defense follows Morris' lead again, Morris has to start playing downhill and closer to the line of scrimmage, otherwise it's going to be another frustrating year in Iowa City.