Which Colts Will Follow Peyton Manning to the Denver Broncos?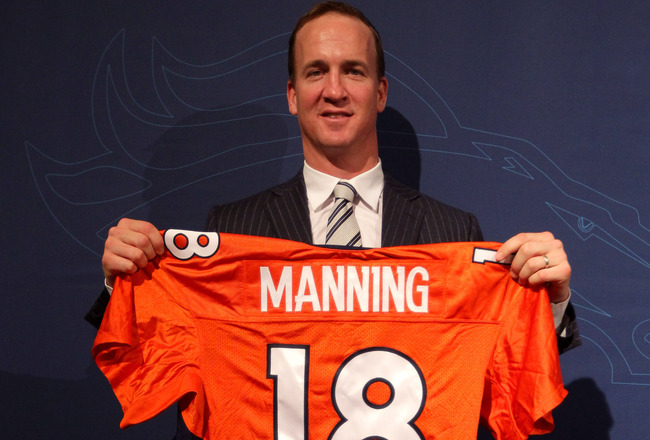 Doug Pensinger/Getty Images
The biggest story to hit the 2012 NFL free-agent market is over.
Peyton Manning has signed with the Denver Broncos for an astonishing five-year, $96 million contract. Manning turned down the Seahawks, Chiefs, Cardinals, Dolphins, Titans, and 49ers in his pursuit to land with a new team.
Tebow should be departing shortly, and the Broncos supposedly have a decent amount of salary cap room to spend.
The questions is, how many former Colts will be making the move to the Mile-High city?
Jeff Saturday, C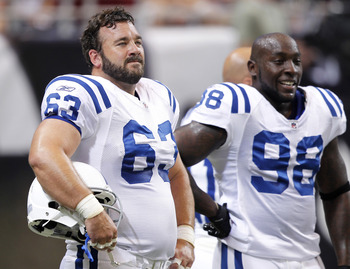 Joe Robbins/Getty Images
Will it happen? Answer: Likely.
Jeff Saturday joined the Colts in 1999, a year after Peyton did, and has been there since.
It is well known that Saturday and Manning have great chemistry, and it should be no surprise that ESPN's Adam Schefter reported that John Elway and Peyton Manning have already discussed the possibility of Saturday arriving in Denver. The Denver Broncos will want Peyton to be as comfortable as possible, and the one player who will have the most impact will be Jeff Saturday.
Saturday has other trips on his free-agency tour (Green Bay and Tennessee), but neither of these should have any impact as we will see Saturday in a Broncos uniform within the week.
Dallas Clark, TE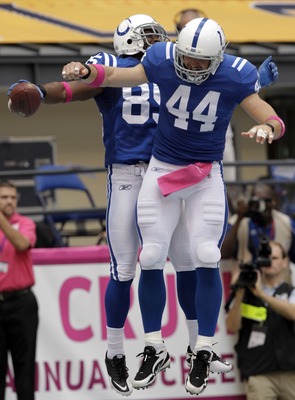 John Sommers II/Getty Images
Will it happen? Answer: Possibly.
Dallas Clark, at one time, was an elite TE. He had two seasons of double-digit touchdowns, and he has had one season of over 1,100 receiving yards.
Since, he has fallen a few pegs in the tight end tier. He has been marred by injury, and on his rebound season he didn't have Peyton throwing to him—he had the unfortunate chance of working with Curtis Painter.
Clark combined in the last two seasons for 71 REC, 699 yards and five TDs. What does this mean for the Broncos? Get Clark for a steal and a short contract (two years). Clark's recent injury history puts him at a risk, but he was Peyton's go-to guy for many years.
Jacob Tamme, TE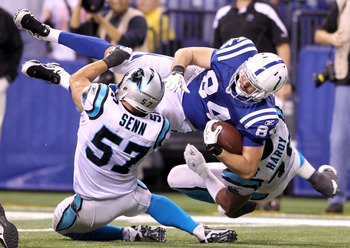 Andy Lyons/Getty Images
Will it happen? Answer: Likely.
If the Broncos are concerned with age and the injury history of Dallas Clark, enter Jacob Tamme.
Tamme stepped in for the injured Clark in 2010, and in eight starts (and plays in all 16 games) had 67 receptions for 631 receiving yards and four TDs. Tamme's numbers for 2010 were almost as much as Clark's combined 2010 and 2011 seasons.
He had a dismal 2011 season, but again, the blame can easily be placed on the Indianapolis quarterback shuffle. Tamme is only 27 years old and gives the Broncos more comfort signing a longer contract.
Tamme visited Seattle this offseason, didn't land a contract, and is now set to head to Denver.
Joseph Addai, RB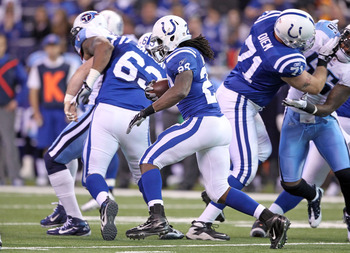 Andy Lyons/Getty Images
Will it happen? Answer: No.
Joseph Addai never developed into the first-round pick he was in 2006.
During his six-season career with the Colts, Addai only topped 1,000 yards twice (2006 and 2007) and double-digit touchdowns twice (2007 and 2009). Addai's numbers only get worse—in 2010 and 2011 combined, he had 928 yards and five TDs.
The Denver Broncos currently have Willis McGahee, Lance Ball, and Knowshon Moreno for their running game, leaving no room for Joseph Addai. Some could argue that Joseph Addai deserves a spot because he is a lead back, but Addai's numbers as a lead back in the last couple seasons indicated he is a RB2 at best.
Gary Brackett, MLB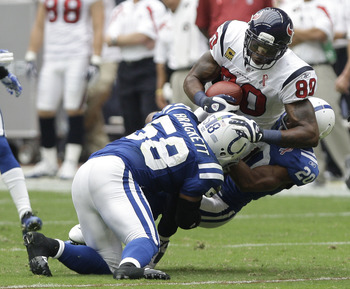 Thomas B. Shea/Getty Images
Will it happen? Answer: No.
The Denver Broncos spent most of last year's NFL draft rebuilding their defense, so overall their D is very fresh and young. It also hurts any chance of Brackett's move to Denver that the Broncos just signed their current MLB, Joe Mays, to a three-year, $12 million deal. Between that and the fact that Brackett was out almost the entire 2011 season, Brackett will need to be looking elsewhere to play in 2012.
Melvin Bullitt, DB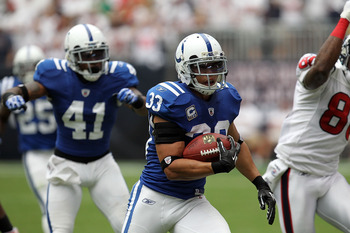 Ronald Martinez/Getty Images
Will it happen? Answer: No.
A lot of what was said for Gary Brackett can be said for Melvin Bullitt. The Broncos are in the process of rebuilding their defense, and they already have their veteran presence in Champ Bailey. Melvin Bullitt has played a total of six games combined during the 2010 and 2011 seasons, for 24 tackles and two interceptions. The Broncos would be wise to stay away from Bullitt.
Brandon Stokley, WR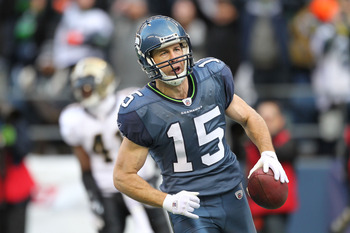 Otto Greule Jr/Getty Images
Will it happen? Answer: Likely.
Peyton Manning is used to the benefit of having an army of receivers on the field to throw to, much like Aaron Rodgers in Green Bay. Of recent, Manning has been able to utilize Reggie Wayne, Pierre Garcon, Austin Collie, Dallas Clark, Jacob Tamme, and Blair White (Anthony Gonzalez sat the bench most often).
The Broncos currently have Eric Decker and Demaryius Thomas as their lead receivers, and second-year receiver D'Andre Goodwin (didn't play in rookie season). While Decker and Thomas will have great improvement in their stats under Manning, the Broncos could use to pick up a couple of additional targets.
Stokley will be entering the season at 36 years old, so I can't imagine that Denver will offer more than a one or two-year deal. It will be hard for Denver to pass on Stokley not only because he has familiarity with Manning, but he was a Bronco for three years after his stint in Indy.
Curtis Painter, QB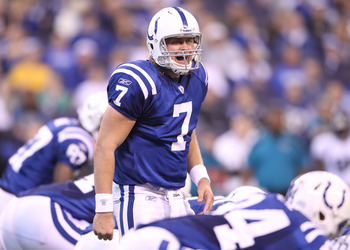 Andy Lyons/Getty Images
Will it happen? Answer:...is this really a plausable option?
No.
That should all that needs to be said here. But a few things should be said. Like the fact that the Broncos should not consider this option of Peyton's backup, but no other team in the league should consider Painter in any quarterback situation.
Painter should not be given the ability to even have a chance of throwing a football on a professional field ever again. If suitors even exist for Painter, I advise them to review all nine games Painter played in 2011 and also his debut against the Jets on December 29, 2009. Slowly walk away.
Keep Reading

Denver Broncos: Like this team?