Hines Ward: He'd Get My Vote for Canton (If I Had One)
March 21, 2012

Jamie Squire/Getty Images
Hines Ward picked a horrible day to retire.
While Peyton Manning was being introduced as the new savior of the Denver Broncos (and, coincidentally, ousting the old savior of the Denver Broncos), a guy who had spent 14 years with one franchise was largely ignored.
Ward will finish his career with exactly 1,000 receptions, and it's conceivable to think that reaching that milestone might have been the only thing that kept the 14-year veteran on the roster. The Georgia product managed only 46 receptions last season; only in his rookie season of 1998 did he have fewer catches. Fellow Steelers wideouts Mike Wallace, Antonio Brown and even tight end Heath Miller outproduced Ward in 2011.
Bringing Ward back for 2012 would not have made much sense for the Steelers. The team is still looking to steer clear of the salary cap, and cutting the $4 million that Ward was scheduled to earn made good business sense (especially with Emmanuel Sanders returning for less than $1 million in 2012). Ward was left with the option of starting over with a new team, for less money than he probably would have liked, or retiring.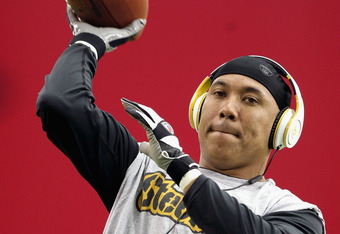 Christian Petersen/Getty Images
I think Hines Ward had a Hall-of-Fame career. For starters, he was the most productive receiver for an organization that has won six Super Bowls (two while he was there). His 12,083 career receiving yards leaves him eighth on that all-time list.
Ward also helped his team in other ways on the field. He was widely known as the best blocking wide receiver in the game during his career, to the point of being called "dirty" by some opponents. Rarely is a wide receiver accused of overly physical play, but Hines Ward was.
Hines also maintained a national profile while playing for Pittsburgh. He won the 12th season of TV's Dancing With The Stars, along with partner Kym Johnson. He'll be making a cameo appearance in this year's upcoming Batman movie. As an Asian-American, he took up social causes in Korea, where he was born. And he was recognized by many fans by that ridiculously toothy smile of his. I'm not saying that these things make a Hall of Famer, but I think they're part of how adored Hines was by the football world. 
Detractors will point to Ward's meager Pro Bowl appearances (only four) and his lack of dominance as a receiving threat (only once, in 2002, did he crack the league's top five in receiving yards in a season). But if Lynn Swann can get into Canton, surely there's room for Ward as well. In fact, just take Lynn Swann out of there if there isn't room for Hines. That guy got into Canton for making one big catch in Super Bowl X. Swann was the MVP of that game, just as Ward was the MVP of Super Bowl XL.
Makes perfect sense to me, at least.