Ball Boys: An Inside Look at ABC's New 'Pawn Stars' for Sports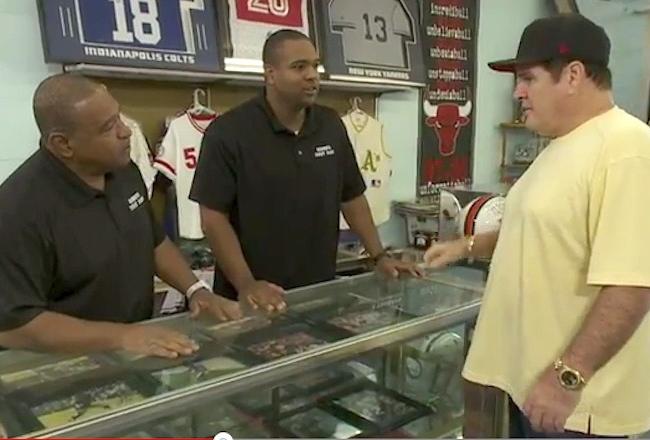 The Davis family with Pete Rose from an episode of Ball Boys

"It's like Pawn Stars for sports."
That's how the new show Ball Boys, premiering Saturday, March 24 at 3 p.m. on ABC, was pitched to me. It's like Pawn Stars, if people were going in to a pawn shop and only selling awesome sports memorabilia.
They had me at awesome sports memorabilia. The new show is from the producers of Pawn Stars, the hit show on History Channel that follows a family of, you guessed it, Las Vegas pawn shop owners in their never-ending efforts to procure and sell a bunch of neat crap. Now, imagine all that neat crap was sports-related, and there's a show that could find a pretty specific niche.
Subscribe to the Wide Left podcast in iTunes here.
Ball Boys follows Robbie Davis Sr. and his son Robbie Jr., owners of Robbie's First Base, a hole-in-the-wall sports memorabilia shop in Baltimore. It turns out, the Davis family was chosen for a reason: they are really connected in the sports world. Jim Brown—yes, the best player in the history of the NFL—just happens to "drop by" (with a little help from the magic of television, I'm sure) in one of the episodes to authenticate his autograph on a helmet someone is trying to sell.
Extended clip of Ball Boys
In the preview clip, Pete Rose hangs out with the Davis family. Jalen Rose sits in their store sharing stories (no word on Derrick Rose or Justin Rose, but I'm sure we can look forward to them in season two). Warren Moon drops by to hang out. It's a cavalcade of sports stars.
I had the chance to chat with one of the show's producers, Simmy Kay, about what to expect from the show in its first season. In talking with him, I understand why they bill it as a sports version of Pawn Stars: the show is a lot about the personalities who work in the store and the crazy characters who come in hoping to leave with a small fortune in their pockets.
To me, it also sounds like a sports version of Antique Roadshow. And that's awesome.
Kay explains in detail some of the upcoming episodes, one of which (seen in the extended video preview) sees the Davis clan go to Cooperstown to check out a rare scrap book from the early 1900s put together by a few young boys who managed to get every player's signature who would come to town.
The item is literally priceless, putting a neat "oh my gosh that thing exists" validity to some of the more ridiculous happenings in the show.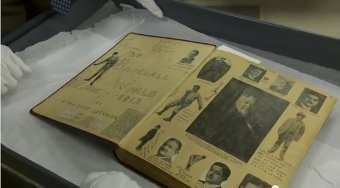 Ridiculous? Kay tells a story about a guy who comes into the shop with a home run ball he caught and a screen capture of him catching the ball to prove it. The hitter? Nick Swisher. The guy was looking for a few thousand bucks, for a home run ball he caught, hit by Nick Swisher.
Ball Boys certainly has a good balance between ridiculously amazing and amazingly ridiculous.
Kay tells a lot of great stories from the show, including a trip the Davises take to the home of a high-end collector who has, among other treasures, Babe Ruth's original contract when he was sold from the Red Sox to the Yankees and (get this) marriage and divorce certificates for Joe DiMaggio and Marilyn Monroe.
Take that, Nick Swisher.
This show should resonate with sports fans because, come on, we all have stuff we thought we were going to retire on. My brother had four Rickey Henderson rookie cards he thought would be worth like ten grand apiece. Kay talks about his old Keith Comstock error card and how he thought that was going to be worth a lot of money.
We also touch on how personalization can ruin the value of an item: my brother has a soccer ball signed by Pele but addressed to him (ah!) and Kay talks about someone who comes into the shop for the show, trying to sell a personalized Magic Johnson basketball given to him when he was born.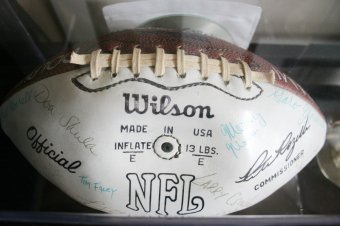 By now you know I'm always looking for an angle to make something about me, and this is no different. Not only am I entirely fascinated by sports collectibles, I have some cool stuff that just might be worth putting on the show next season.
Kay and I talk about my balls: that is to say, the autographed balls I have, including a ball signed by the 1972 Miami Dolphins (he said there's an episode this season with a lot about the '72 Dolphins). My dad gave the ball to me and questioned if some of the signatures were fakes.
He got the ball from Steve Sabol of NFL Films, and Sabol is known to play jokes on people, so when I had the chance a few years ago to interview Sabol, I asked him about the ball. He said, on the record, the ball is real. You can see in the case there is a CD of that interview with Sabol, verifying the authenticity of the ball to the best of my ability.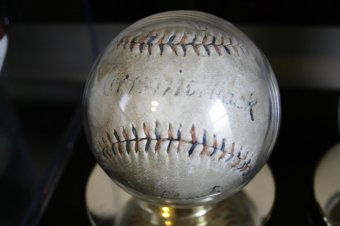 We also talk about a baseball my grandfather got signed by the likes of Connie Mack, "Red" Grange and, quite possibly, Jimmie Foxx. It's someone named Foxx, that's for sure. It's an amazing piece of baseball history my grandfather gave to my father, who it gave to me. I'm not going to sell it, but it would be neat to know how much its worth. Plus, if it gets me on a cool new show about sports memorabilia, that can't hurt either.
This is one of my favorite interviews in quite some time, just shooting the bull about sports and…stuff. We all have stuff, and now there's a show were people are sharing stories about their stuff.
Ball Boys should be a lot of fun.
This article is
What is the duplicate article?
Why is this article offensive?
Where is this article plagiarized from?
Why is this article poorly edited?