NBA Rumors: 6 Best Landing Spots for Boris Diaw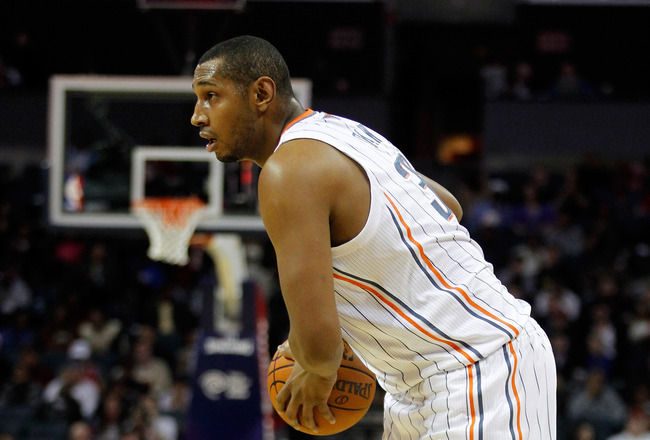 Streeter Lecka/Getty Images
It's buyout season, and the biggest prize, both literally and figuratively, is Boris Diaw, who has been bought out by the Charlotte Bobcats after having much publicized conflicts with head coach Paul Silas. According to the Charlotte Observer:
"Power forward Boris Diaw and the Charlotte Bobcats have agreed on a buyout of his remaining contract that should be completed in time for Diaw to be eligible for another team's playoff roster. Bobcats vice president of basketball operations Rod Higgins confirmed that early Wednesday morning to the Observer. The buyout, which should be completed sometime today, would make Diaw a free agent in time to sign with a contender. Meanwhile the Bobcats open one of 15 roster spots and save some of what's left of Diaw's $9 million salary. It's not known just how much money Diaw agreed to give up for his freedom."
Although Diaw is a big man, his skill set is still that of a rotation player in the NBA.
Diaw's numbers this year are down a bit. He's only scoring 9.6 points per 36 minutes, so if you're looking for scoring, you probably aren't going to find it here. He's also not a great rebounder, especially for a big man, as he only averages 6.9 boards per 36 minutes.
What he is though is a solid defensive player who passes as well as any big man in the league. He averages 5.6 assists per game as a power forward. With a career .518 effective field goal percentage, he's also a decent spot up shooter when he actually takes the shot, but he has a tendency to pass up on good shots.
Whenever you're looking at picking up buyouts, it's best to measure optimism—they were generally bought out for a reason. This is a huge disclaimer on Boris Diaw; remember he was bought out, ie. paid to not play for the worst team in the NBA and arguably the worst offense in the history of the NBA.
For those that hold out hope against hope, here are six teams that might show some interest in, and even get some help from, Boris Diaw.
Atlanta Hawks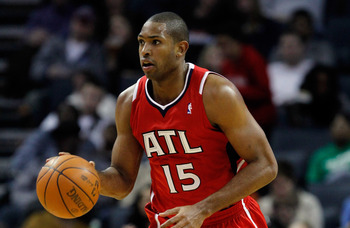 Streeter Lecka/Getty Images
The Atlanta Hawks have been short of bigs ever since Al Horford went down. Diaw is a little short to play center, but he has played minutes there this year for the Bobcats. The important thing with Atlanta wouldn't be so much how well he fits but that he has a Hawks uniform on at all.
They've been struggling to find competent minutes from big men. Ivan Johnson and Vladimir Radmanovic have been occupying time. Johnson has been surprisingly respectable for a 27-year-old D-League pickup, but Radmanovic has been—and this is as nicely as I can frame it—there.
In other words, he doesn't really provide much except for putting on the uniform and getting on the court. His 11.5 PER is not that great. Granted it's better than what Diaw has, but I believe that Diaw would have better numbers with Atlanta's supporting cast.
Los Angeles Lakers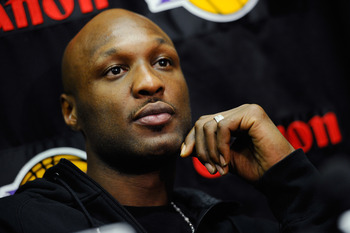 Kevork Djansezian/Getty Images
The Lakers have missed a lot of what Lamar Odom brought to the table since trading him away. To be fair, they made the right move, as they were going to lose that production one way or another this year. However, they still need someone to replace what he provided.
A great player to do that is Boris Diaw, who has the same sort of versatile skill set that Odom had. He would be an excellent addition to the Lakers coming off the bench.
Boston Celtics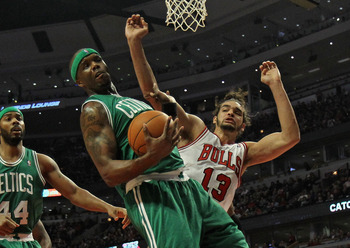 Jonathan Daniel/Getty Images
The Boston Celtics have learned their starting center, Jermaine O'Neal, will be missing the remainder of the season with wrist surgery. That is "germane" to the issue at hand, as the Celtics, who are already shorthanded in the bigs department, are looking for replacements.
The Celtics need someone, anyone, that can fill in big man minutes. Boris Diaw can do that.
It's hard to see how he would fit in with Doc Rivers and his system, though. Rondo is the distributor and the rest of the team are shooters. That's the way it works. With Diaw's reluctance to shoot wide open shots, Diaw could easily frustrate both the team and the fans.
Chicago Bulls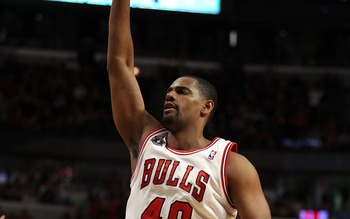 Jonathan Daniel/Getty Images
The Bulls have been shopping for bigs since Kurt Thomas left for Portland. Diaw would make a nice fill in. The thing about Diaw with the Bulls is that his passing actually fits in well with the team, which has two bigs who are noted for their outstanding passing already in Carlos Boozer and Joakim Noah.
Diaw would do a nice job of doing what Thomas did: using his (too) big body to plug the middle while providing better low post scoring and passing than Thomas.
He wouldn't be asked to play big minutes with Chicago, who already has a set rotation, but they could use that fifth big man in case they have an injury or get in foul trouble.
Miami Heat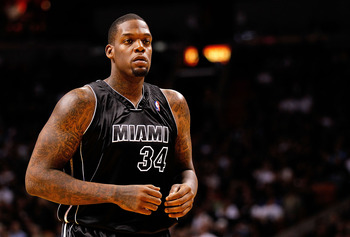 Mike Ehrmann/Getty Images
The Miami Heat are desperate for big men. How desperate are they? When Joel Anthony was out with a sprained ankle, Dexter Pitman started at center.
That's the pits man.
The Heat have run after any and every center or big that is on the market it seems, but they keep coming up short. How desperate are they, according to Chris Tomasson, they're this desperate:
"Agent Mark Bartelstein says the Heat have inquired about client Mikki Moore, 36, big man with D-League's Idaho who last played in NBA 12/09."
If you're starting Dexter Pittman and looking to get more from Mikki Moore, you're going to at least give a call to Diaw.
San Antonio Spurs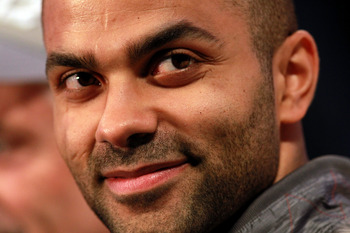 Ronald Martinez/Getty Images
There's some speculation that based on his relationship with Tony Parker, the Spurs are the preferred destination for Diaw.
By agreeing to a buyout now, Diaw can be waived in time to potentially sign with a contender and be eligible for a playoff roster. San Antonio Spurs guard Tony Parker, Diaw's close friend and French national-team teammate, recently said on a French radio program that Diaw would be welcome with the Spurs.

"He's in shape,'' Parker reportedly said. "I'm the first to make fun of him when he gains too much weight, but right now it's not the case. We're very interested to get him.''
Well, he's in a shape, but I don't think "circular" counts as being in shape.
A lot of times these supposed national connections turn out to be nothing, but for now we'll consider it credible.
Keep Reading