NCAA Bracket Elite Eight: 2 Teams Guaranteed To Fail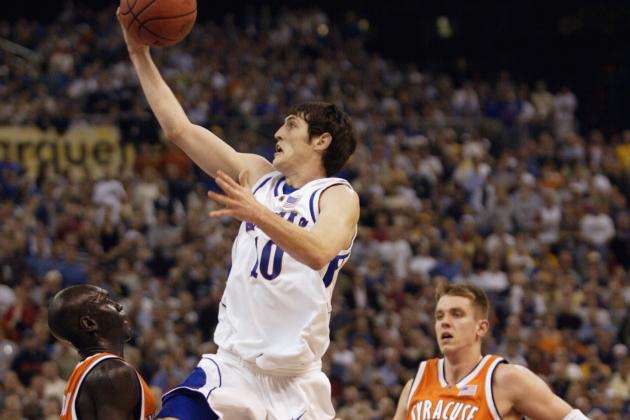 Craig Jones/Getty Images
Last time the Final Four visited the Big Easy, Syracuse and Kansas played for the title. Each are just two wins away from doing it again.
Three down, three to go.
Five of the top eight seeds have made it this far. A weekend in New Orleans is just one win away, but that one may be too much to ask of a couple of these teams.
While "guaranteed to fail" may be a bit extreme (hey, we had to get your attention, didn't we?), let's call it unlikely that these two teams are Final Four-bound.
Begin Slideshow

»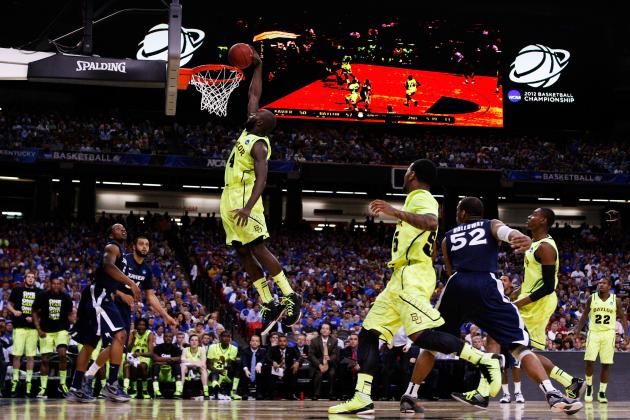 Streeter Lecka/Getty Images
Quincy Acy had a number of thunderous dunks as his Baylor Bears raced out early and hung on against Xavier.
On the one hand, Baylor appears to be one of the few teams capable of physically matching up with vaunted Kentucky.
On the other, the Bears have had numerous opportunities against the top teams in the nation and have been found wanting, winning just once in six tries against top 10 teams.
Friday night's victory over Xavier was a microcosm of what's prevented Baylor from being considered among the most elite college teams this season. After seven-and-a-half minutes of nearly flawless basketball had Baylor in front, 22-4, and still leading by 17 points with just over five minutes remaining in the half, the Bears disappeared on both ends of the floor for nearly five minutes.
A Musketeer run closed the gap to four shortly before the half and from there it was a dogfight the rest of the way.
Baylor is an odd team in that most teams get a stagnant offense going off of hard work on the defensive end generating an easy basket or two. The Bears, however, seem to work almost in reverse. When the offense is clicking they seem more willing to get after it on the defensive end.
If Baylor has one possible edge on Kentucky, it might be that Scott Drew has three players left from a Bear team that made it to the Elite Eight two years ago before being eliminated by Duke. Compare that to John Calipari's group at "One-and-done U" and we find only one of Kentucky's top-five scorers was even out of high school.
If the Bears have a fatal flaw that will send them packing just short of the Final Four for the second time in three years, it's that any hope of taking down Kentucky must include 40 minutes of solid, maybe spectacular, basketball and that's very unlikely.
Kentucky demonstrated an ability to play at a very high level for all 40 minutes in its Sweet Sixteen win over Indiana.
The only consistent thing Baylor has displayed over their 37 games so far this season is an ability to be consistently inconsistent.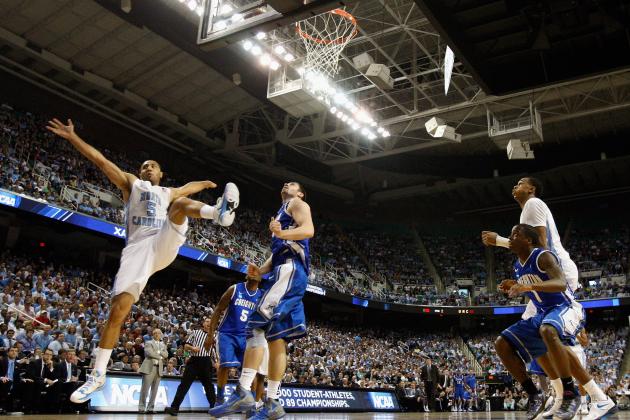 Streeter Lecka/Getty Images
Kendall Marshall watched in street clothes as his Tar Heels squeaked by a gritty Ohio U. team.
This one is just a hunch.
When, with the exception of the Kentucky-Baylor game, you're faced with three games where the point spreads are between pick 'em and three points, it's tough to say anyone is "guaranteed" to be heading home.
But I'm from ACC country and have watched this edition of North Carolina basketball for nearly five months. On a team that seems to have McDonald's All-Americans stockpiled clear down the bench to the student manager, something always seemed to have been missing.
Yes, Kendall Marshall was missing on Friday night against Ohio when the Tar Heels committed a whopping 24 turnovers, but his replacement at the point, Stilman White, was guilty of exactly zero of them.
True, the ball wasn't in White's hands as much of the time as it would have been in Marshall's, but the rest of the team seemed to have no true understanding of what it was trying to accomplish on the offensive end.
In the last five minutes of regulation with the game in the balance, what seemed like the best strategy for the Heels—finding Tyler Zeller—occurred just once.
In a nutshell, that seems to be North Carolina's problem. With four of the top six vote-getters for All-ACC, a team loaded with talent has never quite figured out how to be a team.
Outstanding individual efforts all season long were sufficient to get UNC through a less-than-impressive collection of Atlantic Coast Conference teams.
Sunday's opponent, Kansas, has been less than impressive itself thus far in this NCAA Tournament. But Bill Self's club slugged its way through a tough Big 12 regular season and was considered by many to be deserving of the last No.1 seed. Don't expect to see the team that has barely escaped its last two tournament games.
Will Kendall Marshall play on Sunday? It's unknown as of this writing. While he surely makes North Carolina more cohesive, even he hasn't been able to create that intangible mesh that makes championship teams.
With talent equal to or superior than all but Kentucky's, I still expect this Tar Heels bunch to be watching next weekend with the rest of us.