New England Patriots: 2007 Offense vs. 2012 Offense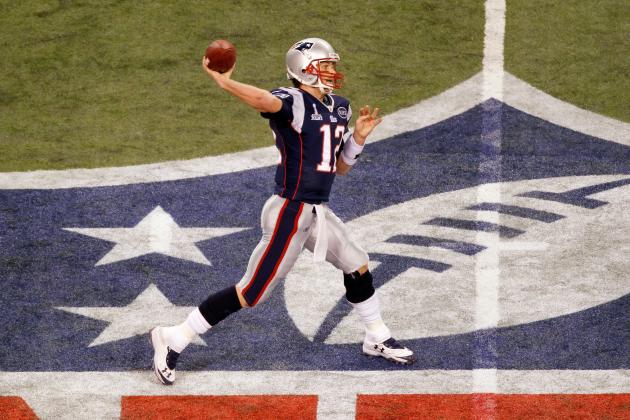 Gregory Shamus/Getty Images

Do you remember the 2007 New England offense and the records they broke?
After the free-agent signing of wide receiver Brandon Lloyd, many Patriots fans are salivating over the thought of a better version of the '07 offense.
But even with Lloyd, will this offense be able to compete with the legendary 2007 Patriot offense? Will any offense ever compete with that?
To do it will take a whole lot of talent. It's also going to take a lot of luck. The right combination of these two can beat the 2007 offense.
These Pats certainly have exceptional talent. Whether they have enough talent to knock off the 2007 squad remains to be seen.
Here is a position-by-position comparison between the 2007 Patriots offense and the projected 2012 Patriot offense.
Begin Slideshow

»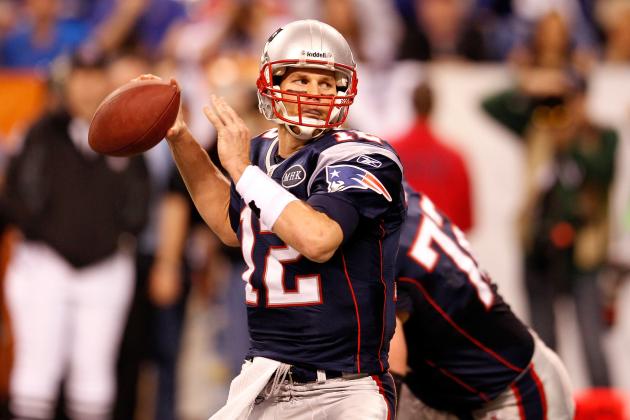 Rob Carr/Getty Images

2007 Starter: Tom Brady
2012 (projected) Starter: Tom Brady
In 2007, after the acquisitions of Randy Moss and Wes Welker, Tom Brady had an unprecedented season. He threw for a record 50 touchdowns, had a career high completion percentage of 68.9 percent and only threw eight interceptions. He also nearly threw for 5,000 yards.
Brady finished the year with a career high 117.2 passer rating.
Last year, Brady had another record breaking season. He broke Dan Marino's single season passing record with 5,235 yards. He also threw 39 touchdowns. However, he turned the ball over 16 times. 12 of those turnovers were interceptions.
There are some signs of Brady slowing down. He has been bothered by minor injuries and he missed several open wide receivers over the course of last year. Brady is still among the game's elite, but he is starting show signs of wear and tear.
Edge: 2007 Quarterback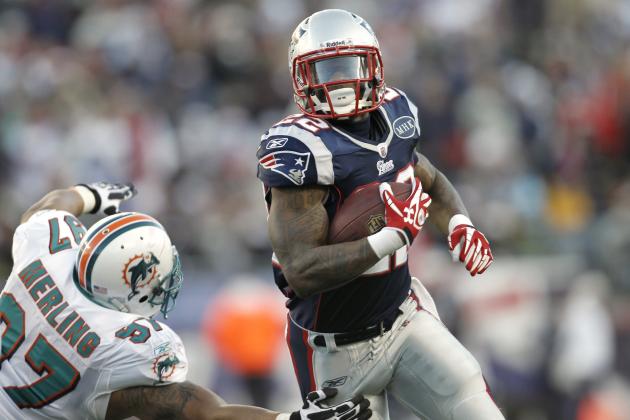 Winslow Townson/Getty Images

2007 Starters and Notable Players: Laurence Maroney, Sammy Morris, Kevin Faulk
2012 (projected) Starters and Notable Players: Stevan Ridley, Danny Woodhead
There are almost no common players between the 2007 and 2012 running back units, except for Kevin Faulk, who was almost a non-factor in 2011.
In 2007, the running backs were fairly weak. Despite rushing for over 800 yards, Laurence Maroney was very inconsistent and danced around the line of scrimmage. Maroney only surpassed the 20-carry mark twice in 2007.
Sammy Morris and Kevin Faulk were used less than Maroney, but they did their parts. Morris ran for 384 yards and Faulk rushed for 265.
The 2011 squad was a solid group of players who all did what they were asked. BenJarvus Green-Ellis ran for 667 yards and scored 11 touchdowns. He was the team's security net, as they could trust him to hold on to the ball in pressure situations. Green-Ellis rarely lost yards and was an important part of the Patriot's rushing attack.
Stevan Ridley enjoyed a successful rookie season. He ran for over 400 yards while keeping up a 5.1 YPC average. He was used more towards the end of the season and showed immense potential. With Green-Ellis signing with the Bengals, Ridley is expected to take over as the No. 1 back.
Danny Woodhead was more of a change of pace back last year, but he still managed to muster up 351 rushing yards on top of 157 receiving yards. Just as last year, Woodhead will primarily be used as a 3rd down back, rather than a feature running back.
Traditionally, New England running backs are not expected to be 30-carry players, as the Patriots' offense is built around the passing game. That said, the 2011 backs did a better job doing what they were asked and there is no reason to believe they will not do their job in 2012.
Edge: 2012 Running Backs.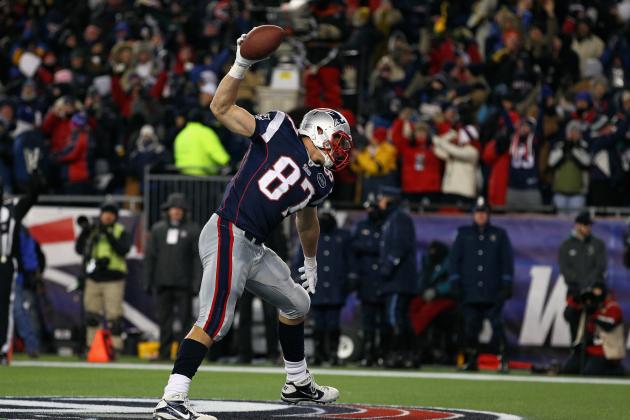 Al Bello/Getty Images

2007 Starters and Notable Players: Ben Watson, Kyle Brady
2012 (projected) Starters and Notable Players: Rob Gronkowski, Aaron Hernandez
Please. This shouldn't even be a question.
In 2007, Ben Watson and Kyle Brady combined for 459 yards and eight touchdowns.
In 2011, Rob Gronkowski had 1327 yards and 17 touchdowns. Aaron Hernandez had 910 yards and seven touchdowns.
Gronk and Hernandez cemented themselves as some of the best tight ends in the league, whereas Watson and Brady were merely role players.
Enough said.
Edge: 2012 Tight Ends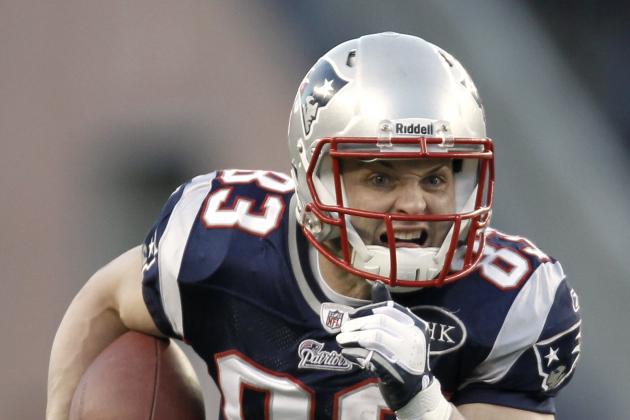 Winslow Townson/Getty Images

2007 Starters and Notable Players: Wes Welker, Randy Moss, Donte Stallworth, Jabar Gaffney
2012 (projected) Starters and Notable Players: Wes Welker, Brandon Lloyd, Deion Branch (unsigned free agent), Chad Ochocinco
This is the most interesting battle of the positions.
In 2007, Bill Belichick pulled off some of his magic and landed Wes Welker and Randy Moss over the offseason. Both Moss and Welker recorded 1,000 receiving yards, with Moss almost amassing 1,500.
Moss also broke the single-season touchdown reception mark previously held by Jerry Rice with 23. Welker had 112 receptions, eight of which were touchdowns.
The 2007 supporting cast included Donte Stallworth and Jabar Gaffney, good players to whom Brady could dump the ball if Welker or Moss were covered. Stallworth had nearly 700 receiving yards for six touchdowns and Gaffney had 449 yards with five touchdowns.
Last year, the wide receivers were worse than the 2007 group, but the acquisition of deep threat Brandon Lloyd made the race closer.
Wes Welker led the league in receptions last year with 122 catches. He also finished second in receiving yards, with 1569. He was the clear No. 1 receiver on the New England offense.
Deion Branch was a good No. 2, amassing 702 yards and five touchdowns.
Beyond Welker and Branch, there wasn't much else. Chad Ochocinco fell miserably short of expectations and players like Julian Edelman and Matthew Slater didn't answer the call.
In free agency, the Patriots hit it out of the park when they signed Lloyd and brought back Donte Stallworth as security.
Some people have said that Lloyd is old but he is only 30. Moss was 30 when he had his incredible 2007 season.
This is the hardest decision to make, but the 2012 squad will be better than the 2007 squad...but just barely. At the time, Moss was better than Lloyd. But Welker is better now than in 2007.
After another year in the system, Chad Ochocinco will have a relatively decent season. If Branch is re-signed, this group of receivers could be one of the best in the league.
Edge: 2012 Wide Receivers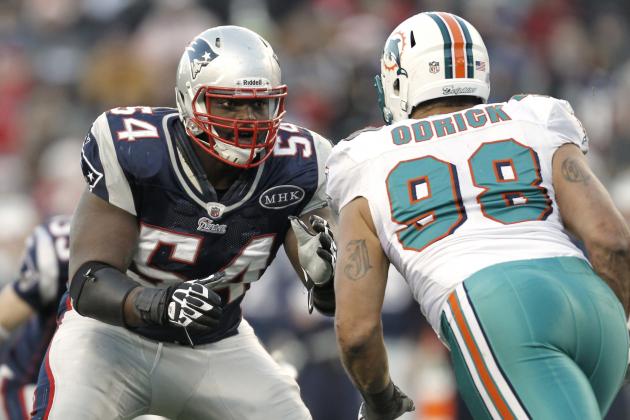 Winslow Townson/Getty Images

2007 Starters and Notable Players: Dan Koppen, Matt Light, Logan Mankins, Nick Kaczur, Stephen Neal, Russ Hochstein
2012 (projected) Starters and Notable Players: Dan Koppen, Matt Light, Logan Mankins, Dan Connolly, Brian Waters, Nate Solder, Robert Gallery
The 2007 offensive line had three Pro Bowlers in Dan Koppen, Matt Light and Logan Mankins. All three were selected to the All-Pro team.
The 2011 offensive line had two Pro Bowlers in Mankins and offseason pickup Brian Waters.
What makes the difference in this matchup is the supporting cast. While they played relatively well, Kaczur, Neal and Hochstein were not outstanding. The 2007 unit had very little depth, whereas the 2012 projected offensive line is one of the deepest in the league.
In 2011, Koppen went down with an injury, but he should return to his elite status as a center in 2012. Matt Light had a down year of sorts, but he still had good production.
Brian Waters was an exceptional pickup and he fully deserved his spot at the Pro Bowl. Mankins made it to the Pro Bowl mainly on reputation, not performance.
Mankins recently underwent surgery on his torn ACL. He is projected to be out for six months.
The Pats picked up Gallery to add depth at guard since Mankins will be out for the near future. Gallery is a former No. 2 draft pick who hasn't quite lived up to expectations. However, he will be instrumental on the offensive line in 2012 while Mankins recovers.
Edge: 2012 Offensive Line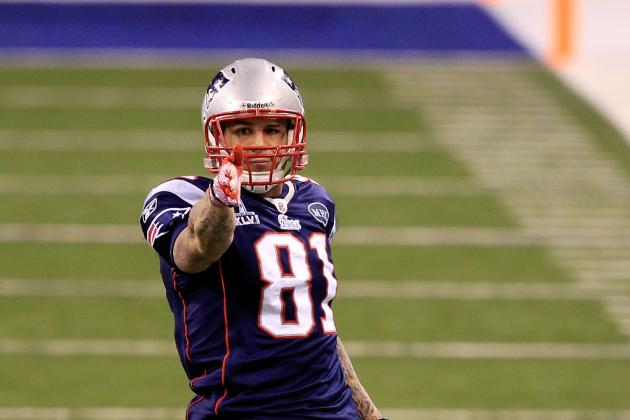 Chris Trotman/Getty Images

Position edges:
Quarterback: 2007
Running Backs: 2012
Tight Ends: 2012
Wide Receivers: 2012
Offensive Line: 2012
When adding everything up, the 2012 offense should be better than the 2007 offense. The offense next year is deeper and much more well-rounded.
The 2012 offense has it all: tight ends, wide receivers, an offensive line and an elite quarterback to deliver strikes to playmakers.
With so many weapons to cover on the field, opposing defenses are going to have a very difficult time containing this offense.
Imagine Brandon Lloyd, Wes Welker, Rob Gronkowski and Aaron Hernandez running routes with a top-tier offensive line protecting one of the best quarterbacks the league.
Yeah, I like that.