NBA Rumors: Latest on the Derek Fisher Sweepstakes
March 21, 2012

Harry How/Getty Images
After being released by the Houston Rockets this week, NBA legend Derek Fisher is looking for a new home in search of yet another championship ring.
That search will be coming to an end in the following days, and could be a defining moment in the history of one lucky franchise.
That franchise could be the Oklahoma City Thunder. According to ESPN, Derek Fisher and the Thunder are in advanced negotiations and he is very interested in signing with the Western Conference leaders.
The Miami Heat are also in pursuit of the veteran point guard, but Oklahoma City has more of a role to offer the point guard with the early season loss of Eric Maynor to a torn ACL. 
It should be apparent just how important Fisher would be to a title-contending team. Both the Heat and the Thunder are looking to take the final step in their attempts to secure an NBA title, and the five-time NBA champion could be the missing piece to either team's NBA finals run.
The 16 year NBA veteran has played his entire career for Western Conference teams, including the Golden State Warriors, the Utah Jazz, and most notably the Los Angeles Lakers.
This could be significant for the Thunder, because there is some speculation that he wants to remain in the Western Conference.
Another factor that could land Fisher in Oklahoma City has to do with the point guard's agent. Rob Pelinka recently inked Kevin Durant, and he also represents Thunder swingman James Harden.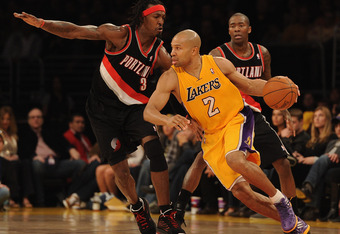 Harry How/Getty Images
If there is one thing that shows exactly how important Fisher could be to either the Thunder or Miami Heat, just look at the reaction to the Lakers loss by teammate and legend Kobe Bryant. He was extremely sad to see his point guard leave the Lakers program, and he will undoubtedly be a key piece to an opposing team.
Kevin Durant even had this to say about his potential new teammate. "Derek is a consummate professional ... an unbelievable leader. And he played with arguably one of the greatest players to ever play in Kobe (Bryant), and Kobe really respected him as a player and wanted him on his team, so that speaks volumes."
It definitely does speak volumes. If he were to join Oklahoma City's squad, not only would he add to the exciting young core of Durant, Harden, Russell Westbrook, and Serge Ibaka, but there would be very good plot lines for the rest of the season.
He would face the Lakers at the Staples Center on two occasions before the regular seasons ends. Then, the two teams could meet in the playoffs, and maybe even the 2012 Western Conference Finals.
While no deal is official yet, it seems to be becoming more and more imminent. It will be very weird to see Derek Fisher and Kobe Bryant in different uniforms, but from a fan's standpoint, nothing would be sweeter than seeing these two champions battling one another for another ring.