Why LeBron James, Miami Heat Do Not Need Derek Fisher to Win a Ring
March 21, 2012

There has been a lot of chatter about Derek Fisher drawing interest from the Miami Heat.
After being traded from the Los Angeles Lakers to the Houston Rockets, Fisher was bought out of his contract and will be free to sign with any team of his choosing once he clears waivers Wednesday evening.
ESPN's Marc Stein had reported that the Miami Heat and Oklahoma City Thunder were the front-runners for Fisher's services, but later followed up with a report that Oklahoma City was set to sign the veteran point guard.
Derek Fisher is in advanced negotiations with the Oklahoma City Thunder to sign with the Western Conference leaders after clearing waivers, according to sources close to the situation.

Fisher is scheduled to clear waivers at 6 p.m. ET Wednesday. One source with knowledge of the talks told ESPN.com that Fisher is "very close" to committing to sign with the Thunder once he becomes a free agent.
Earlier on Tuesday, Thunder beat writer Darnell Mayberry of The Oklahoman got Kevin Durant's endorsement on the potential signing of Fisher.
"Derek is a consummate professional; an unbelievable leader," Durant said. "And he played with arguably one of the greatest players to ever play in Kobe (Bryant), and Kobe really respected him as a player and wanted him on his team so that speaks volumes."
Heat fans who were hoping Miami would ink Fisher: Be glad he's headed to Oklahoma City. It's a better fit for Fisher, it makes sense for the Thunder and he would've never had a chance to make an impact in Miami.
Fisher was not going to come in and take any time away from either Mario Chalmers or Norris Cole at the point guard position, and his potential off-court impact for this Heat team was greatly overstated.
LeBron James and the Miami Heat simply don't need Fisher to win a title.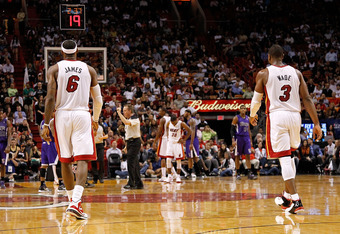 Mike Ehrmann/Getty Images
If James and this team aren't motivated to win it all after last season's collapse against Dallas, it's hard to pinpoint exactly what will light a fire under this club.
Dwyane Wade has tasted championship success before, and he wants to get back there again. Chris Bosh is anxious to prove to people he's not soft nor overrated, and James understands he needs to win a ring to quell the criticism surrounding him.
The missing motivator is not Fisher or his leadership, and that is not a slight against the long-time Lakers' point guard.
Miami just doesn't need him.
This is a Heat team that has won 34 of its first 45 games this season, and nobody was talking about how Miami needed improved leadership until Fisher became available.
If it wasn't a topic of discussion previously, why has it suddenly become one now?
Fisher has done a lot in this league, and his role in the NBA having a season this year following a lengthy lockout certainly shouldn't be understated, but he's not bringing anything to Miami that isn't already there.
LeBron spoke about the possibility of adding Fisher to the fold with ESPN's Brian Windhorst, saying, "I don't know what our plans are but I don't see it as a bad fit it if happens. What we have we're comfortable with, but he could fit anyone's team because of his leadership and his commitment to winning."
James is comfortable with what he has and has all the motivation he needs to go out and attempt to win a title, and that isn't going to change when the Heat take a pass on Fisher's services.
Windhorst categorized James' opinion as "serious respect but just lukewarm interest."
Simply put, James doesn't need to see Fisher on Miami's bench for further motivation to win it all.