Knicks vs. 76ers: TV Schedule, Live Stream, Spread Info and More
March 21, 2012

Mike Woodson has the New York Knicks playing a different brand of basketball than what we saw under Mike D'Antoni, and the team is now 4-0 under his leadership heading into a matchup against the Philadelphia 76ers.
The two Atlantic Division rivals will battle it out when the Knicks (22-24) come into Philadelphia to take on the Sixers (26-20). New York will have a tough task ahead, as the team is just 8-14 on the road while Philadelphia boasts an impressive 16-9 home record.
Each team has won a game against the other this season, and there is no doubt that each is eager to come out with a victory in order to make a statement with the playoffs right around the corner.
Where: Wells Fargo Center—Philadelphia, Pa.
When: Wednesday, March 21, 7:00 p.m. ET
Watch: ESPN
Live Stream: NBA League Pass
Listen: 1050 AM (New York), 94.1 FM (Philadelphia)
Betting Line: Philadelphia -4.5, according to Bovada.lv
Key Injuries: Bill Walker (elbow), Baron Davis (hamstring)
What They're Saying
There is a lot of talk surrounding the Knicks right now and how different the team looks since Woodson took over the controls.
Carmelo Anthony is buying into the system, Amar'e Stoudemire is playing well and Jeremy Lin continues to prove that he's a capable point guard in the NBA.
The most noticeable difference has been the effort level from Anthony, as it's become extremely obvious that he and D'Antoni were never on the same page.
Anthony admitted that he's playing with a new energy under Woodson, and Kimberley Martin of Newsday got the telling quote:
I think in the last three games, my focus was to have an energy that I haven't had so far this season, especially on the defensive end. ... Everybody on this team knows, everybody in the world knows I can score the basketball. It's not that important to me.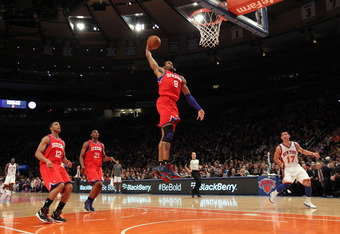 Nick Laham/Getty Images
Most Important Player to Watch: Andre Iguodala
Iguodala made his first All-Star team in 2012, but he has struggled over his last couple of games.
He's combined to shoot just 4-of-14 from the floor for 10 points over that span, and Iguodala is going to have to do a lot more against the Knicks if the Sixers are hoping to slow down a hot New York club.
When these two teams squared off just 10 days ago, Iguodala had a dynamite game with 19 points, seven rebounds, eight assists, four steals and a block in 39 minutes of action, and that's exactly the type of performance his team will need from him tonight.
Key Matchup: Knicks bench vs. Sixers bench
Both reserve groups have received a lot of attention of late, and that is not going to change in this one.
For the Sixers, Louis Williams, Jodie Meeks and Thaddeus Young will need to deliver solid games, while the Knicks will be looking for big efforts from J.R. Smith, Steve Novak and Iman Shumpert.
It wouldn't be surprising to see the winning team as the one that gets the most production from its reserve unit, and in a game that should be a battle for the full 48 minutes, the bench can definitely be the X-factor in determining what squad comes out on top.
Prediction
Sixers 103, Knicks 96