Chicago Bears Mock Draft: Building the Perfect 7-Round 2012 NFL Draft
March 21, 2012

Joe Robbins/Getty Images
GM Phil Emery has his work cut out for him, as the Detroit Lions are bringing back 21 of 22 2011 starters and the Green Bay Packers are still one of the league's elite teams.
How could the draft unfold to give the Bears the best shot of hanging with those teams?
Round 1, No. 19
Plan A: Mike Adams, OT, Ohio State
It would be a gift if Stanford's Jonathan Martin or Iowa's Riley Reiff fell this far, but that is highly unlikely. Adams has his flaws, but he is the best second-tier offensive tackle in the draft, and he is built to play the left side of the line. The Bears must improve their offensive line.
Plan B: Cordy Glenn, OG/OT, Georgia
If a pure left tackle isn't there, then a versatile behemoth like Glenn, who can play guard and right tackle, if not reprise his 2011 collegiate role of left tackle
Round 2, No. 51
Plan A: Kelechi Osemele, OG, Iowa State
Get the left tackle in the first round, then a mauler to play guard in the second.
Plan B: Vinny Curry, DE/OLB, Marshall
If the Bears aren't addressing their offensive line to keep up with NFC North Jones' passing games, adding a pass-rusher to complement Julius Peppers and attack those rival quarterbacks is the next-best plan of action.
Round 3, No. 80
Plan A: Cam Johnson, DE/OLB, Virginia
Left Tackle? Check. Right Guard? Check. Now to address that pass rush.
Brandon Marshall's success being reunited with Jay Cutler next year is part of the blueprint, as the Bears traded away the No. 74 pick (and next year's third) to do it. 
Plan B: Matt McCants, OT, UAB
McCants is raw but has as high a ceiling as any left tackle in this class not named Matt Kalil. He might not pay instant dividends, but if the Bears don't grab a left tackle in the first, getting one to develop for the not-so-far future is crucial.
Round 4, No. 111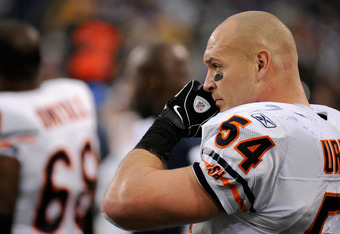 Hannah Foslien/Getty Images
Plan A: James-Michael Johnson, ILB, Nevada
Brian Urlacher and Lance Briggs can't be counted on to be productive starters for that much longer. Johnson could play the strong side while he is groomed to eventually replace Urlacher.
Plan B: Trumaine Johnson, CB, Montana
If a quality ILB doesn't fall to the third day, the Bears should target depth at corner that fits well into Cover 2 defense. 
Round 5, No. 142
Plan A: Joe Adams, WR, Arkansas
Adams' stock has been falling since a good Senior Bowl week because his timed speed didn't match expectations.
The Bears could scoop him up as an insurance policy against Johnny Knox's severe back injury to provide speed to clear out for Brandon Marshall underneath.
Plan B: Ryan Steed, CB, Furman
The nice thing about playing a Cover 2 is that quality prospects at corner continue to be available as backup plans in the third day if preferred targets don't fall to your pick.
Round 6, No. 173
Plan A: Rishaw Johnson, OG, California-Pa.
The late rounds present opportunities for the Bears to target boom/bust offensive line prospects who could turn into top-end starters if they don't flame out.
Plan B: Donnie Fletcher, CB, Boston College
Another quality Cover 2 corner prospect to take in the late rounds.
Round 7, No. 204
Plan A: Mike Daniels, DT, Iowa
Daniels is a good fit for what the Bears ask of their defensive tackles, and they'll need depth at the position unless they make some moves to address it in free agency.
Plan B: Trevor Olson, OT, Northern Illinois
Olson has played his entire collegiate career at left tackle, and the Bears can develop his strength and run blocking while the position is manned by Adams or another early pick/free agent.